Session Information
The 2020 Pediatric Rheumatology Symposium, originally scheduled for April 29 – May 2, was postponed due to COVID-19; therefore, abstracts were not presented as scheduled.
Session Type: ACR Abstract Session
Session Time: 6:00PM-7:00PM
Background/Purpose: Infliximab is an effective treatment for many pediatric rheumatic conditions, but high medication cost creates a barrier to patient access. Biosimilar drugs are proven to be non-inferior to reference products in terms of safety and efficacy and may be a cost-effective alternative treatment.  Infliximab-dyyb has specifically been studied in adult patients with rheumatoid arthritis and ankylosing spondylitis. The primary objective of this study was to compare side effects and time to discontinuation between infliximab-dyyb and infliximab used in pediatric rheumatic conditions. The secondary objective of this study is was assess the cost savings when infliximab-dyyb is used compared to infliximab.
Methods: This retrospective chart review evaluated the safety of infliximab-dyyb compared to infliximab in pediatric rheumatic conditions. The study was conducted at a quaternary pediatric hospital with a robust rheumatology department.  All patients prescribed infliximab or infliximab-dyyb for various rheumatic conditions including juvenile idiopathic arthritis, chronic uveitis, or Behcet's disease between March 1st, 2017 and August 30th, 2019 were included in the study. Patients were excluded if they did not receive the infusion of the prescribed infliximab product or if the infusion was administered at a site other than the research site. Data collected for the safety analysis included patient demographics, duration of infliximab product therapy, hospitalizations during therapy, and reason for discontinuation if the infliximab product was stopped.  Additionally, past biologic exposure, concurrent steroid use, and pre-infusion medications were analyzed as variables that may have an impact on patient response to therapy or the development of adverse effects.
Results: There were a total of 33 patients that received infliximab products during the study period (infliximab-dyyb n=16; infliximab n=17).  The average age of patients included in the study was 17 (7-26) years.  Demographics were similar between the infliximab-dyyb and infliximab groups.  The percentage of patients that discontinued therapy was 37.5% for infliximab-dyyb (n=6) and 41.2% for infliximab (n=7). Of the patients that discontinued therapy, the average time to therapy discontinuation was 178 (±188.5) days for infliximab-dyyb and 213 (±240) days for infliximab.  The presence of side effects (infliximab-dyyb, 18.8% vs. infliximab, 13.3%) and reasons for discontinuation were similar between groups. The average cost savings per infusion of the biosimilar product was $970.
Conclusion: This study provides preliminary data suggesting comparable safety profiles for infliximab-dyyb and infliximab in pediatric rheumatic conditions.  Future studies with larger samples sizes and infliximab use in other pediatric conditions such as inflammatory bowel disease will provide a more comprehensive understanding of overall safety of infliximab-dyyb in pediatric patients.  Additionally, a safety analysis focused on patients switching between infliximab-dyyb and infliximab will provide further knowledge on the safety of converting patients between products.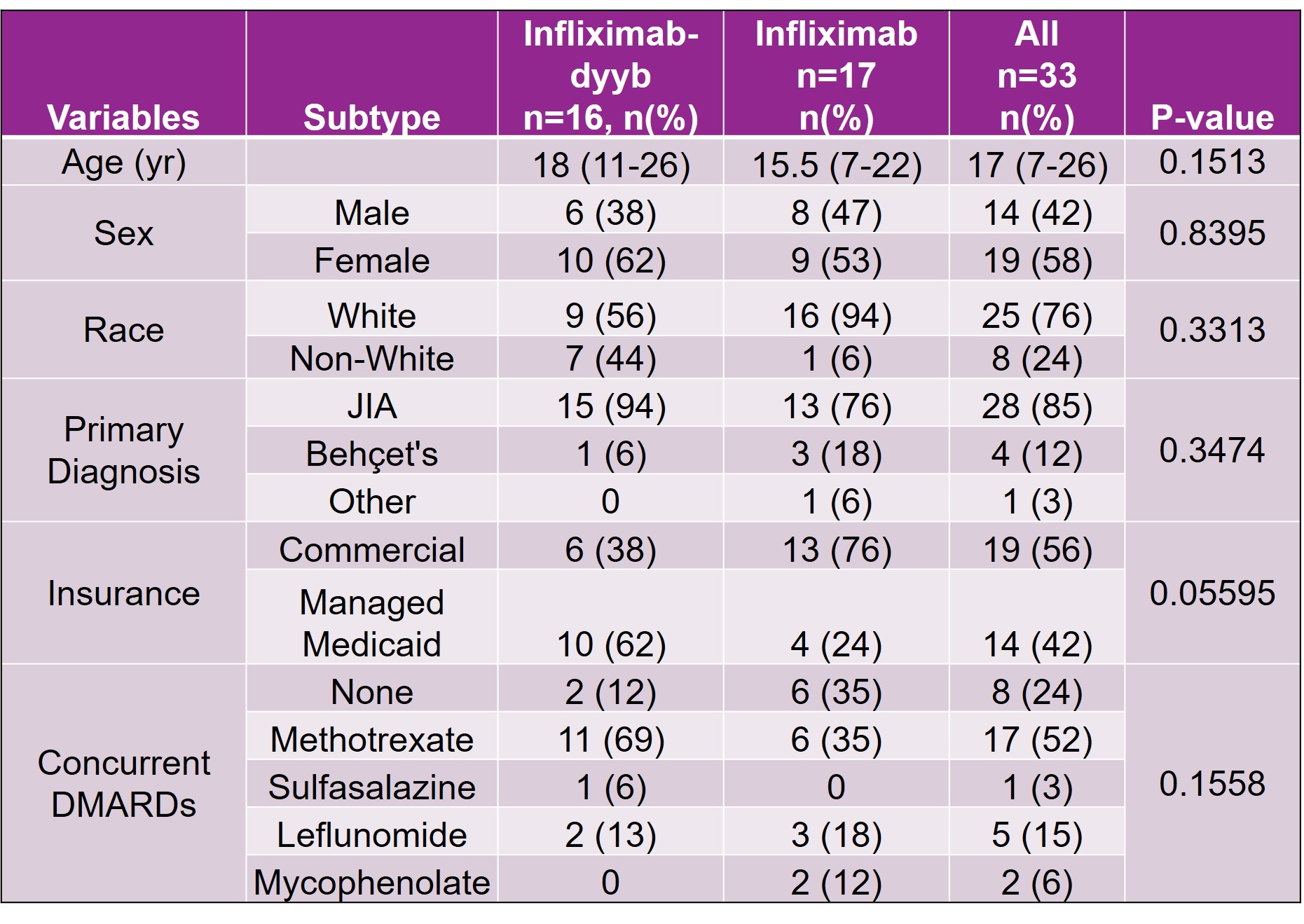 Table 1. Demographic Information

Table 2. Side Effects Identified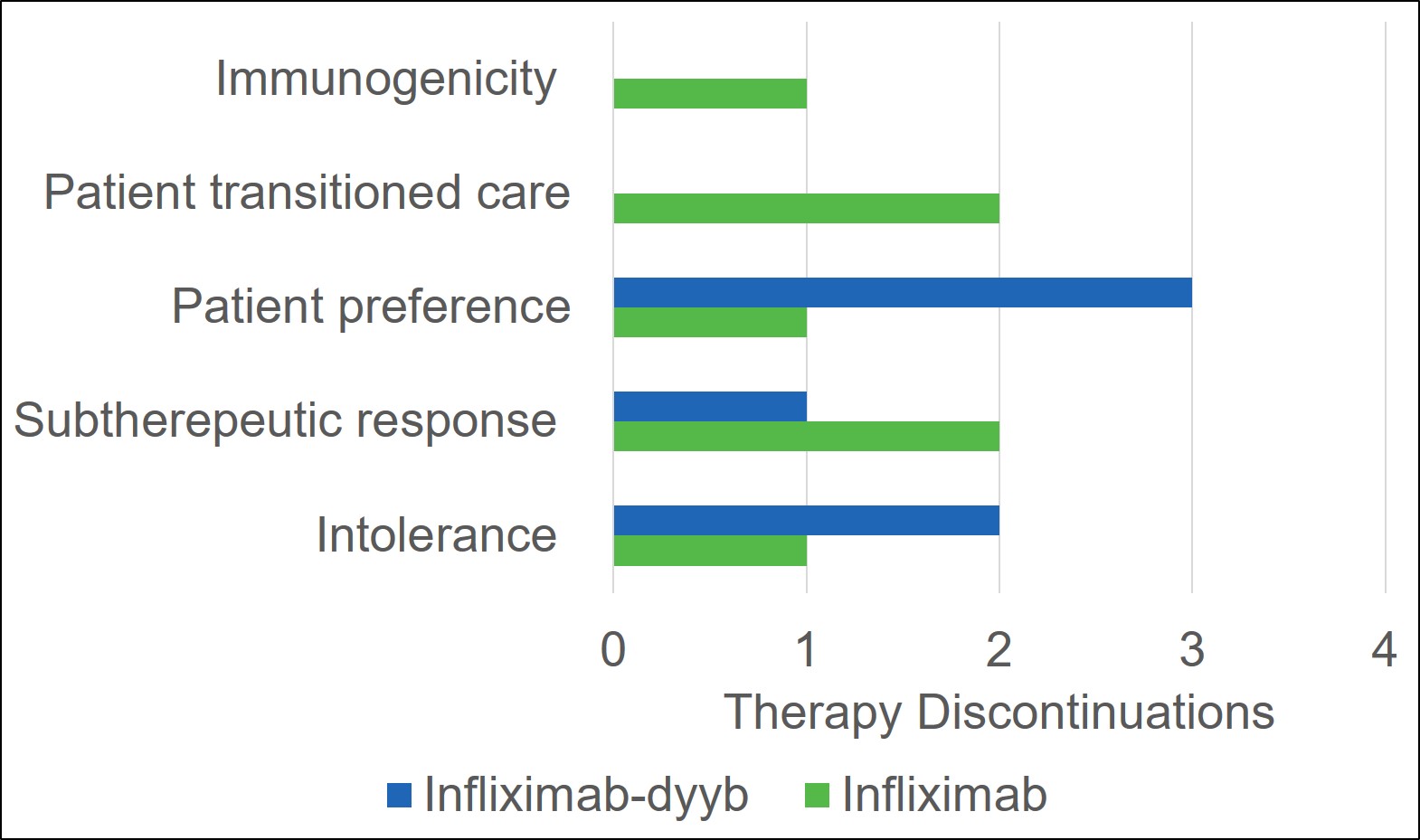 Figure 1. Reasons for Discontinuation
---
Disclosure: M. Culp, None; D. Lewis, None; B. Thomas, None; F. Barbar-Smiley, None; K. Driest, None; E. Oberle, None; S. Ardoin, None; K. Wise, None.
To cite this abstract in AMA style:
Culp M, Lewis D, Thomas B, Barbar-Smiley F, Driest K, Oberle E, Ardoin S, Wise K. Safety Analysis of Infliximab-dyyb as Compared to Infliximab in Pediatric Rheumatic Conditions [abstract].
Arthritis Rheumatol.
2020; 72 (suppl 4). https://acrabstracts.org/abstract/safety-analysis-of-infliximab-dyyb-as-compared-to-infliximab-in-pediatric-rheumatic-conditions/. Accessed December 3, 2022.
« Back to 2020 Pediatric Rheumatology Symposium
ACR Meeting Abstracts - https://acrabstracts.org/abstract/safety-analysis-of-infliximab-dyyb-as-compared-to-infliximab-in-pediatric-rheumatic-conditions/