Session Information
Session Type: Abstract Submissions (ACR)
Role of calcium/calmodulin kinase IV on podocyte function in lupus nephritis
Background/Purpose: Kidney podocytes and their slit diaphragms settle the integrity of renal basement membrane and prevent urinary protein loss.  T cell from patients with systemic lupus erythematosus display increased expression of calcium/calmodulin kinase IV (CaMKIV).  Here we evaluated the expression of CaMKIV in kidney biopsy specimens from patients with lupus nephritis (LN) and in a human podocyte cell line (AB8/13) after exposure to IgG from sera of patients with LN
Methods: We examined the expression level of nephrin, a podocyte marker and CaMKIV in normal and LN kidney specimens by immunofluorescence staining. We cultured human podocytes with IgG purified from sera of normal individuals and LN patient for 24 hr and analyzed CaMKIV mRNA levels by real time PCR. We also performed microarray analysis to determine gene expression.
Results: Although the expression levels of nephrin were decreased, CaMKIV expression was found increased in podocytes of LN kidney biopsy specimens. The levels of nephrin and CaMKIV correlated in an inverse manner.  Interestingly, culture of AB8/13 podocytes in the presence of IgG from LN sera led to 1.5-fold increase in the expression of CaMKIV mRNA.  Gene array analysis revealed that the expression of genes related to the cell activation including CaMKIV increased significantly (P<0.05) and the regulation of neural precursor cell proliferation decreased significantly (P<0.01) in podocytes treated with IgG from LN patients.
Conclusion: Our data demonstrate increased expression of CaMKIV in LN podocytes which may represent the result of exposure to IgG.  We suspect that increased CaMKIV expression may contribute to the inability of podocytes to maintain the integrity of glomerular basement membrane in LN patients.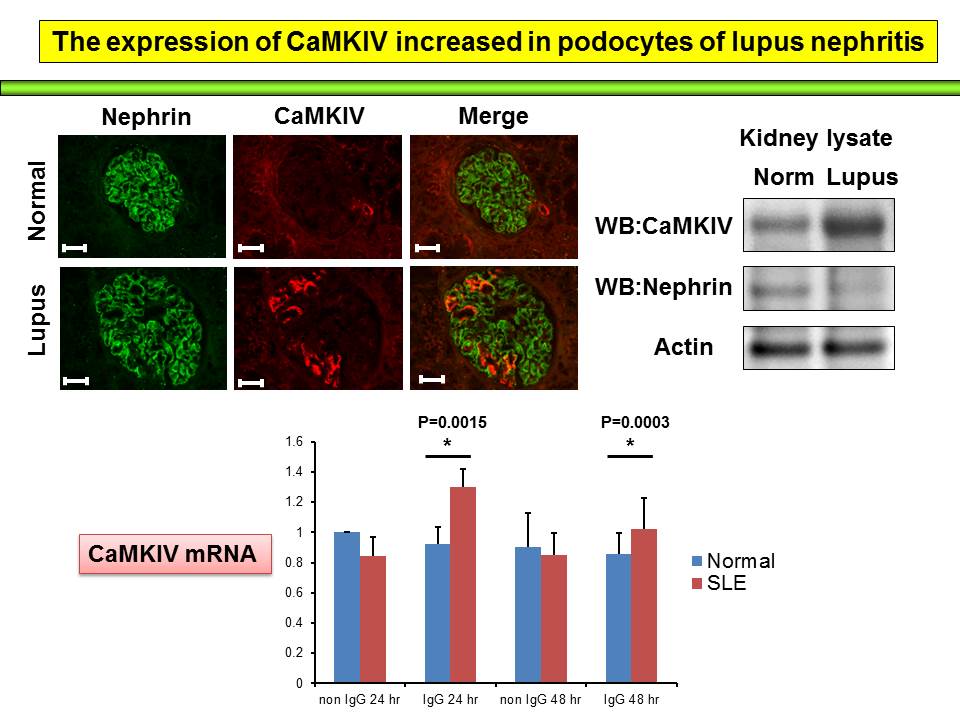 ---
Disclosure:
K. Ichinose,
None;
T. Ushigusa,
None;
T. Koga,
None;
G. C. Tsokos,
None;
A. Kawakami,
None.
« Back to 2013 ACR/ARHP Annual Meeting
ACR Meeting Abstracts - https://acrabstracts.org/abstract/role-of-calciumcalmodulin-kinase-iv-on-podocyte-function-in-lupus-nephritis/