Session Information
Session Type: ACR Abstract Session
Session Time: 11:00AM-12:30PM
Background/Purpose: Recurrent pericarditis (RP) is characterized by the recurrence of pericarditis signs and symptoms after a symptom-free period of ≥4 to 6 weeks and affects 20-30 % of acute pericarditis patients. IL-1α/β, mediators of the inflammatory process, predominate in recurrent pericarditis (RP).
Methods: Participants with symptomatic or corticosteroid (CS)-dependent idiopathic or post-pericardiotomy RP receive subcutaneous rilonacept: 320 mg load, 160 mg weekly plus NSAIDs, colchicine and/or CS for the 6-week treatment period (TP). During optional 18-week treatment extension (EP), weekly rilonacept treatment continued while background therapy may be weaned. Primary endpoints are change in patient-reported pericardial pain (NRS, 11-point scale) and CRP in Parts 1, 2, 4 (symptomatic) and disease activity after CS taper in Parts 3, 5 (CS-dependent).
Results: As of Jan 23, 2019: 25 idiopathic RP patients enrolled (mean 3 episodes). Part 1: mean pericardial pain (NRS score) decreased from 4.6 (baseline) to 0.8 and CRP decreased from 4.9 mg/dL (baseline) to 0.30 mg/dL at 6 weeks (Figure 1); median 9 days to CRP normalization and objective pericarditis features (pericardial effusion, ECG changes, pericardial rub) resolved (Table 1). Parts 2, 4: reductions in NRS (Pain) and CRP were observed during the TP. Parts 3 and 5: pain and CRP remained low on rilonacept therapy during the TP and the effects of rilonacept on NRS and CRP were maintained during CS-taper/discontinuation in EP among those that completed 24 weeks of therapy. Among the 11/25 who completed the EP; 4/4 on baseline CS successfully tapered off CS; 3/3 discontinued NSAIDs and 2/8 discontinued colchicine. AEs occurred in 23 participants (92%; 12/23 drug-related), most commonly mild transient injection site reactions (no discontinuations).
Conclusion: Data from this ongoing Phase 2 study suggest weekly rilonacept administration results in improvement in patient-reported pericardial pain and objective measures in patients with idiopathic RP. Improvements were durable, supporting CS tapering. AEs were consistent with the known safety profile of rilonacept. These data supported the design of a Phase 3, placebo-controlled, global RHAPSODY trial (NCT03737110).

Figure 1 KINIKSA ABSTRACT Ph2 Results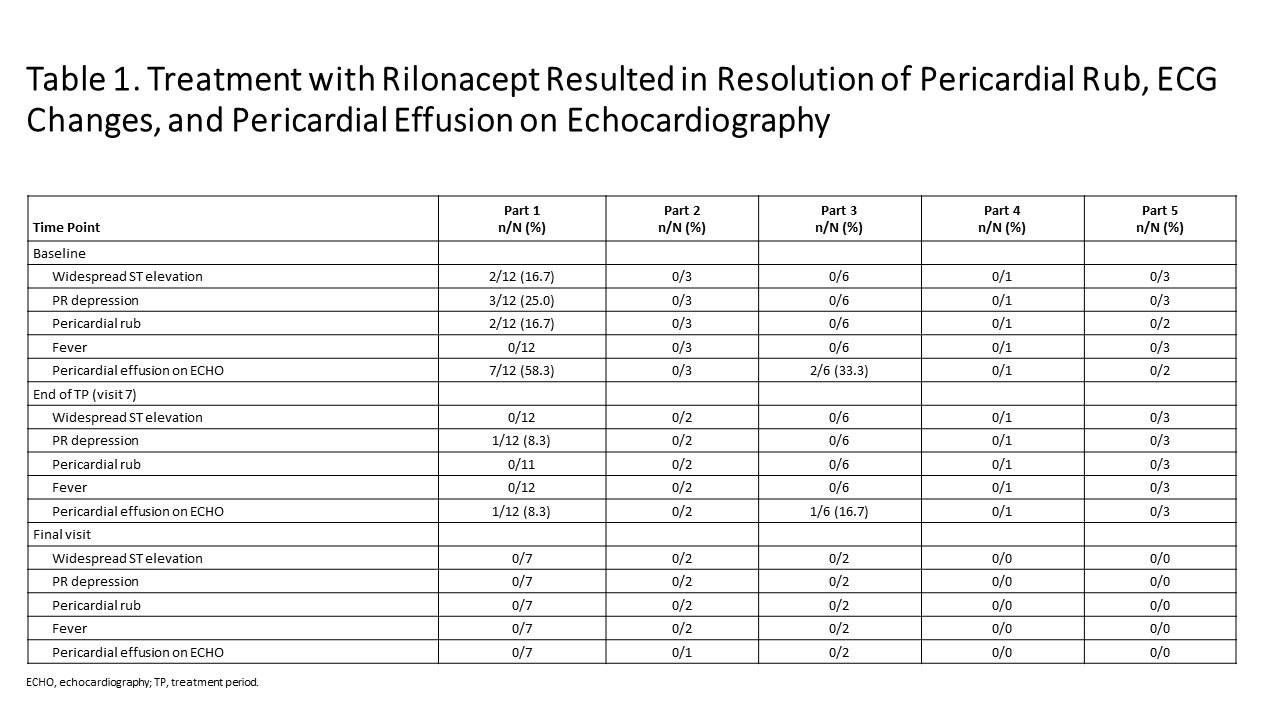 ---
Disclosure: A. Klein, Kiniksa Pharmaceuticals, 2, Sobi, 5, Elsevier, 7; D. Lin, None; P. Cremer, Sobi, 5; S. Nasir, None; S. Crugnale, Kiniksa Pharmaceuticals, 3; L. Collins, Kiniksa Pharmaceuticals, 3; F. Fang, Kiniksa Pharmaceuticals, 3; A. Beutler, Kiniksa Pharmaceuticals, 3; J. Paolini, Kiniksa Pharmaceuticals, 3.
To cite this abstract in AMA style:
Klein A, Lin D, Cremer P, Nasir S, Crugnale S, Collins L, Fang F, Beutler A, Paolini J. Rilonacept in Recurrent Pericarditis: Efficacy and Safety Data from an Ongoing Phase 2 Pilot Clinical Trial [abstract].
Arthritis Rheumatol.
2019; 71 (suppl 10). https://acrabstracts.org/abstract/rilonacept-in-recurrent-pericarditis-efficacy-and-safety-data-from-an-ongoing-phase-2-pilot-clinical-trial/. Accessed November 26, 2022.
« Back to 2019 ACR/ARP Annual Meeting
ACR Meeting Abstracts - https://acrabstracts.org/abstract/rilonacept-in-recurrent-pericarditis-efficacy-and-safety-data-from-an-ongoing-phase-2-pilot-clinical-trial/