Session Information
Session Type: Poster Session (Sunday)
Session Time: 9:00AM-11:00AM
Background/Purpose: Idiopathic retroperitoneal fibrosis (iRPF) is a rare, chronic, progressive disorder of unknown etiology and characterized by the presence of inflammatory and fibrous retroperitoneal tissue that often encompasses the ureters or abdominal organs. We evaluated iRPF cases of a single institution cohort to describe the features of patients (pts) with iRPF.
Methods: Twenty-eight iRPF patients who were being followed in our outpatient clinic between 2009 and 2018 were reviewed retrospectively. The demographic characteristics, clinical and radiologic findings,medical and interventional therapies were retrospectively  collected and reported.
Results: We evaluated the data of 28 patients (17M/11F). The mean age at the time of diagnosis was 53±10,57, median follow up was 46 (IQR:23-67) months. Fifteen (%50) patients were presented with abdominal-pain which was the most common initial complaint. Twenty-one patients had hydronephrosis (11 bilateral hydronephrosis, 5 right) at initial visit and one patient diagnosed while on temporary hemodialysis therapy. Laboratory tests showed that ESR was elevated in 15 of 23 cases with a median value of 39 mm/h (IQR:17-88); CRP was elevated in 19 of 28 patients (68%), with median value 11 (IQR:5,5-46,5). Mean serum creatinine level was 1,14 mg/dl IQR (0,83-1,9). Tissue involvement was detected with computed tomography in 25 (89%) patients. In addition, 18 F-FDG-PET was ordered for 19 patients and 16 of them (84%) was positive for tissue involvement of iRPF. Among these 16 pts, control 18 F-FDG-PET scan was obtained in 13 after at least 6 months of follow-up. Remission was observed in 7 pts in control 18 F-FDG-PET scan.Histopathological samples were available for further analysis in 8 cases and 5pts' findings were consistent with iRPF (storiform fibrosis and dense lymphoplasmacytic infiltration were observed). Medical and interventional therapies are presented in Table 2. Twenty-seven pts were initially treated with glucocorticoids and the mean initial oral prednisone dose was 45,5±13,8 mg/day. Prednisone was discontinued in 4 patients after remission and for the remaining 23 pts; 12 pts' prednisone was tapered < 5 mg/day at mean 9 (IQR:6,7-22,5) months. The remaining patient was treated with tamoxifen. One patient diagnosed AML-M2 during the follow-up and had allogenic stem cell transplantation. Final median values of ESR and CRP were 10 mm/h (IQR:4,7-17,7) and 4,4 mg/l (1,9-7,7), respectively (p= 0.001 and p=0.002). Final median serum creatinine level was 1,03 (IQR:0,78-1,28) (p=0,2). Thirteen pts (%46) were treated successfully with Rituximab who were not responded initial prednisone therapy. Twenty-one pts had ureteral stents and 11 of them are stent free at the final visit. 2 pts had ureteroysis but the procedure was failed in one patient. None of the pts was deceased on the follow-up.
Conclusion: Steroids are the mainstay treatment for iRPF and steroid resistant cases could be treated with rituximab rescue therapy. Prompt interventional approaches are valuable bridging therapies for pts who presented with hydronephrosis. Obtaining a biopsy sample could be hazardous or not possible; so imaging modalities add great value on the diagnose of İRPF.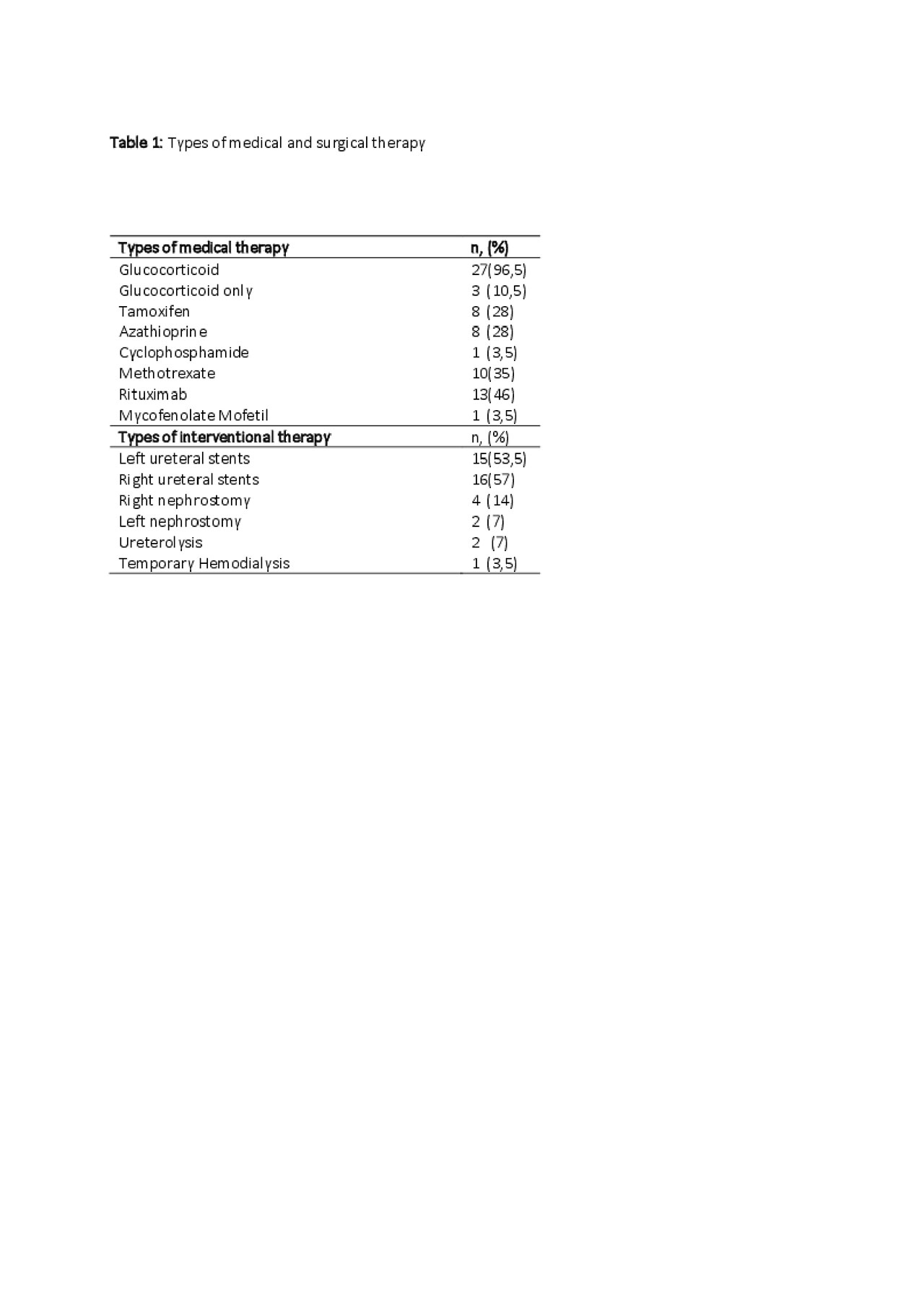 Table 1.RPF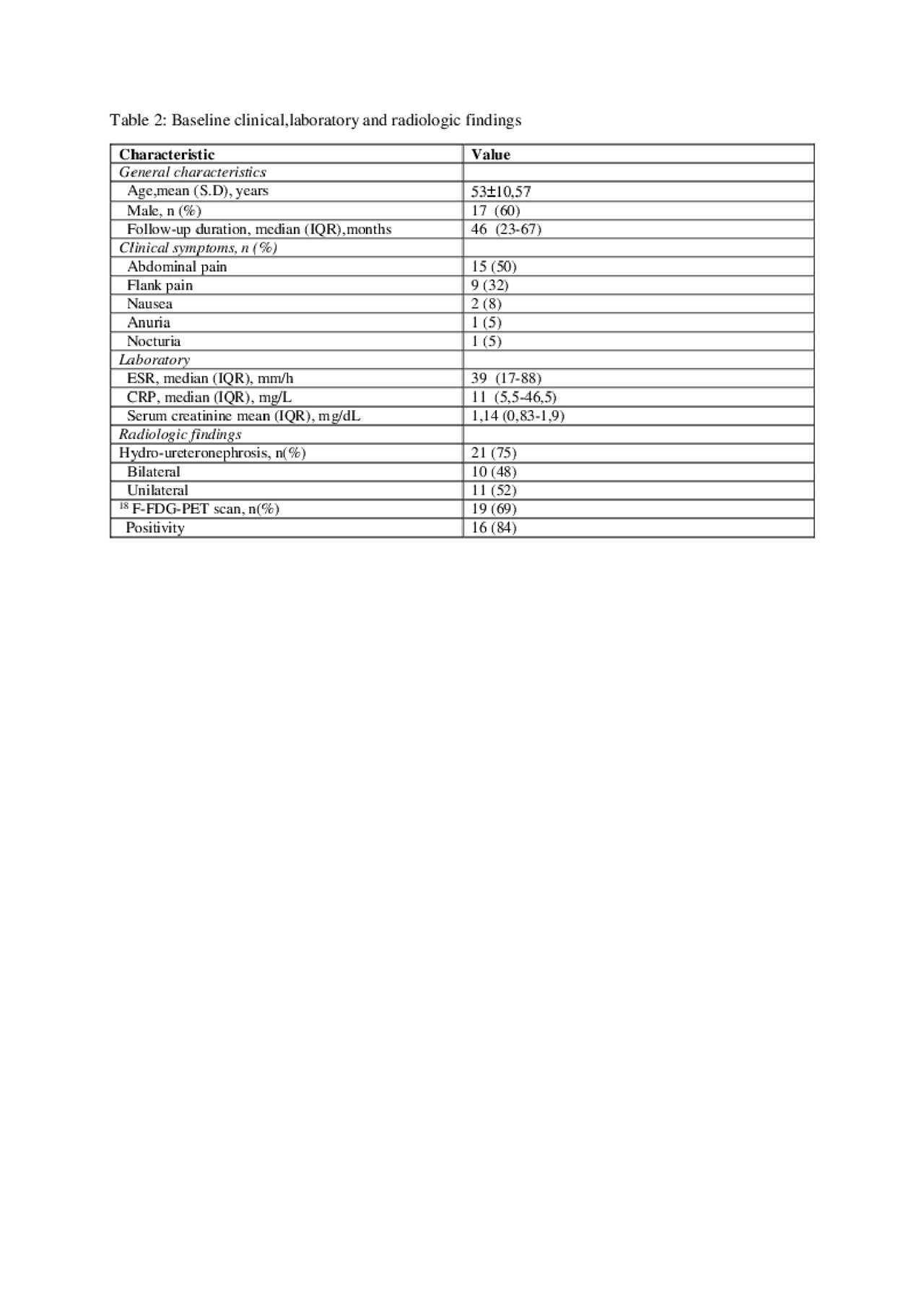 Table 2 RPF
---
Disclosure: M. Oztas, None; E. Cerme, None; I. Altun, None; S. Ugurlu, None.
To cite this abstract in AMA style:
Oztas M, Cerme E, Altun I, Ugurlu S. Retroperitoneal Fibrosis- a Single Center Experience [abstract].
Arthritis Rheumatol.
2019; 71 (suppl 10). https://acrabstracts.org/abstract/retroperitoneal-fibrosis-a-single-center-experience/. Accessed November 23, 2020.
« Back to 2019 ACR/ARP Annual Meeting
ACR Meeting Abstracts - https://acrabstracts.org/abstract/retroperitoneal-fibrosis-a-single-center-experience/