Session Information
Session Type: ACR Abstract Session
Session Time: 4:30PM-6:00PM
Background/Purpose: Interferon-free Direct Acting Antiviral (DAA) combinations proved to be effective for the treatment of HCV induced Cryoglobulinemic Vasculitis (HCV-Cryovas). Some reports showed relapses of HCV-Cryovas despite a sustained viral response (SVR) after DAA. Possible explanations for such relapses included the persistence of few copies of HCV-RNA in liver cells, macrophages, or lymphocytes, or the persistence of pathogenic B-cell clones.  The scale and features of these relapses are not fully appreciated. Our aim was to follow HCV-Cryovas patients treated with DAAs for a longer period and to assess Cryovas relapsers clinically and serologically
Methods: We studied a total of 1019 HCV-Cryovas patients who fulfilled the validated 2014 classification criteria. All cases received DAA treatment protocols. They represented the collective registries of the following 4 centers: 1- Nephrology unit, Internal Medicine Department, Cairo University, Egypt, 2- Rheumatology and clinical Immunology unit, Internal Medicine Department, Cairo University, Egypt, 3- Department of Internal Medicine and Clinical Immunology, National Reference Center for Autoimmune Systemic Rare Diseases, Hopital La Pitié Salpêtrière, Paris, France, 4- Referral Centre for Mixed Cryoglobulinemia, Department of Translational and Precision Medicine, Sapienza University of Rome, Rome, Italy. We excluded cases with hepatitis B or HIV, as well as cases that received IFN-based protocols. From 2015 to 2019, patients received the following DAA protocols: Sofosbuvir + either Simeprevir, Daclatasvir, Ledipasvir or Ribavirin. They all achieved a sustained viral response (SVR). They were followed over 24 months after viral eradication. Cases with cutaneous or renal relapses were additionally assessed by skin and/ or renal biopsies. Clinical relapse was reported when there was purpura, arthralgia/arthritis, neuropathy, or nephropathy. Serological relapses were considered if Cryoglobulins >1.5%, elevated rheumatoid factor (RF) or consumed complement 4 (C4) are detected. Acute interstitial nephritis in renal biopsy means lymphocytic or mononuclear inflammatory interstitial infiltrate. Vasculitis in renal biopsy would be either cryoglobulinemic-type or polyarteritisnodosa-type
Results: All 1019 HCV-Cryovas patients achieved SVR and showed partial or complete clinical and serological responses of Cryovas at the end of DAA treatment (EOT). A total of 116/1019 (11.38%) cases showed evidence of both clinical and serological Cryovas relapses (Table 1), while 7/1019 (0.7%) cases only showed evidence of serological Cryovas relapse. All 123/1019 (12.07%) Cryovas relapsers remained negative for HCV by PCR. Overall, 98 cases of the relapsers had renal manifestations and 95 cases had a renal biopsy (Table 2); 102 patients had purpura and 95 of them had a skin biopsy (Table 3).
Conclusion: In our multicenter international study, after a follow-up period of 24 months and despite a SVR post-DAA, we report a 12.07% relapse rate of HCV-Cryovas. Close observation and longer follow-up studies, as well as, deeper investigations of the immune system are needed to better understand the underlying mechanism of Cryovas relapse after HCV viral eradication

Table 1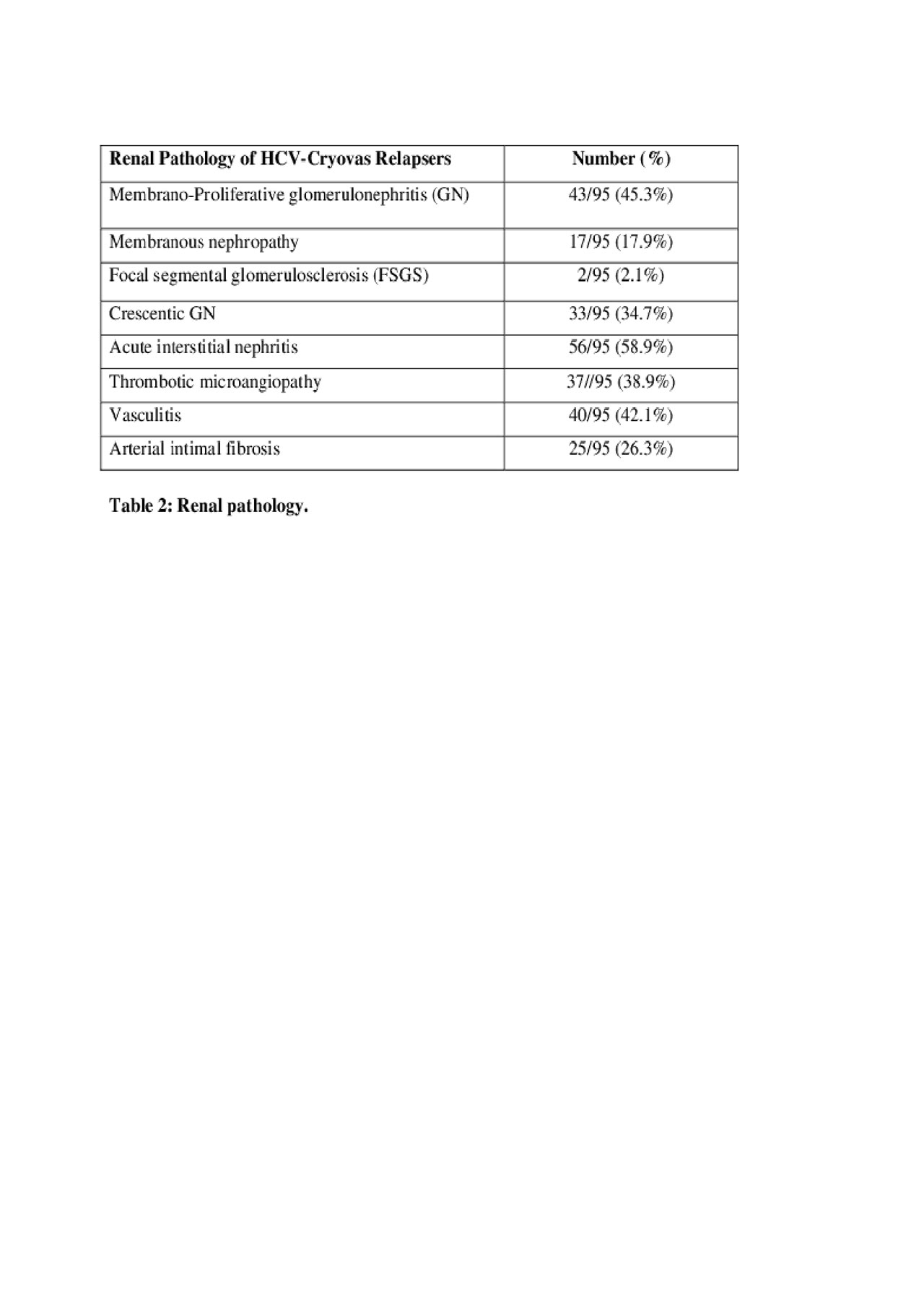 Table 2

Table 3
---
Disclosure: M. Tharwat Hegazy, None; A. Fayed, None; T. El Shabony, None; M. Visentini, None; D. Saadoun, Abbvie, 5, AstraZeneca, 5, Bristol meyer squibb, 5, Gilead, 5, Glaxo Smith Kline, 5, Roche, 5, Servier, 5; P. Cacoub, Abbvie, 5, AstraZeneca, 5, Bristol meyer squibb, 5, Gilead, 5, Glaxo Smith Kline, 5, Janssen, 5, Merck Sharp Dohme, 5, Roche, 5, Servier, 5, Vifor, 5; G. Ragab, None.
To cite this abstract in AMA style:
Tharwat Hegazy M, Fayed A, El Shabony T, Visentini M, Saadoun D, Cacoub P, Ragab G. Relapsing Cryoglobulinemic Vasculitis Following Successful HCV Eradication by Interferon-Free Direct Acting Antivirals, an International Multicenter Study [abstract].
Arthritis Rheumatol.
2019; 71 (suppl 10). https://acrabstracts.org/abstract/relapsing-cryoglobulinemic-vasculitis-following-successful-hcv-eradication-by-interferon-free-direct-acting-antivirals-an-international-multicenter-study/. Accessed January 19, 2022.
« Back to 2019 ACR/ARP Annual Meeting
ACR Meeting Abstracts - https://acrabstracts.org/abstract/relapsing-cryoglobulinemic-vasculitis-following-successful-hcv-eradication-by-interferon-free-direct-acting-antivirals-an-international-multicenter-study/