Session Information
Session Type: ACR Poster Session C
Session Time: 9:00AM-11:00AM
Background/Purpose:
Second line treatment options for Systemic Sclerosis (SSc) are limited, and scarce data are available for choosing the order of treatment. The aim of this study is to update the SSc treatment algorithms obtained in 20121, based on SSc experts' daily practice.
Methods:
An initial survey was designed based on the 2012 algorithms. The survey asked experts whether they agreed with the 2012 algorithms or not, and which changes should be considered. The questionnaire was completed by 62 of 168 surveyed (67% response) between August and October 2016.
Results:
For scleroderma renal crisis (SRC), there was 65% to 69% agreement with the previous algorithms (1st line angiotensin converting enzyme inhibitors [ACEI], 2nd and 3rd adding: calcium channel blockers [CCB] or angiotensin receptor blockers [ARB], and 4th alpha-blocker). In mild pulmonary arterial hypertension (PAH), only 45% of the experts agreed with the old algorithm. The majority suggested first phosphodiesterase 5 inhibitors (PDE5i) or endotelin receptor antagonists (ERA) plus PDE5i, then prostanoids. In severe PAH, 65% agreed with the preexistent scheme (1st prostanoids, 2nd ERA plus PDE5i, 3rd ERA plus prostanoids). For mild Raynaud's phenomenon (RP) 66% agreed with the previous algorithm (1st CCB, 2nd adding PDE5i, 3rd ARB or switching to another CCB, 4th prostanoids). Regarding severe RP, 52% agreed with previous (1st CCB, 2nd adding PDE5i, 3rd ERA, 4th prostanoids). Conversely, 60% of the experts did not agree with the prior active digital ulcer (DU) treatment, suggesting 1st CCB, 2nd PDE5i, 3rd prostanoids. For interstitial lung disease (ILD), for induction only 24% agreed with the older proposal. There was a 65% agreement on ILD maintenance. Both algorithms are shown in figure 1. For skin involvement, agreement for patients with a modified Rodnan skin score (mRSS) of 10 was 57% (1st methotrexate [MTX]), 2nd MMF); if the mRSS was 24, 32% suggested 1st MMF, 2nd MTX; and mRSS 32, 36% chose 1st MTX, 2nd MMF, 3rd IV CYP, 4th autologous stem cell transplantation (ASCT). In inflammatory arthritis 45% agreed with the previous algorithm, whereas others suggested 1st MTX, 2nd low dose steroids, 3rd hydroxychloroquine, 4th rituximab or tocilizumab.
Conclusion:
There remains some disagreement for 2nd line treatment of SSc. Combination of PDE5i and ERA are prescribed now in mild PAH treatment. Prostanoids have been incorporated as 3rd line agents in active DU treatment. MMF is the new 1st line treatment for ILD induction and rituximab the 3rd. IV CYA and ASCT were recommended as 3rd and 4th line treatments in patients with severe skin involvement. Rituximab and tocilizumab have been incorporated into inflammatory arthritis treatment. This can guide therapy in SSc.
Reference:
1Walker KM, Pope J. Treatment of systemic sclerosis complications: what to use when first-line treatment fails— a consensus of systemic sclerosis experts. Semin Arthritis Rheum 2012;42(1):42-55.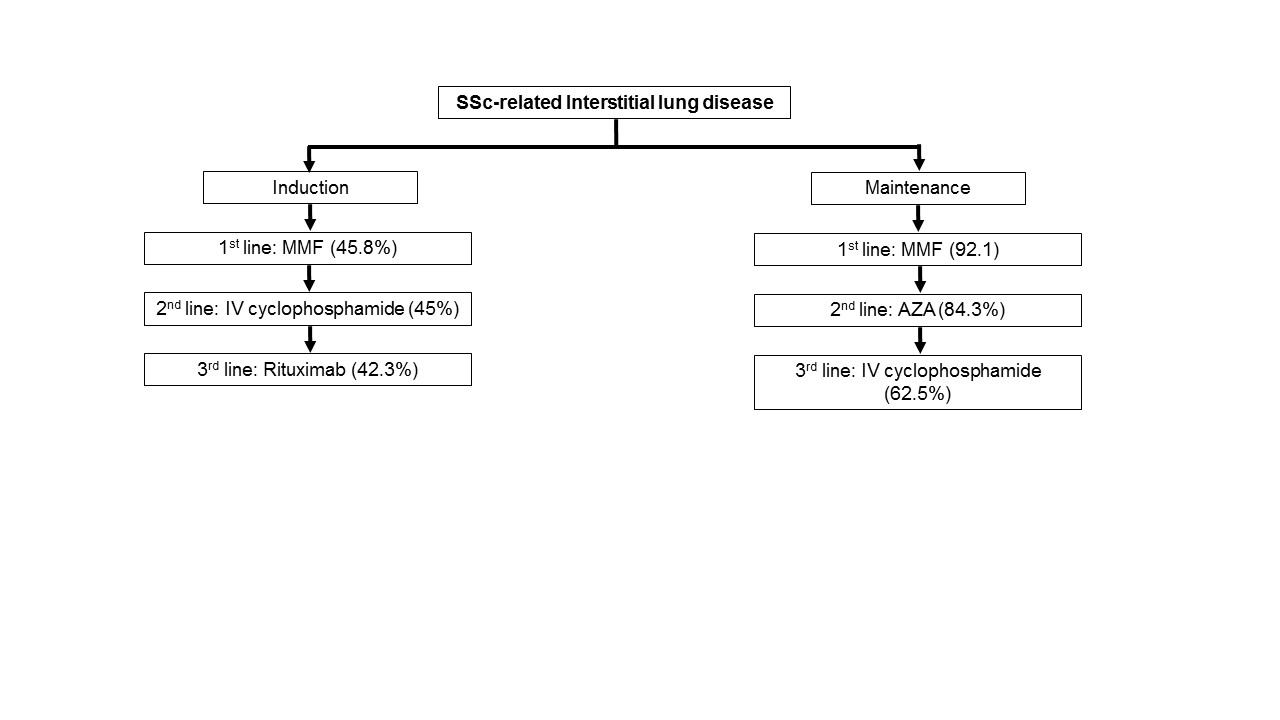 ---
Disclosure: A. Fernández-Codina, None; K. M. Walker, None; J. E. Pope, AbbVie, Amgen, Bayer, BMS, Celtrion, Eli Lilly and Company, Merck, Novartis, Pfizer, Roche, UCB, 5,Amgen, Bayer, BMS, GSK, Merck, Novartis, Pfizer, Roche, UCB, 2.
To cite this abstract in AMA style:
Fernández-Codina A, Walker KM, Pope JE. Real-Life Treatment Strategies for Systemic Sclerosis According to Experts [abstract].
Arthritis Rheumatol.
2017; 69 (suppl 10). https://acrabstracts.org/abstract/real-life-treatment-strategies-for-systemic-sclerosis-according-to-experts/. Accessed September 24, 2021.
« Back to 2017 ACR/ARHP Annual Meeting
ACR Meeting Abstracts - https://acrabstracts.org/abstract/real-life-treatment-strategies-for-systemic-sclerosis-according-to-experts/