Session Information
Session Type: Poster Session D
Session Time: 8:30AM-10:30AM
Background/Purpose: Deficiency of adenosine deaminase 2 enzyme (DADA2) is an autosomal recessive autoinflammatory disorder associated with ADA2 mutations. ADA2 works as a growth factor and its deficiency causes derangements in vascular integrity, increases in the proinflammatory type of macrophages, and results in tumor necrosis factor (TNF) mediated vascular inflammation. Given the importance of TNF in the pathophysiology, our aim was to understand the real-life outcomes of Anti-TNF treatment in patients with DADA2.
Methods: All DADA2 Adult or Pediatric patients among our Vasculitis Research Centre prospective database were included in this descriptive assessment. Demographics, clinical characteristics, and treatment details were recorded. From the overall cohort, patients who were initiated an anti-TNF agent were further assessed for the duration, dosage, indication of the treatment, and the outcome of the patients. Treatment response was evaluated according to physicians' reports (full-response, partial response-no response). A full response was defined as the symptom-free status of patients with normal acute phase reactants (AFRs)
Results: Totally 26 patients (Adult/Childhood age: 16/10) were analyzed. Mean (SD) current age was 25.6 (8.7) years in adults and 9.5 (2.5) years in children. The mean diagnosis age was 15.65 (9.2 ) years. The G47R mutation was homozygote in 19/21(90.5%) and heterozygote in 2/21 (9.5 %) of the patients. During a median (IQR) 48.5 (24-72) months of follow-up, anti-TNF agents (Etanercept, n=22; Adalimumab, n= 2) were prescribed to 24 of the patients. Throughout median (IQR) 36 (11.5-64) months of follow-up on anti-TNF treatment, none of the patients with hematologic involvement (n=6) showed a full response. Overall, 9 (37.5%) of the patients showed a full response. Patients with full response had received anti-TNF agents for predominant nervous system involvement (central, n=4; peripheral, n=5), renal involvement (n=1), constitutional symptoms (n=2), or skin involvement (n=2).
Regarding the patients with partial responses (50%), the predominant manifestations were: nervous system involvement (central, n=2; peripheral, n=2), renal involvement (n=1), skin involvement (n=4), digital necrosis (n=2), mesenteric vascular involvement (n=1), arthritis (n=1), hematologic involvement (n=5) and hypogammaglobulinemia (n=1) (Figure).
Two of three deceased patients were on TNFi: One patient with hematologic involvement had no response to anti-TNF and the patient died after bone marrow transplantation. The other patient died after 3 months of treatment in 2015. In one patient Anti-TNF agent was discontinued because of cardiomyopathy (Table-2).
Conclusion: Anti-TNF treatment enables full recovery for the vasculitic and inflammatory lesions (including neurologic involvement) in 40% of the patients and partial response in the others. However, we once again confirm that hematologic involvement does not have a satisfactory response to anti-TNF; bone marrow transplantation or new modalities of treatment are indicated for this group of patients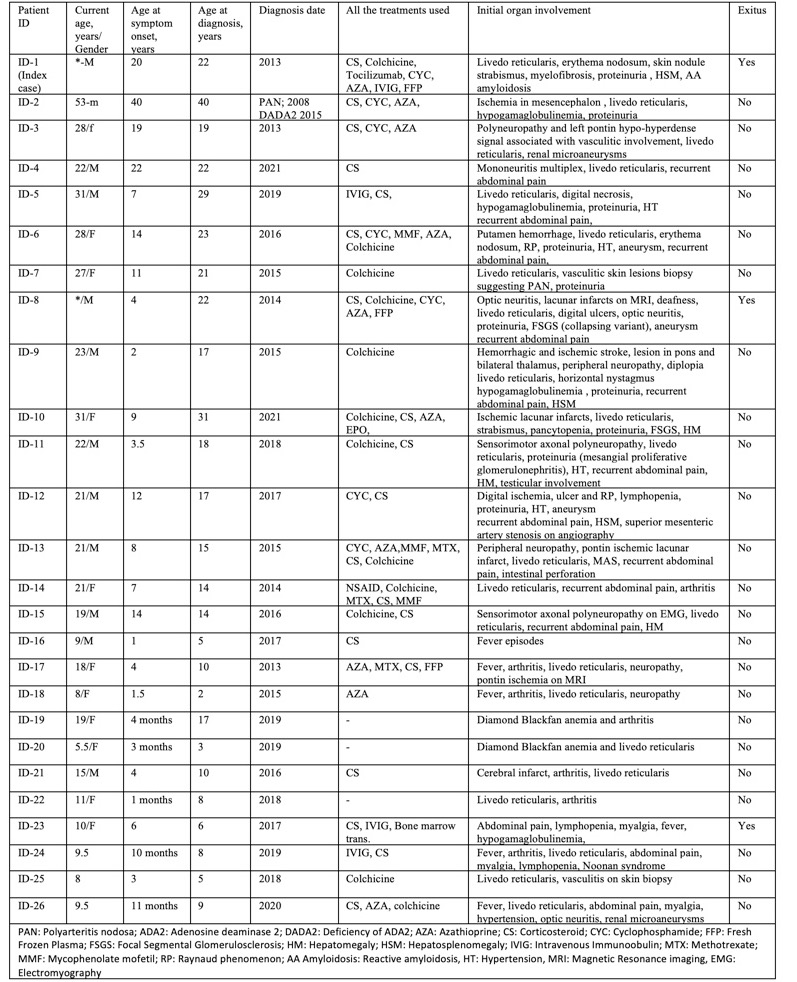 Görüntü 31.05.2021 23.42.jpeg"Table_1. Demographic and clinical characteristics of patients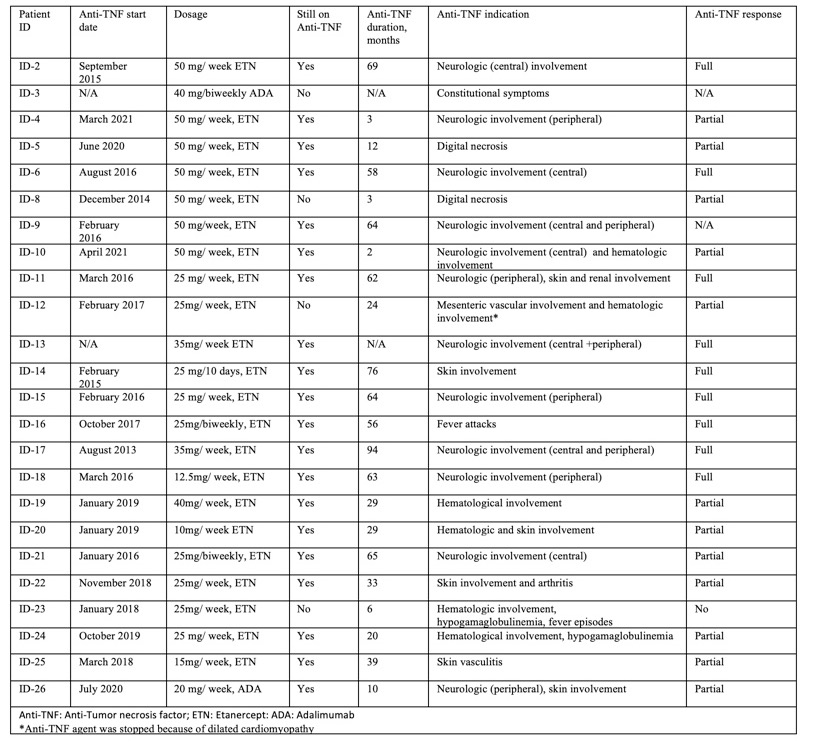 Görüntü 31.05.2021 23.42 (1).jpeg"Table 2. The details of the Anti-TNF treatment and the outcomes of the patients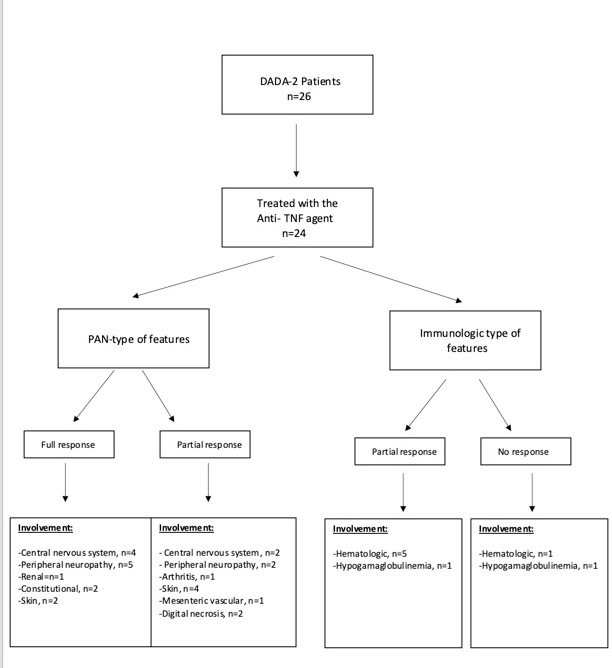 Figure.jpeg"Flowchart of the patient outcomes
---
Disclosures: O. Karadag, Omer Karadag has received research grants from Roche, Pfzer as study investigator and received consulting fees from Celltrion., 6; G. Ayan, None; O. Basaran, None; E. bolek, None; L. Kilic, None; Y. Bilginer, Novartis, 6; M. Alikasifoglu, None; S. Ozen, Novartis, 6.
To cite this abstract in AMA style:
Karadag O, Ayan G, Basaran O, bolek E, Kilic L, Bilginer Y, Alikasifoglu M, Ozen S. Real-life Data for the Use of Anti-TNF Treatment in DADA2 [abstract].
Arthritis Rheumatol.
2021; 73 (suppl 9). https://acrabstracts.org/abstract/real-life-data-for-the-use-of-anti-tnf-treatment-in-dada2/. Accessed December 1, 2022.
« Back to ACR Convergence 2021
ACR Meeting Abstracts - https://acrabstracts.org/abstract/real-life-data-for-the-use-of-anti-tnf-treatment-in-dada2/