Session Information
Session Type: Poster Session C
Session Time: 8:30AM-10:30AM
Background/Purpose: Childhood systemic lupus erythematosus (cSLE) is a life-long disease with significant morbidity and mortality, and with associated significant impact on health-related quality of life (HRQOL). Prior research has shown that SLE patients' physical activity level is lower than that of healthy individuals. Increased physical activity is associated with improved wellbeing in SLE.There is a paucity of literature examining relationship between physical activity and HRQOL in cSLE. We sought to describe the physical activity and determine the relationship between exercise, SLE activity and treatment modalities and HRQOL in cSLE. To our knowledge, this is the first study investigating the relationship between the Physical Activity Questionnaire (PAQ) and Simple Measure of the Impact of Lupus Erythematosus in Youngsters (SMILEY) total scores (both used in our study).
Methods: Children < 18 years of age with SLE and their parents were enrolled and completed corresponding child and parent SMILEY reports, and the PAQ for Children (PAQ-C) or Adolescents (PAQ-A). Through retrospective chart review we assessed disease activity (SLE Disease Activity Index). Descriptive statistics as well as Pearson's correlation coefficients were performed with the data obtained, with the patients stratified into two cohorts of lower and higher levels of physical activity (PAQ score < 2 and ≥ 2) and based off the average PAQ score of 2, with median PAQ score of 1.8 (range 1.0- 4.7). We utilized a conservative estimate of PAQ scoring, with previous studies identifying normative PAQ scores in a healthy pediatric population ranges between a minimum of 2.7-2.9 based on age and gender, respectively.
Results: Forty-four children and their parents were enrolled; clinical data, SMILEY and PAQ-C or PAQ-A scores of cSLE subjects were evaluated. The most frequently reported exercise modality was walking (61.4%), with mean frequency of 3.7 ± 1.8 days/week, and a median of 3.5 days/week. Running was the second most frequent exercise reported (54.5%), with mean frequency of 3.1 ± 2.0 days/ week, and a median of 1.5 days/week. Our patients had an overall lower frequency of Cyclophosphamide use and higher frequency of Mycophenolate and Rituximab use. Patients with hypocomplementemia at diagnosis, current prednisone use, Class IV/V lupus nephritis, and Cyclophosphamide use had a higher proclivity towards less activity (PAQ score < 2). There was a mild correlation between SMILEY total score and PAQ [cSMILEY and PAQ (Pearson correlation=0.2), and pSMILEY scores (Pearson correlation=0.3;p=0.05)]. cSLE patients with PAQ≥ 2 had higher child and parent SMILEY scores but the difference was not statistically significant. There was a strong correlation between child and parent-SMILEY scores (Pearson correlation=0.7;p= < .00001).
Conclusion: Patients with cSLE prefer walking followed by running. cSLE patients with higher physical activity appeared to have better HRQOL, lower steroid use, and less cyclophosphamide use. We need larger samples to understand the prognostic value of activity levels and the extent to which increasing physical activity through exercise might be linked to improvements in HRQOL in this vulnerable population.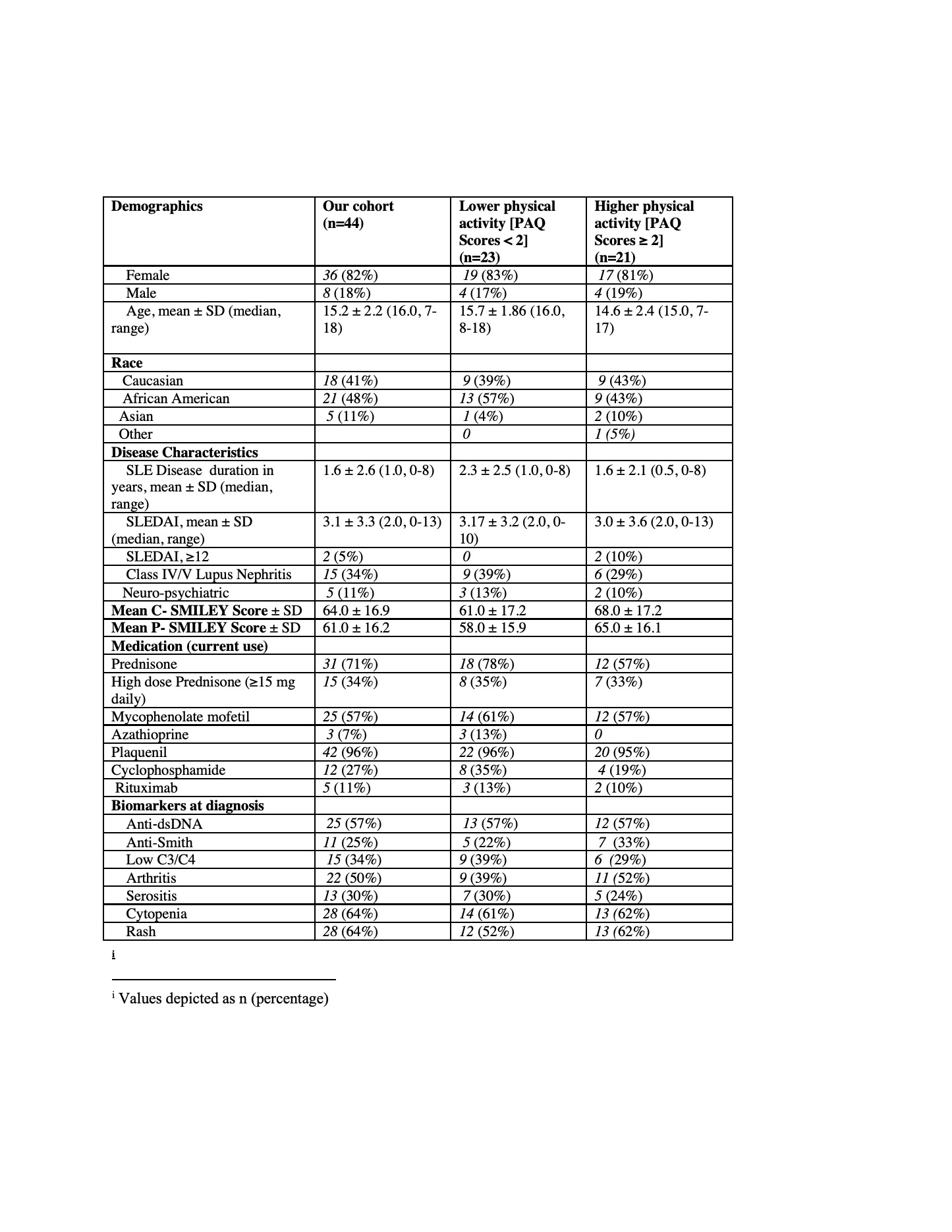 Table 1: Characteristics of SMILEY Participants stratified by PAQ scores. This table depicts the patient demographics, clinical features and management of enrolled pediatric systemic lupus erythematosus patients for patients with PAQ scores < 2 and ≥2.
---
Disclosures: M. Nelson, None; L. Ponder, None; S. Gibson, None; D. Villacis- Nunez, None; L. Chan, None; L. Moorthy, Bristol Myer Squibb, 5; S. Prahalad, Novartis, 1.
To cite this abstract in AMA style:
Nelson M, Ponder L, Gibson S, Villacis- Nunez D, Chan L, Moorthy L, Prahalad S. Quality of Life Measures and Physical Activity in Childhood Systemic Lupus Erythematosus [abstract].
Arthritis Rheumatol.
2021; 73 (suppl 10). https://acrabstracts.org/abstract/quality-of-life-measures-and-physical-activity-in-childhood-systemic-lupus-erythematosus/. Accessed December 6, 2021.
« Back to ACR Convergence 2021
ACR Meeting Abstracts - https://acrabstracts.org/abstract/quality-of-life-measures-and-physical-activity-in-childhood-systemic-lupus-erythematosus/