Session Information
The 2020 Pediatric Rheumatology Symposium, originally scheduled for April 29 – May 2, was postponed due to COVID-19; therefore, abstracts were not presented as scheduled.
Session Type: ACR Abstract Session
Session Time: 5:00PM-6:00PM
Background/Purpose: Protracted febrile myalgia syndrome (PFMS) is a rare complication of familial Mediterranean fever (FMF) which consist of prolonged attack of fever, excruciating myalgia (up to 6 weeks) and normal creatine phosphokinase (CPK) levels. The diagnosis is based on clinical symptoms and is often challenging especially when PFMS is the first ever manifestation of FMF.  The aim of this report was to present the magnetic resonance imaging (MRI) findings in pediatric patients with PFMS and their contribution to diagnosis.
Methods: Four children with PFMS attending 3 different medical centers are described. Clinical data were collected from the medical files, and all MRI scans were revised by an experienced radiologist. All patients were genetically tested by Sanger sequencing for the 9 most common MEFV mutations.
Results: There were three girls and 1 boy aged 6 months to 12 years. Two were of Mediterranean ancestry. All but one (no. 3) had high-grade fever, and all had elevated inflammatory markers. A long comprehensive work-up was performed during hospitalization, including multiple CT and  CT-angiography scans, bone marrow aspirations, and skin and muscle biopsies. MRI of the extremities yielded findings suggesting myositis, and together with the clinical picture, normal CPK levels, and supporting family history, suggested the diagnosis of PFMS. After diagnosis, all patients were referred for Sanger sequencing for the 9 most common MEFV mutations (M694V, M694I, M680I, K695R, R761H, A744S, P369S, V726A, E148Q).  One was homozygous for M694V mutation, two were heterozygous for M694V mutation, and one was hemizygous for the M694V and V726A mutations.
Conclusion: MRI  along with relevant symptoms and normal CPK levels may serve as an auxiliary diagnostic tool in PFMS, eliminating the need for extensive workup and shortening the time to diagnosis and treatment.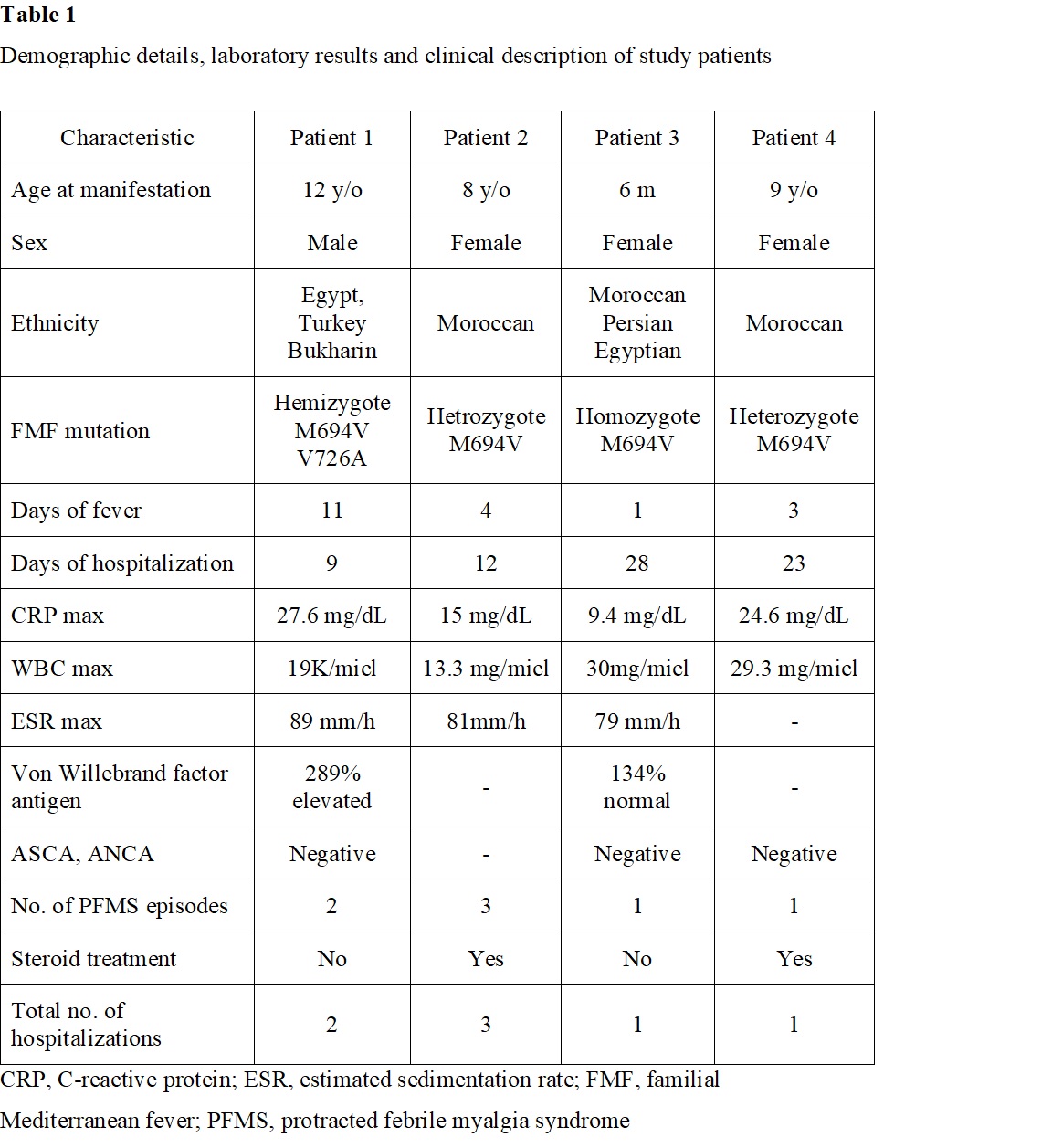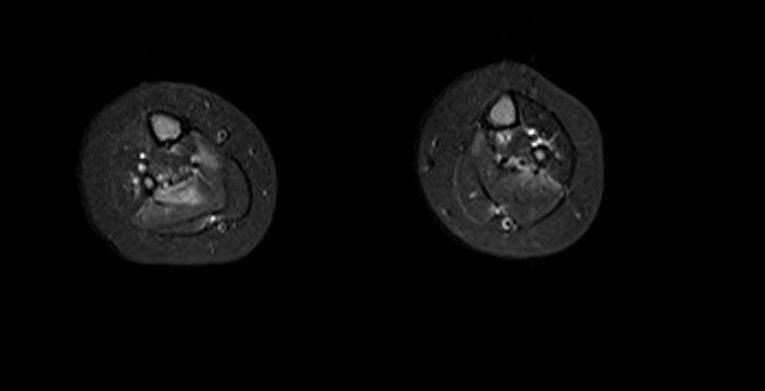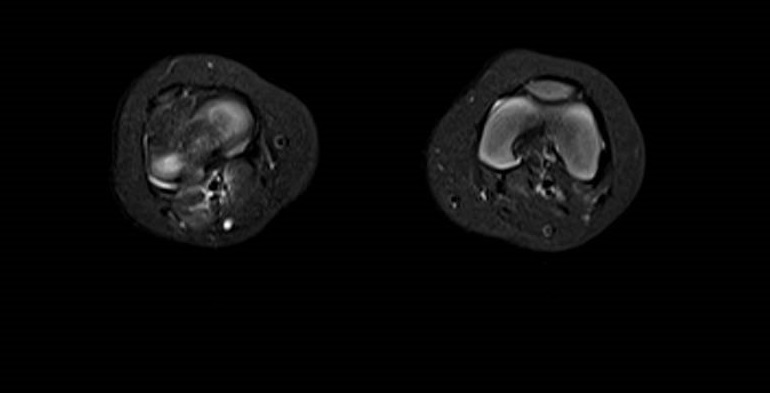 ---
Disclosure: N. Aviran, None; L. Harel, None; G. Amarilyo, None; Y. Uziel, None; Y. Butbul Aviel, None; R. Tal, None.
To cite this abstract in AMA style:
Aviran N, Harel L, Amarilyo G, Uziel Y, Butbul Aviel Y, Tal R. Protracted Febrile Myalgia Findings on Magnetic Resonance Imaging [abstract].
Arthritis Rheumatol.
2020; 72 (suppl 4). https://acrabstracts.org/abstract/protracted-febrile-myalgia-findings-on-magnetic-resonance-imaging/. Accessed August 12, 2022.
« Back to 2020 Pediatric Rheumatology Symposium
ACR Meeting Abstracts - https://acrabstracts.org/abstract/protracted-febrile-myalgia-findings-on-magnetic-resonance-imaging/