Session Information
Session Type: Poster Session A
Session Time: 9:00AM-11:00AM
Background/Purpose: Giant cell arteritis (GCA) is the most common form of systemic vasculitis affecting people aged 50 years and older.1 Although it is known, that GCA often coexists with polymyalgia rheumatica (PMR)2, to this point, the prevalence of GCA in consecutive newly diagnosed patients with PMR has not been investigated.
Methods: Consecutive patients with newly diagnosed PMR fulfilling the ACR /EULAR classification criteria3 were included. Vascular US examination of the extracranial arteries typically involved in GCA, such as axillary arteries, vertebral arteries, common carotid arteries, superficial temporal arteries with both frontal and parietal branches, occipital arteries, facial arteries and the central retinal arteries was performed in all PMR patients. Typical symptoms of GCA and PMR were recorded. Diagnosis of GCA was made, if intima-media thickness (IMT) was above respective cut-off values.4  
Results: Fifty patients with newly diagnosed PMR were included. In 27 PMR patients, GCA was diagnosed by vascular ultrasound (GCA-PMR group), while 23 PMR patients showed no evidence of GCA (PMR-group). Mean age of the PMR-GCA group was 74 years (SD ± 9) with ten (37%) females, while mean age in the PMR-GCA group was 71 years (SD ± 10.1) with seventeen (73%) females. Mean C-reactive protein (CRP) values were 29.4 mg/l (SD±24.5) in the PMR-group and 52.2 mg/l (SD±43.2) in the GCA-PMR group. CRP values were not found to be significant between groups (p = 0.1432). Forty-five of all patients (90%) described morning stiffness. Ten patients (37%) in the GCA-PMR group did not complain of any GCA symptoms, GCA was only detected by ultrasound examination. Every patient with diagnosis of PMR had shoulder or hip inflammation on US. Characteristic symptoms of PMR and GCA and the number of patients with respective symptoms are depicted in table 1 and 2.
Conclusion: Prevalence of GCA in patients with PMR in our cohort was 54%. CRP was higher in the GCA-PMR group compared to the PMR-group. Ten (37%) patients with GCA and PMR did not have any GCA symptoms. Performing vascular US in patients with PMR can be useful to diagnose a clinical inapparent GCA. Prompt onset of the respective therapy could prevent complications of GCA,  glucocorticoid therapy and probably improve disease outcome.
References
Warrington KJ, Matteson EL. Management guidelines and outcome measures in giant cell arteritis (GCA). Clin Exp Rheumatol 2007;25:137–41.
Salvarani C, Cantini F, Hunder GG. Polymyalgia rheumatica and giant-cell arteritis. The Lancet 2008;372:234–45.
Dasgupta B, Cimmino MA, Kremers HM, et al. 2012 Provisional classification criteria for polymyalgia rheumatica: a European League Against Rheumatism/American College of Rheumatology collaborative initiative. Arthritis Rheum 2012;64:943–54.
Schäfer VS, Juche A, Ramiro S, Krause A, Schmidt WA. Ultrasound cut-off values for intima-media thickness of temporal, facial and axillary arteries in giant cell arteritis. Rheumatology (Oxford) 2017;56:1479–83.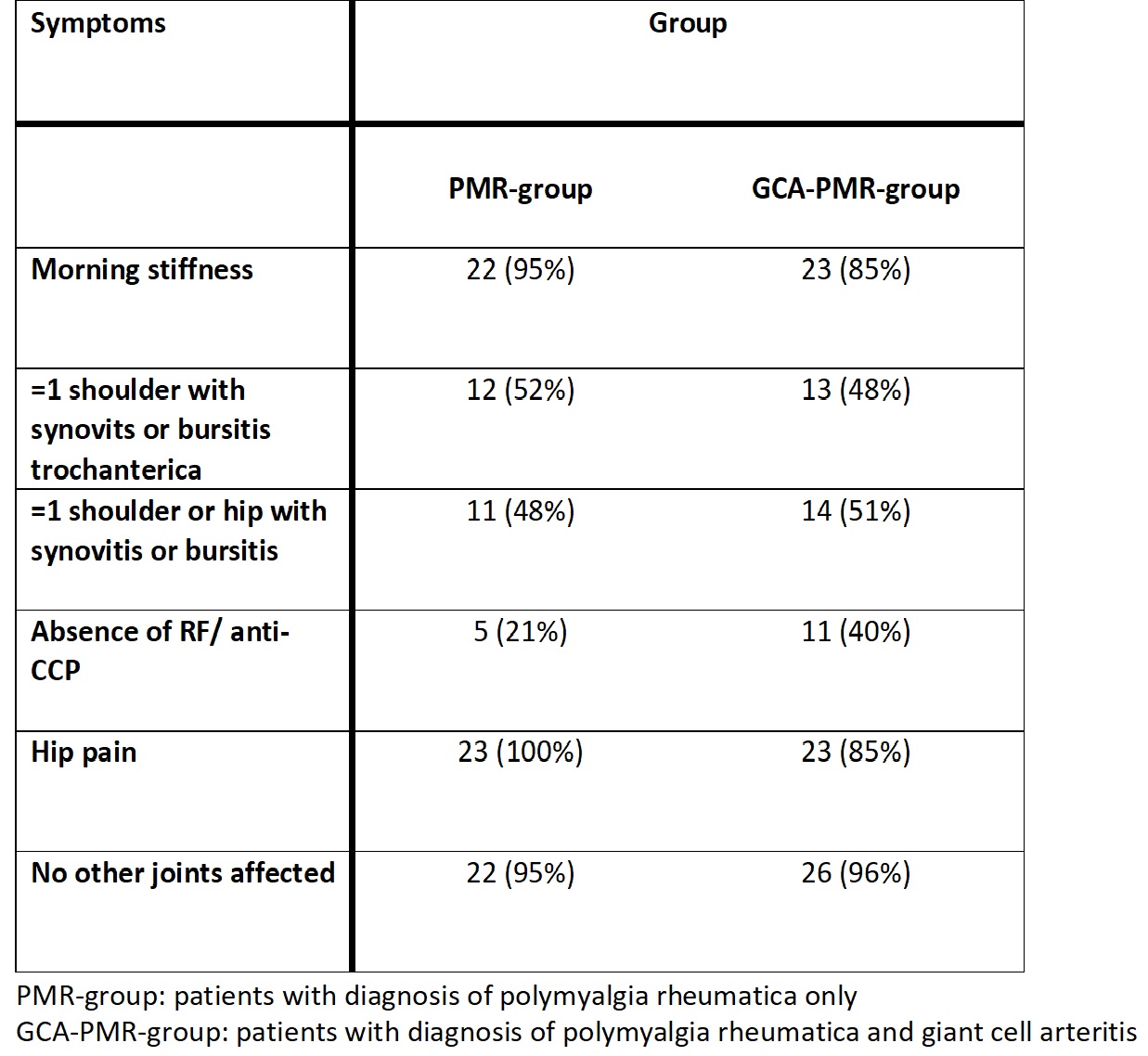 Table 1. Number of patients fulfilling ACR/EULAR classification criteria for polymyalgia rheumatica
---
Disclosure: L. Burg, None; P. Brossart, None; C. Behning, None; V. Schaefer, None.
To cite this abstract in AMA style:
Burg L, Brossart P, Behning C, Schaefer V. Prospective Analysis of the Prevalence of Giant Cell Arteritis in Consecutive Newly Diagnosed Patients with Polymyalgia Rheumatica [abstract].
Arthritis Rheumatol.
2020; 72 (suppl 10). https://acrabstracts.org/abstract/prospective-analysis-of-the-prevalence-of-giant-cell-arteritis-in-consecutive-newly-diagnosed-patients-with-polymyalgia-rheumatica/. Accessed October 4, 2022.
« Back to ACR Convergence 2020
ACR Meeting Abstracts - https://acrabstracts.org/abstract/prospective-analysis-of-the-prevalence-of-giant-cell-arteritis-in-consecutive-newly-diagnosed-patients-with-polymyalgia-rheumatica/