Session Information
Session Type: ACR Concurrent Abstract Session
Session Time: 4:30PM-6:00PM
Background/Purpose: To analyze the potential use of the main features at diagnosis (epidemiological, clinical, laboratory) as prognostic factors and to estimate the risk of death in adult patients with hemophagocytic syndrome (HS).
Methods: In June 2013, the Spanish Autoimmune Diseases Study Group (GEAS-SEMI) created a national registry (REGHEM) of adult patients with HS. Patients were diagnosed according to fulfillment of the criteria of the Histiocytosis Society proposed in 1991 and updated in 2004. The HScore, a prognostic score, which includes 9 clinical, laboratory and histopathological features and ranges from 0 to a maximum of 337 points, was calculated at diagnosis. Time-to-event analyses for death are presented as Kaplan-Meier curves.
Results: By January 2016, the REGHEM registry included 116 adult patients with HS, 68 (59%) men and 48 (41%) women, with a mean age at diagnosis of 49 years (range 14-84 years); 19 (16%) were not born in Spain. The main underlying diseases were chronic infections in 20 (17%) cases, autoimmune/rheumatologic disease in 33 (28%), neoplasia in 23 (22%) and transplantation in 4 (3%); the remaining 36 (31%) patients had no identifiable underlying disease. Sixty-one (53%) patients died. Patients who died were more frequently male (69% vs. 47% in survivors, p=0.03), had a higher mean value of serum ferritin (6662 vs. 3570 ng/mL, p=0.028), a lower mean hemoglobin value (7.6 vs. 8.3 g/dL, p=0.021), a lower mean white blood cell count (1570 vs. 2450 x106/L, p=0.022), a lower mean platelet count (24000 vs. 66000 x106/L, p<0.001), and a higher mean HScore compared with survivors (230 vs. 205, p=0.05). Survival Kaplan-Meier curves (Figure 1) showed that the highest survival rate was in patients with underlying chronic infections while the poorest survival was found in patients with underlying neoplasia (HR 2.41, 95% CI 1.09-5.3).
Conclusion: Hemophagocytic syndrome is a multisystemic disease that remains fatal in > 50% of adults. Survival was significantly reduced in males, and in patients with underlying neoplasia, high ferritin values, severe cytopenias and high HScores. These prognostic factors could help identify patients at greater risk of death, who could benefit from more aggressive specific treatment of potential triggers and intensive supportive care.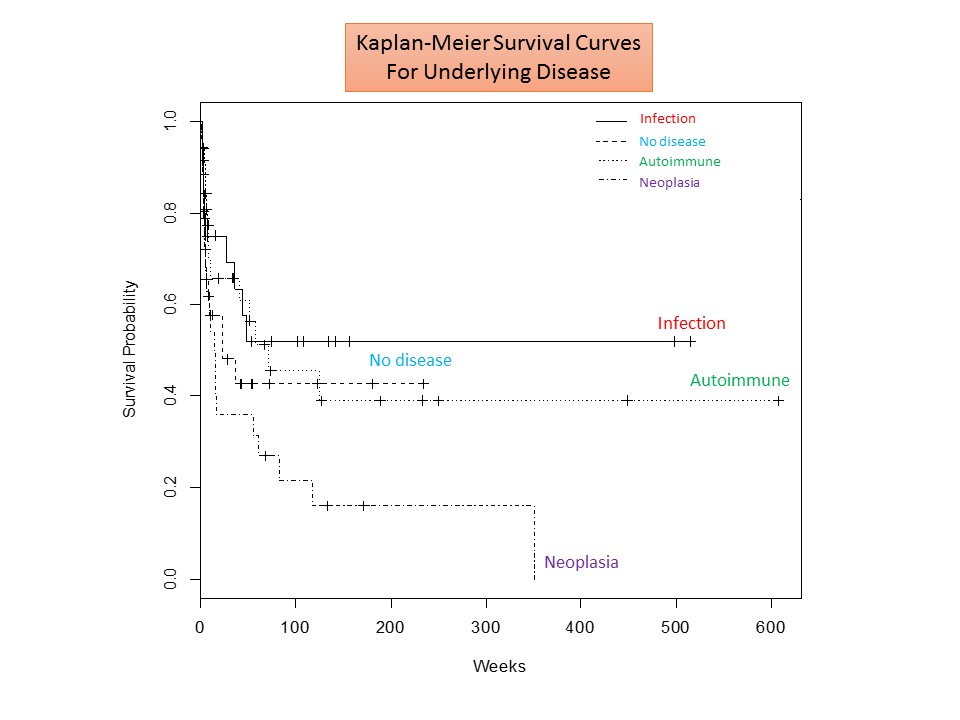 ---
Disclosure: P. Brito-Zerón, None; P. Moral Moral, None; B. Kostov, None; L. Caminal-Montero, None; G. Fraile, None; E. Fonseca, None; P. Pérez Guerrero, None; A. Robles, None; A. J. Chamorro, None; M. A. Calvo, None; J. R. Larrañaga, None; M. J. Forner, None; M. Rodriguez Carballeira, None; M. Ruiz Muñoz, None; R. Hurtado García, None; L. F. Viejo Llorente, None; S. Prieto-González, None; P. Castro, None; A. Martínez Zapico, None; M. Vaquero Herrero, None; A. Ruiz de Temiño de la Peña, None; S. Retamozo, None; M. Ramos-Casals, None.
To cite this abstract in AMA style:
Brito-Zerón P, Moral Moral P, Kostov B, Caminal-Montero L, Fraile G, Fonseca E, Pérez Guerrero P, Robles A, Chamorro AJ, Calvo MA, Larrañaga JR, Forner MJ, Rodriguez Carballeira M, Ruiz Muñoz M, Hurtado García R, Viejo Llorente LF, Prieto-González S, Castro P, Martínez Zapico A, Vaquero Herrero M, Ruiz de Temiño de la Peña A, Retamozo S, Ramos-Casals M. Prognostic Factors of Death in a Cohort of 116 Adults with Hemophagocytic Syndrome: Impact of Underlying Disease and Laboratory Parameters [abstract].
Arthritis Rheumatol.
2016; 68 (suppl 10). https://acrabstracts.org/abstract/prognostic-factors-of-death-in-a-cohort-of-116-adults-with-hemophagocytic-syndrome-impact-of-underlying-disease-and-laboratory-parameters/. Accessed November 30, 2020.
« Back to 2016 ACR/ARHP Annual Meeting
ACR Meeting Abstracts - https://acrabstracts.org/abstract/prognostic-factors-of-death-in-a-cohort-of-116-adults-with-hemophagocytic-syndrome-impact-of-underlying-disease-and-laboratory-parameters/