Session Information
Session Type: Poster Session C
Session Time: 9:00AM-11:00AM
Background/Purpose: Up to 50% of patients with systemic lupus erythematosus (SLE) are nonadherent to their medications, which increases the risk of renal failure and death (1). SLE is a particularly challenging disease because it primarily affects young, black women who are less likely to be insured, potentially making adherence more of a challenge. While some factors like depression, polypharmacy, low socioeconomic status, and education level may contribute to nonadherence, factors that can reliably predict nonadherence have not been thoroughly identified. We evaluated the rates of primary nonadherence (defined as patient not filling a medication at the pharmacy) in our population of patients with SLE. We also evaluated demographics and other variables that may be associated with primary nonadherence
1 Feldman CH Arth and Rheum 2016 68(6): 1323-6
Methods: Prescription fill data and medication orders were extracted from the electronic medical record (EMR) between 1/1/2018 and 12/31/2018 for 181 patients who were enrolled in an SLE or pregnancy-rheumatology registries. Prescription fill data is automatically entered into the EMR through a vendor (Surescripts) that pulls this information from pharmacies and prescription benefit managers. Specifically, we evaluated 5 medications for adherence: hydroxychloroquine, methotrexate, azathioprine, mycophenolate mofetil and belimumab. We compared prescription fill data to medication orders during this time period and measured the percentage of medications that were filled within 30 days of a medication order or expected refill. We also calculated the medication possession ratio (MPR) during this time frame.  We designated a patient as adherent if they had an MPR of Finally, we evaluated several demographic and patient variables that may serve as predictors of non-adherence.
Results: Study population characteristics are presented in Table 1. At total of 181 patients were evaluated.  49% of prescription orders were filled within 30 days (Figure 1). Azathioprine was filled most often (56%) while belimumab the least (26%). Only 40-50% of patients had an MPR of at least 80% to hydroxychloroquine, azathioprine and methotrexate. Less than 15% had an MPR of 80% to mycophenolate mofetil and belimumab. When evaluating predictors of non-adherence only age (less than 30 years old) was a significant predictor of non-adherence to all prescribed medications. Additionally, Caucasian patients had greater adherence to all medications compared to those identified as "Black" or "other". Gender, level of education, income, insurance type and marital status were not significant predictors.
Conclusion: By using a methodology that allows for data supplied by Surescripts to be easily and directly extractable from an EMR, we were able to identify that nearly 50% of patients were non-adherent in terms of filling prescriptions at a pharmacy, particularly for mycophenolate mofetil and belimumab. This correlates with other studies of adherence (both primary and secondary) using different methodology. Specifically, younger, non-white patients may be at the largest risk for primary non-adherence and may serve as a target population for intervention.
Characteristics of patients entered into analysis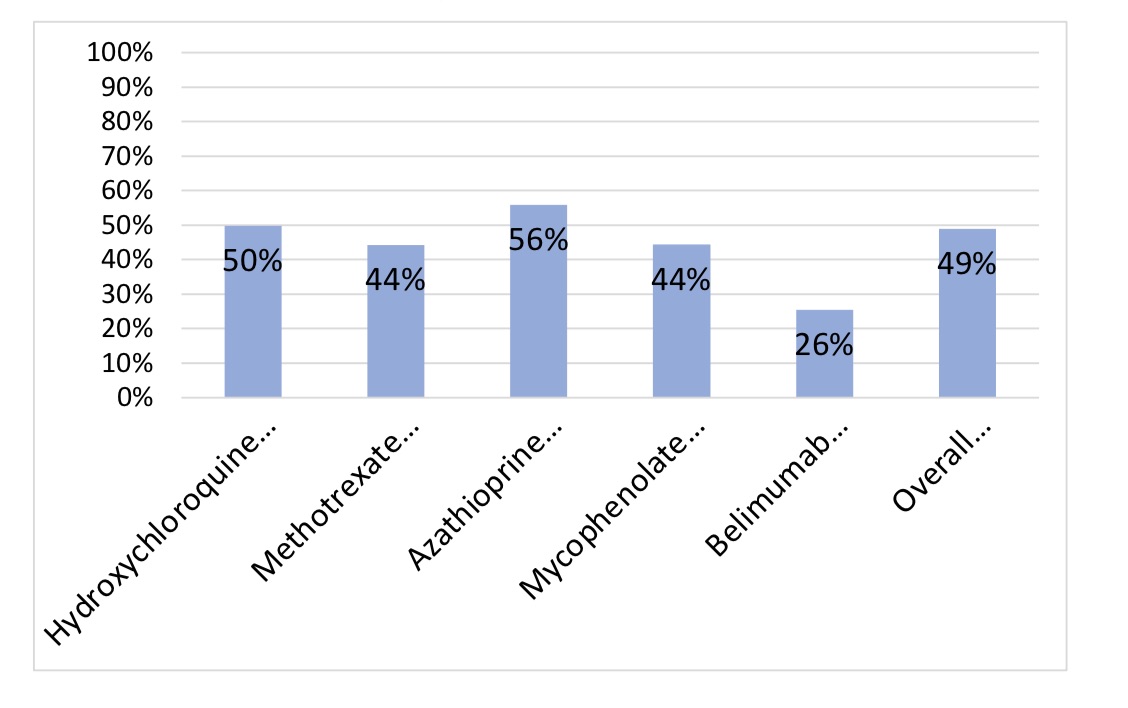 Medication fills within 30 days of order
Medication possession ratio
---
Disclosure: A. Shah, Boehringer-Ingleheim, 2, Reata Inc., 2, Bristol-Myers Squibb, 2, Affinergy Inc, 2; M. Clowse, UCB, 5, GSK, 2, 5, Astra Zeneca, 5, Pfizer, 2; D. Wojdyla, None; A. Eudy, NIH NCATS Award Number 1KL2TR002554, 2, Pfizer, 2.
To cite this abstract in AMA style:
Shah A, Clowse M, Wojdyla D, Eudy A. Primary Non-adherence in Patients with Systemic Lupus Erythematosus [abstract].
Arthritis Rheumatol.
2020; 72 (suppl 10). https://acrabstracts.org/abstract/primary-non-adherence-in-patients-with-systemic-lupus-erythematosus/. Accessed September 22, 2023.
« Back to ACR Convergence 2020
ACR Meeting Abstracts - https://acrabstracts.org/abstract/primary-non-adherence-in-patients-with-systemic-lupus-erythematosus/