Session Information
Session Type: ACR Late-breaking Abstract Session
Session Time: 9:00AM-11:00AM
Background/Purpose:
Neurosarcoidosis and primary angiitis of central nervous system (PACNS) are inflammatory diseases affecting central nervous system, with overlapping clinical and pathological characteristics. Differentiating between both conditions is crucial for differences in therapeutic options. In this study, we aimed to compare the MRI findings between these two conditions to enhance our diagnostic approach, which can lead to more accurate decisions about appropriate treatment strategy.Methods:
Thirty-four patients with PACNS and forty two patients with neurosarcoidosis were included in the study.  Brain and/or spinal cord MRI performed near the time of presentation were blindly evaluated by two neuroradiologists. Data regarding involvement of pachy– and leptomeninges, basal meninges, cranial nerves, cerebral grey and white matter, and spinal cord were recorded for each patient. For each of these sites, presence, pattern (focal vs diffuse), localization (cerebral lobes, brain stem, cerebellum, tentorium, falx cerebri), and laterality of involvement (right, left, bilateral) were recorded. Additionally, ventriculomegaly, mass effect, and parenchymal hemorrhage were recorded. Chi square and Fisher's exact tests were used to compare the groups, as appropriate. All statistical analyses were performed using SAS 9.4 software.Results:
Mean age of patients was 45.6 (range, 5-80) and 44.1 (range, 25-66) in PACNS and neurosarcoidosis groups, respectively. MRI findings are summarized in the Table. Enhancement and abnormal signal in grey and/or white matter were significantly more common in patients with PACNS. However, localization and laterality of grey and/or white matter involvements did not show a difference between groups. In addition, basal ganglia enhancement and parenchymal hemorrhage were significantly associated with PACNS. On the other hand, patients with neurosarcoidosis had more common basal meningeal, spinal cord and cranial nerve involvements. Frequency, pattern, laterality and localization of pachy– and leptomeningeal, pituitary and hypothalamic involvements; frequency of brain mass effect and ventriculomegaly were similar between groups.Conclusion:
Patients with PACNS had higher frequency of cerebral and basal ganglia enhancement, and parenchymal hemorrhage, while patients with neurosarcoidosis demonstrated more frequent spinal cord, basal meningeal and cranial nerve involvements. These findings suggest that MRI can be an efficient tool in distinguishing PACNS from neurosarcoidosis. Table. Frequencies and comparison of MRI findings in patients with PACNS and neurosarcoidosis (NS).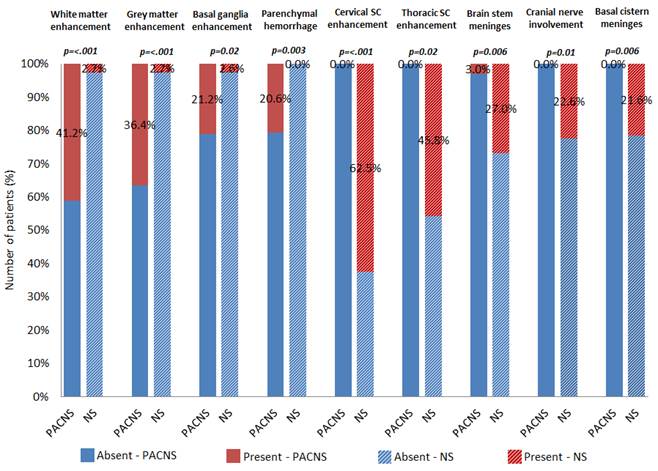 ---
Disclosure: D. Saygin, None; P. Sundaram-Simonelli, None; L. H. Calabrese, None; E. Ray, None; W. Messner, None; S. Jones, None; J. Tavee, None; R. A. Hajj-Ali, None.
To cite this abstract in AMA style:
Saygin D, Sundaram-Simonelli P, Calabrese LH, Ray E, Messner W, Jones S, Tavee J, Hajj-Ali RA. Primary CNS Vaculitis Vs Neurosarcoidosis: Can We Predict the Diagnosis with MRI? [abstract].
Arthritis Rheumatol.
2016; 68 (suppl 10). https://acrabstracts.org/abstract/primary-cns-vaculitis-vs-neurosarcoidosis-can-we-predict-the-diagnosis-with-mri/. Accessed October 19, 2021.
« Back to 2016 ACR/ARHP Annual Meeting
ACR Meeting Abstracts - https://acrabstracts.org/abstract/primary-cns-vaculitis-vs-neurosarcoidosis-can-we-predict-the-diagnosis-with-mri/