Session Information
Session Type: Poster Session D
Session Time: 8:30AM-10:30AM
Background/Purpose: Patients suffering from Psoriatic-Arthritis (PsA) can experience a substantial burden of disease, which may result in a significant reduction of their quality of life. Due to the relatively small sample size, the validity of previous cohort studies is partly reduced. Therefore, larger and more representative samples are urgently necessary to investigate prevalence and especially incidence in the real world. The present datasets enable a comprehensive examination of the epidemiology of the PsA in Germany.
Methods: The data was provided by the statutory health insurance as part of the morbidity-based risk adjustment. There, a cohort study collected the data of 65 million Germans with a statutory insurance from 2009 to 2012.
The main focus of this paper is to interpret the varying prevalence within the different age groups. Further, it aims to identify potential influences on this distribution. Especially the drastic decrease in the prevalence after the age of 60 remains in need of explanation.
A second step calculates the incidence values for PsA in Germany. For this purpose, we used a formula introduced by Brinks et. al., which requires the prevalence as well as the general mortality and the relative mortality associated with the disease (1, 2).
Results: The total number of persons suffering from PsA rose to approximately 127.000 in 2009 and 156.000 in 2012. A steady increase was observed for the age- and sex-specific prevalence over the lifetime of men and women, until it reached a plateau and declined thereafter. The prevalence plateaued at maximum of 5 per 1,000 py for men and 6 per 1,000 py for women. As previously mentioned, there is a sharp decrease in the prevalence in both sexes after the age of 60 (Fig. 1).
In contrast to the prevalence, the age- and sex-specific incidence peaks slightly earlier. The latter assumes a maximum value of 30 per 100,000 in men and 40 per 100,000 py in women. The subsequent decline of the incidence is less pronounced than for the prevalence (Fig. 2).
In general, an overall rise in the prevalence as well as the incidence can be observed during the study period.
Conclusion: In conclusion we demonstrated that there are considerable fluctuations in both the prevalence and incidence within the different age groups. A possible explanation for the change in the prevalence is the correlation between PsA and additional comorbidities, which coincide with an increased morbidity and mortality. Likewise, further influences such as an increased awareness for the diagnosis of PsA should be considered. Not only changed coding behavior of ICD codes but also the development of new therapeutic approaches has a significant impact on PsA prevalence and incidence.
References
Brinks, R., Landwehr, S., Icks, A., Koch, M. & Giani, G. (2013) Deriving age-specific incidence from prevalence with an ordinary differential equation. Statist. Med., 32, 2070–2078.
Brinks, R. & Landwehr, S. (2015) A new relation between prevalence and incidence of a chronic disease. Math. Med. Biol., 32, 425-35.
Figure 1: Age- and sex-specific prevalence of PsA in Germany (2009_2012)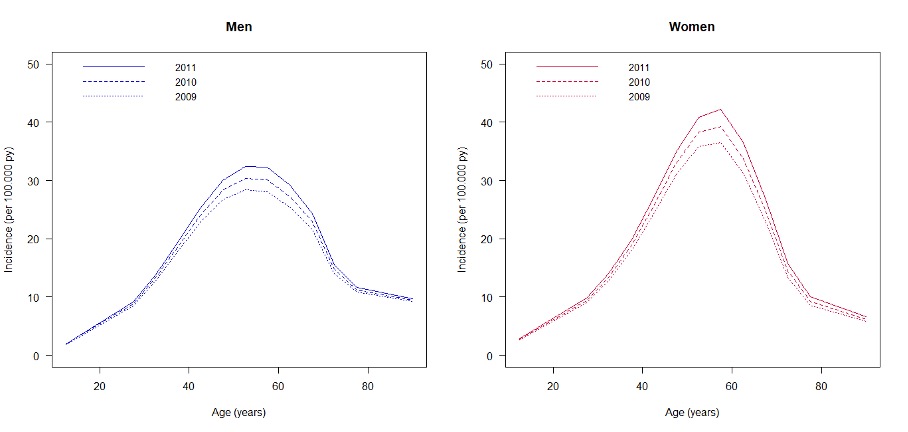 Figure 2: Age- and sex-specific incidence of PsA in Germany (2009_2011)
---
Disclosures: M. Denke, None; M. Schneider, GlaxoSmithKline, 2, 5, 6, UCB, 5, 6, AbbVie, 2, 5, Alexion, 2, AstraZeneca, 2, 6, Boehringer-Ingelheim, 2, Janssen-Cilag, 2, 6, Lilly, 2, 6, Novartis, 2, Pfizer, 2, 6, Roche, 2, Sanofi-Aventis, 2, Biogen, 6, BMS, 6, Celgene, 6, Chugai, 6; R. Brinks, None; P. Sewerin, AbbVie, 2, 5, Amgen, 2, 5, Axiom Health, 2, 5, Biogen, 2, 5, Bristol-Myers Squibb, 2, 5, Celgene, 2, Chugai Pharmaceutical Co. Ltd, 2, Deutscher Psoriasis Bund, 2, 5, Eli Lilly, 2, 5, Fresenius Kabi, 2, 5, Gilead, 2, 5, Janssen, 2, 5, Johnson & Johnson, 2, Medi-login, 2, Mediri, 2, Novartis, 2, 5, Onkowissen, 2, Pfizer, 2, 5, Roche, 2, 5, Rheumazentrum Rhein-Ruhr, 2, 5, Sanofi, 2, 5, Swedish Orphan Biovitrum, 2, UCB, 2, 5, Bundesministerium fuer Bildung und Forschung, 5, Deutsche Forschungsgesellschaft, 5, Hexal, 5.
To cite this abstract in AMA style:
Denke M, Schneider M, Brinks R, Sewerin P. Prevalence and Incidence of PsA in Germany – a Cohort Study with 65 Million Participants [abstract].
Arthritis Rheumatol.
2021; 73 (suppl 9). https://acrabstracts.org/abstract/prevalence-and-incidence-of-psa-in-germany-a-cohort-study-with-65-million-participants/. Accessed December 1, 2022.
« Back to ACR Convergence 2021
ACR Meeting Abstracts - https://acrabstracts.org/abstract/prevalence-and-incidence-of-psa-in-germany-a-cohort-study-with-65-million-participants/