Session Information
Session Type: ACR Concurrent Abstract Session
Session Time: 4:30PM-6:00PM
Background/Purpose: Historically, ankle osteoarthritis (OA) has been considered uncommon, and its development has been thought of as a consequence of primarily ankle injury. Other etiologies have not been extensively analyzed in community-based samples. Therefore, we examined the frequency of ankle OA and determined associations between body-mass index (BMI), sex, race, and other participant characteristics with the presence of ankle OA.
Methods: Complete data on OA, pain, and injuries of the ankle, as well as participant characteristics, were available for 856 participants (mean age 71 years, mean BMI 31.0 kg/m2, 68% women, 34% African Americans) in the Johnston County OA Project. Lateral and mortise views of the ankle were obtained in standing and read for Kellgren-Lawrence grade (KLG) by a musculoskeletal radiologist (JBR). Presence of ankle OA was defined one of two ways: KLG>=2 (primary) or KLG>=1 (secondary). Ankle symptoms were considered present based on an affirmative response to the question: ÒOn most days of any one month in the last 12 months did you have pain, aching or stiffness in your left/right ankle?Ó History of ankle injury was self-reported. Chi-square statistics for categorical variables and t-tests for continuous variables were used to compare all participant characteristics by the presence or absence of ankle OA. Multiple logistic regression models were performed to examine the associations of each participant characteristic with ankle OA, adjusting for all other factors.
Results: Among the 856 participants, 56 (7%) had ankle OA, defined as a KLG of >=2, in at least one ankle. There was no significant age difference between participants with and without ankle OA (Table). Participants with ankle OA had a higher mean BMI than those without (p<0.01). Additionally, individuals with a history of ankle injury and those with ankle symptoms, were more likely to have ankle OA (p<=0.05). In adjusted models, for every 1 unit increase in BMI, the odds of having ankle OA (KLG>=2), increased by 3%. Self-reported ankle injury was associated with 80% higher odds, while the presence of ankle symptoms was associated with more than twice the odds, of ankle OA. Results were similar when ankle OA was defined as KLG>=1 (n=634, 74%), but there were also differences by race (African Americans 40% lower odds) and sex (women 60% lower odds) in associations with ankle OA .
Conclusion: In this first community-based study of radiographic ankle OA including African American and Caucasian men and women, we found that ankle OA, defined as either KLG>=2 or KLG>=1, was not uncommon, and higher BMI and ankle symptoms were important factors. The association between increased BMI and more frequent ankle OA suggest that not only post-injury changes, but also individual characteristics of BMI or ankle symptoms, should be considered in the process of ankle OA.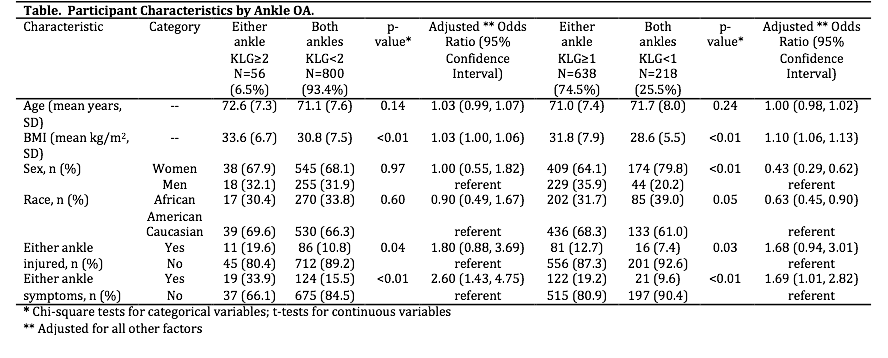 ---
Disclosure: S. Lateef, None; Y. M. Golightly, None; J. B. Renner, None; J. M. Jordan, None; A. E. Nelson, None.
To cite this abstract in AMA style:
Lateef S, Golightly YM, Renner JB, Jordan JM, Nelson AE. Prevalence and Cross-Sectional Risk Factors of Ankle Osteoarthritis in a Community-Based Cohort [abstract].
Arthritis Rheumatol.
2015; 67 (suppl 10). https://acrabstracts.org/abstract/prevalence-and-cross-sectional-risk-factors-of-ankle-osteoarthritis-in-a-community-based-cohort/. Accessed August 12, 2022.
« Back to 2015 ACR/ARHP Annual Meeting
ACR Meeting Abstracts - https://acrabstracts.org/abstract/prevalence-and-cross-sectional-risk-factors-of-ankle-osteoarthritis-in-a-community-based-cohort/