Session Information
Session Type: Poster Session (Sunday)
Session Time: 9:00AM-11:00AM
Background/Purpose: Women with antiphospholipid syndrome (APS) are at increased risk of recurrent miscarriage, fetal death, placental insufficiency, preeclampsia and fetal growth restriction (FGR). Although treatment improves outcomes, there are still some unsuccessful pregnancies. A multidisciplinary approach with strict monitoring is essential in order to attain obstetrical success. Our aim is to assess feto-maternal outcomes in Portuguese pregnant women with antiphospholipid syndrome (APS) who received multidisciplinary care and to determine the risk factors for adverse outcomes.
Methods: Pregnant women fulfilling the Sydney classification criteria for definite APS, who attended our specialized Rheumatology and Obstetrics outpatient clinic between 2010 and 2019, were included in this retrospective observational study. Cases of suspected APS not fulfilling the classification criteria were excluded. All pregnancies were followed up by a multidisciplinary team (rheumatologists, obstetricians and nurses). Data was collected from medical records. Adverse Pregnancy Outcomes (APO) were defined as: spontaneous abortion (< 10w), fetal death (≥10w), neonatal death, FGR and delivery prior to 36 weeks of gestation with or without preeclampsia (PE).
Results: A total of 41 pregnancies were identified in 31 women with APS (58% primary; 42% secondary APS). Forty-five percent had thrombotic APS, 42% obstetric APS and 13% mixed APS. Mean age at conception was 33.4 ± 5.2 years; mean disease duration was 6.3 ± 5.3 years. In regard to antiphospholipid antibody (APL) profile, 32%, 24% and 27% of patients were triple, double and single positive, respectively. Although they had fulfilled laboratorial criteria in the past, 17% of patients were negative for all APL at the time of conception. All patients were instructed to receive prophylactic or therapeutic low-molecular-weight heparin combined with low dose aspirin for the duration of pregnancy. Regarding fetal outcomes, there were 3 (7.3%) cases of first-trimester miscarriage, 1 (2.4%) medical abortion and 4 (9.8%) fetal deaths. There were no cases of neonatal death or other fetal malformations. The rate of live births was 80.5%, with a mean gestational age of 37.7 ± 1.7 weeks and mean birth weight of 2853.9 ± 466 g. Most women (64%) delivered by cesarean section. Preterm birth rate was 18% (6 cases), half corresponding to fetus with FGR. Concerning maternal outcomes, there was one single case (2.4%) of PE. There were no cases of eclampsia or HELLP syndrome. Lupus anticoagulant (p< 0.001, OR 38) and triple APL (p=0.008, OR 8.4) positivity were associated with adverse pregnancy outcomes. In this cohort, no association was found between poor obstetric outcomes and history of thrombosis, presence of SLE or low complement levels (table 1).
Conclusion: In our study, most pregnancies were uneventful. The presence of lupus anticoagulant and triple APL positivity can represent risk factors for adverse outcomes, despite conventional treatment. We reinforce the importance of a multidisciplinary evaluation and surveillance before, during and after pregnancy in women with APS in order to implement early treatment and to optimize fetal-maternal outcomes.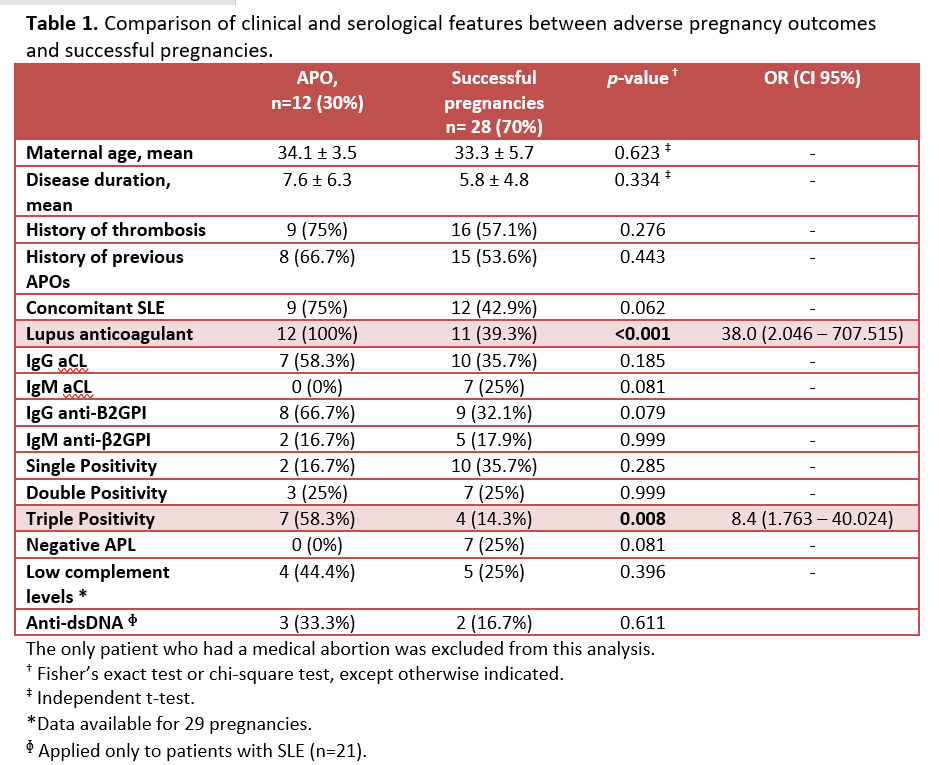 ---
Disclosure: A. Neto, None; P. Martins, None; M. Centeno, None; C. Araújo, None; L. Pinto, None; S. Capela, None.
To cite this abstract in AMA style:
Neto A, Martins P, Centeno M, Araújo C, Pinto L, Capela S. Pregnancy in Antiphospholipid Syndrome: Outcomes and Risk Factors – Data from a Portuguese Multidisclinary Unit [abstract].
Arthritis Rheumatol.
2019; 71 (suppl 10). https://acrabstracts.org/abstract/pregnancy-in-antiphospholipid-syndrome-outcomes-and-risk-factors-data-from-a-portuguese-multidisclinary-unit/. Accessed January 24, 2022.
« Back to 2019 ACR/ARP Annual Meeting
ACR Meeting Abstracts - https://acrabstracts.org/abstract/pregnancy-in-antiphospholipid-syndrome-outcomes-and-risk-factors-data-from-a-portuguese-multidisclinary-unit/