Session Information
Session Type: Poster Session C
Session Time: 9:00AM-11:00AM
Background/Purpose: Systemic autoinflammatory diseases (SAIDs) result from dysregulation of the innate immune system. Many patients with SAIDs have specific mutations that lead to the release of inflammatory cytokines that can be targeted with anti-inflammatory drugs or cytokine blockers. However, up to half of the patients with SAIDs do not have symptoms or mutations indicative of a specific SAID and are diagnosed with undefined (uSAIDs). Little is known about therapeutic options for these patients. The goal of this single-center study was to evaluate predictors of colchicine response among patients with uSAIDs in an American cohort.
Methods: We conducted a retrospective chart review of patients with clinical diagnoses of uSAIDs who tolerated colchicine for at least 3 months, followed at a large pediatric rheumatology clinic. "Complete colchicine response" was defined as having a complete resolution of the episodes and not requiring additional therapy for the treatment of flares (e.g. NSAIDs, acetaminophen, prednisone, tonsillectomy). "Partial colchicine response" was defined as a decrease in the frequency, severity, or length of episodes, without complete resolution of symptoms or the requirement of additional therapy to achieve full response. "No colchicine response" was defined as no change in the clinical and laboratory features in response to colchicine. For statistical analyses, "partial" and "no colchicine response" were combined into a single category.
Results: Of the 75 patients identified, 33 (44%) were complete colchicine responders, 35 (47%) were partial responders, and seven patients (9%) did not respond. Patient characteristics are shown in Table 1 and clinical features of disease flares are in Table 2.  Eastern Mediterranean ancestry and the presence of vomiting were predictive of a complete colchicine response, whereas oral ulcers and female sex were associated with partial or no colchicine response.
Conclusion: Many patients with uSAIDs had a complete response to colhicine. Confirming results of our previous preliminary study (1), the presence of oral ulcers remained as a predictor of partial response and vomiting was a predictor of complete response. Unlike a similar study conducted in a European cohort (2), short episode duration, and the regular interval between episodes were not associated with good response to colchicine in this American cohort. Limitations of this study include its retrospective nature and potential physician selection bias of patients to start on cochineal. Prospective studies would help better identify patients who could benefit the most from this therapy.
References: 
 (1) Hausmann JS, Guven B, Anderson E, Dedeoglu F. Predicting Colchicine Response in Patients with Undefined Autoinammatory Diseases [abstract]. Arthritis Rheumatol. 2017; 69 (suppl 4)
(2) Ter Haar NM, Eijkelboom C, Cantarini L, et al. Clinical characteristics and genetic analyses of 187 patients with undefined autoinflammatory diseases. Ann Rheum Dis 2019;78:1405–1411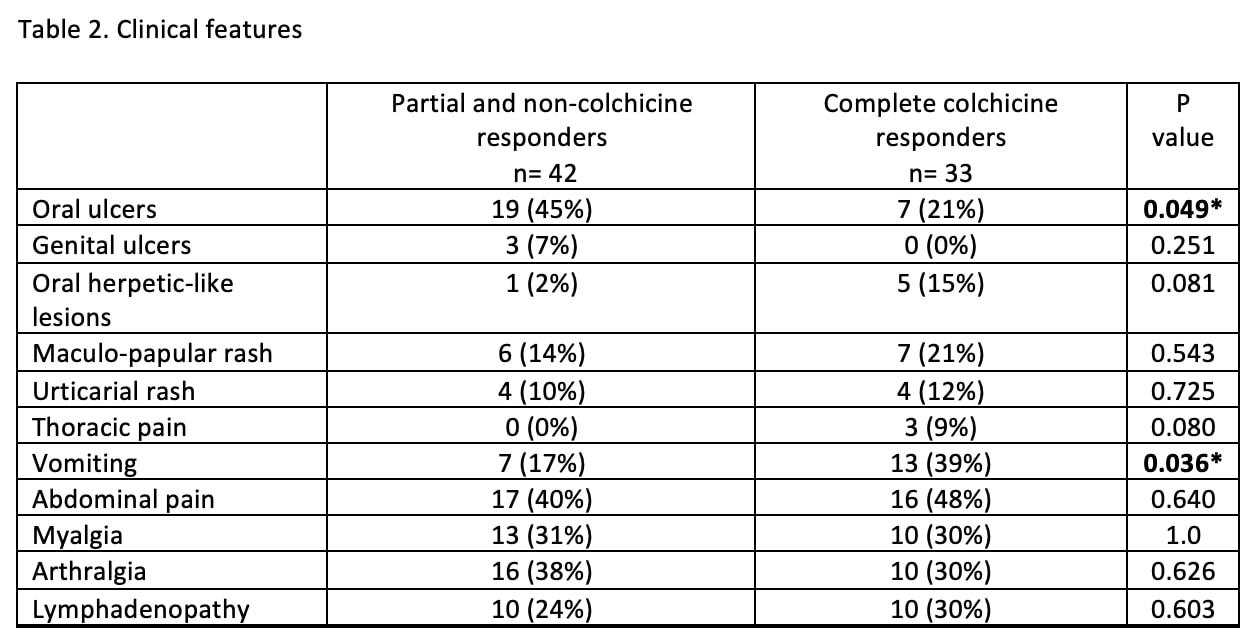 ---
Disclosure: M. Correia Marques, This work was supported by a Fred Lovejoy Resident Research and Education Award., 2; E. Anderson, None; K. Williams, None; J. Hausmann, Novartis, 5, Novartis, 5; F. Dedeoglu, Novartis, 1.
To cite this abstract in AMA style:
Correia Marques M, Anderson E, Williams K, Hausmann J, Dedeoglu F. Predictors of Colchicine Response in Patients with Undefined Systemic Autoinflammatory Diseases [abstract].
Arthritis Rheumatol.
2020; 72 (suppl 10). https://acrabstracts.org/abstract/predictors-of-colchicine-response-in-patients-with-undefined-systemic-autoinflammatory-diseases/. Accessed September 22, 2023.
« Back to ACR Convergence 2020
ACR Meeting Abstracts - https://acrabstracts.org/abstract/predictors-of-colchicine-response-in-patients-with-undefined-systemic-autoinflammatory-diseases/