Session Information
Session Type: Poster Session (Tuesday)
Session Time: 9:00AM-11:00AM
Background/Purpose: Women with rheumatic diseases may be at greater risk for adverse maternal, perinatal, and pregnancy outcomes.  The American College of Rheumatology recommends that female patients who are contemplating pregnancy should discuss their individual pregnancy risks with rheumatologists. Little is known about patients' information priorities and preferences for such information, or their general attitudes about pregnancy planning in the rheumatology outpatient setting.
Methods: : Female patients ages 18-45 with at least one rheumatic disease were recruited to participate in semi-structured qualitative interviews that explored their priorities and preferences related to reproductive health care. Recruitment occurred in outpatient rheumatology clinics in Pittsburgh, PA. Interviews were conducted via telephone, and were audio-recorded and transcribed verbatim. A code book was inductively developed based on transcript content. Two coders applied the code book to all transcripts (Cohen's Kappa= 0.69), and coding differences were adjudicated to full agreement. The finalized coding was used to conduct a thematic analysis.
Results: Interviews were conducted among 30 women, who were 35.1 years old on average (S.D. 5.84);  52% were married, 53% had children, and 73% were white. The most common diagnoses included rheumatoid arthritis (23% of sample), systemic lupus erythematosus (23%), Sjogren's syndrome (17%), undifferentiated connective tissue disorder (10%), and spondyloarthritis (7%). Five themes emerged: 1) Women wanted rheumatologists to initiate conversations about family planning repeatedly over time; 2) Women desired clear and complete information from rheumatologists regarding fetal, pregnancy, and infertility risks associated with their diseases and disease-modifying anti-rheumatic drugs (DMARDs);  3) Women wanted to be treated holistically, with family planning issues addressed in the context of their life circumstances and personal values as well as their diseases; 4) Women were reluctant to continue any DMARDs during pregnancy, even if compatible with pregnancy;  5) Women felt that they were often intermediaries between their rheumatologists and obstetrician-gynecologists (ObGyns), but preferred for their rheumatologists to communicate directly with their ObGyns in advance of and during pregnancy. Illustrative quotations are presented in Table 1.
Conclusion: Patients strongly desired for rheumatologists to play an active and continuous role in their family planning care. Patients specifically want for their rheumatologists to provide education, review DMARD- and disease-related risks related to pregnancy, and communicate directly with ObGyns before and during pregnancy to optimize a woman's chances for a healthy pregnancy. Prior studies indicate that family planning rarely occurs in the rheumatology outpatient setting; our results further suggest that some women with rheumatic diseases do not receive the family planning care that they desire.  Further work is needed to clarify the role of rheumatologists in family planning, and how to enhance communication between rheumatologists and other women's healthcare professionals.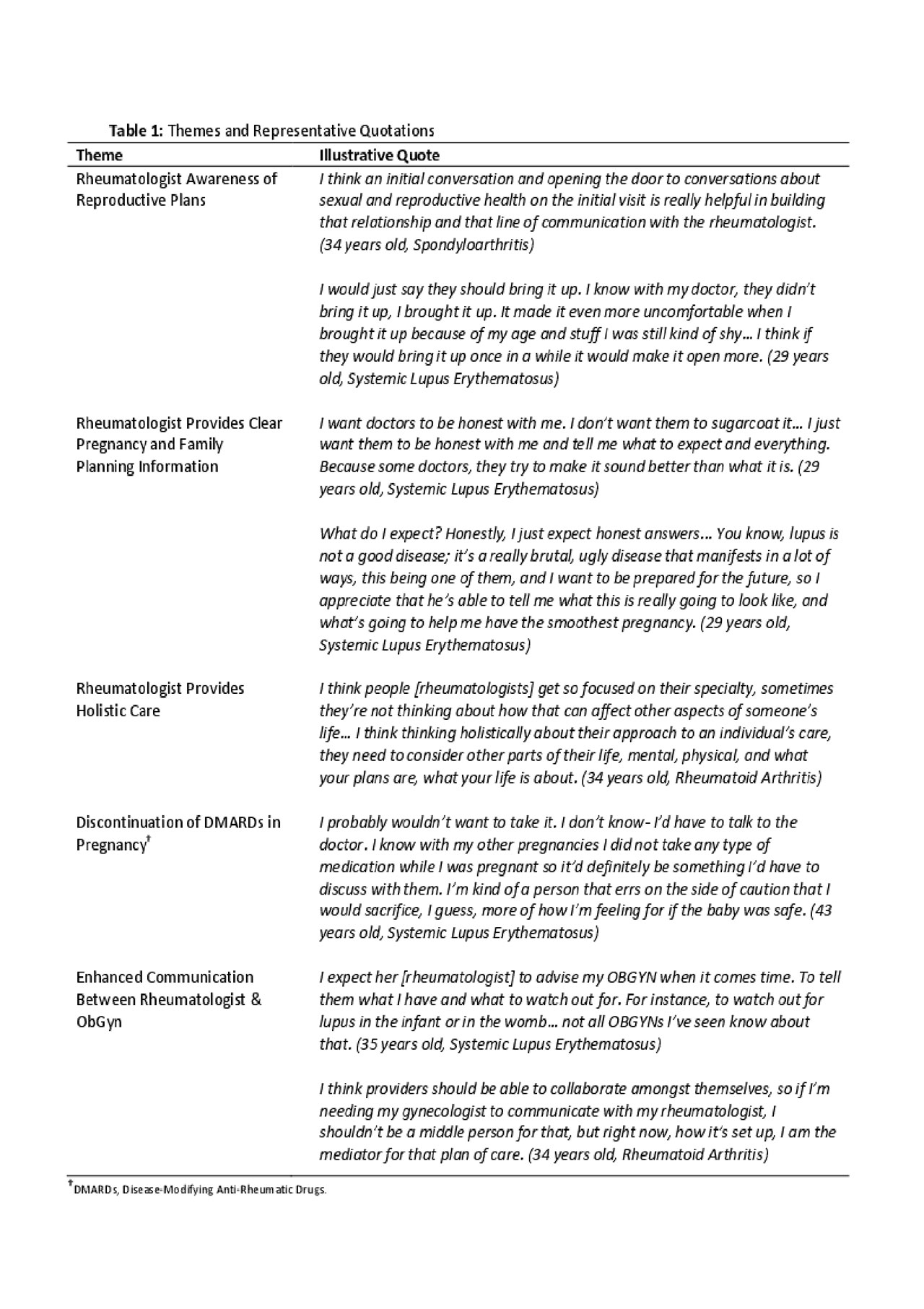 Table 1
---
Disclosure: T. Wolgemuth, None; M. Birru Talabi, None; A. Chodoff, None; S. Borrero, None; M. Talabi, None.
To cite this abstract in AMA style:
Wolgemuth T, Birru Talabi M, Chodoff A, Borrero S, Talabi M. Perspectives of Female Patients with Rheumatic Diseases Regarding Pregnancy Planning with Rheumatologists [abstract].
Arthritis Rheumatol.
2019; 71 (suppl 10). https://acrabstracts.org/abstract/perspectives-of-female-patients-with-rheumatic-diseases-regarding-pregnancy-planning-with-rheumatologists/. Accessed January 25, 2021.
« Back to 2019 ACR/ARP Annual Meeting
ACR Meeting Abstracts - https://acrabstracts.org/abstract/perspectives-of-female-patients-with-rheumatic-diseases-regarding-pregnancy-planning-with-rheumatologists/