Session Information
The 2020 Pediatric Rheumatology Symposium, originally scheduled for April 29 – May 2, was postponed due to COVID-19; therefore, abstracts were not presented as scheduled.
Session Type: ACR Abstract Session
Session Time: 6:00PM-7:00PM
Background/Purpose: Immune-mediated diffuse alveolar hemorrhage (iDAH) is a life-threatening complication of pediatric rheumatologic diseases such as vasculitis, systemic lupus erythematosus, and antiphospholipid antibody syndrome. Delay in diagnosis and treatment can lead to significant morbidity and mortality, yet the approach to care varies widely with limited evidence to aid decision making. Clinical Care Pathways (CCPs) can support clinicians through diagnosis and management decisions. The purpose of this study was to understand the perspectives of care providers and medical leadership on iDAH and CCPs in order to guide development of an effective clinical tool for these cases.
Methods: 25 semi-structured interviews of key stakeholders were conducted with iterative prompts based on responses. Interviewees were selected by purposeful and snowball sampling and recruited via email. Each interview was audio-recorded and partially transcribed. Interviewees spanned multiple specialties at a single center in Colorado involved in the care of patients with iDAH and included physicians, advanced care providers, hospital leadership, and a parent (Figure 1). Interviews focused on the interviewee's professional role, general sentiments regarding iDAH, and opinions on CCPs. Common themes were identified using strategies from thematic analysis.
Results: Multiple themes and sub-themes emerged during the interviews, which lasted around 22 minutes on average. In regards to caring for patients with iDAH, interviewees recognized the following three themes: 1) fear of patient decompensation, making the wrong decision, or not recognizing the etiology; 2) the value of personal expertise when lacking evidence; and 3) the lack of clarity surrounding consults such as determining need, appropriate timing, and communication strategies. Two themes arose regarding CCPs: a preference for multidisciplinary, evidence-based tools with room to deviate and the unique benefits of CCPs for rare diseases such as improving knowledge gaps, comfort level, and care coordination (See Tables 1 and 2 for representative quotes). Unforseen concerns included the high resource utilization and dissemination challenges of a less frequently used product. Overall, providers were in favor of a carefully-developed CCP for iDAH.
Conclusion: Providers agree that the current approach to caring for patients with suspected-iDAH is imperfect and have largely favorable perspectives on CCPs as a means of improving such care. Based on these results, a multi-disciplinary, evidence-based pathway for iDAH may provide the sense of support, institutional consensus, and consult clarification desired to address a provider's needs and ultimately lead to more effective patient care.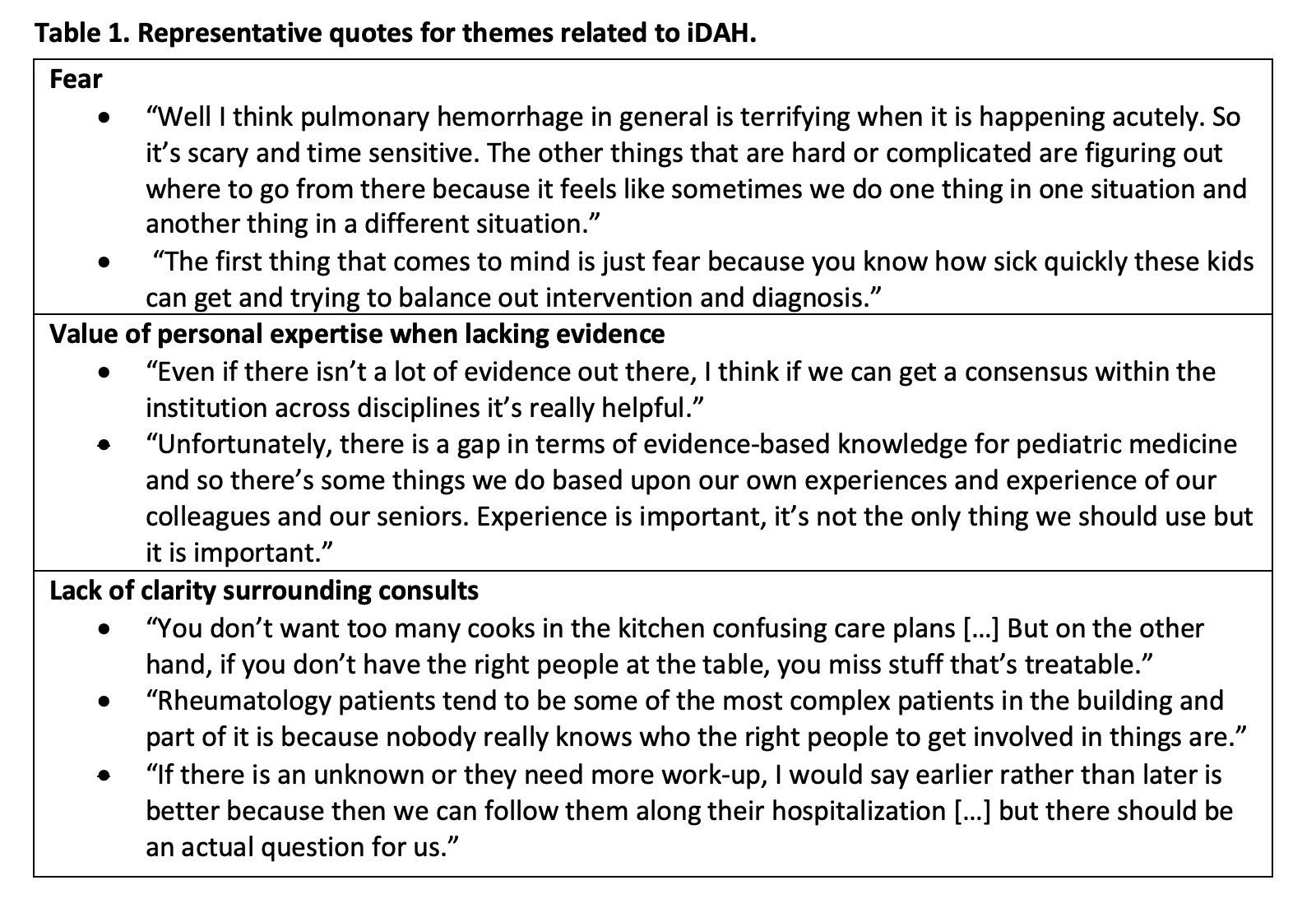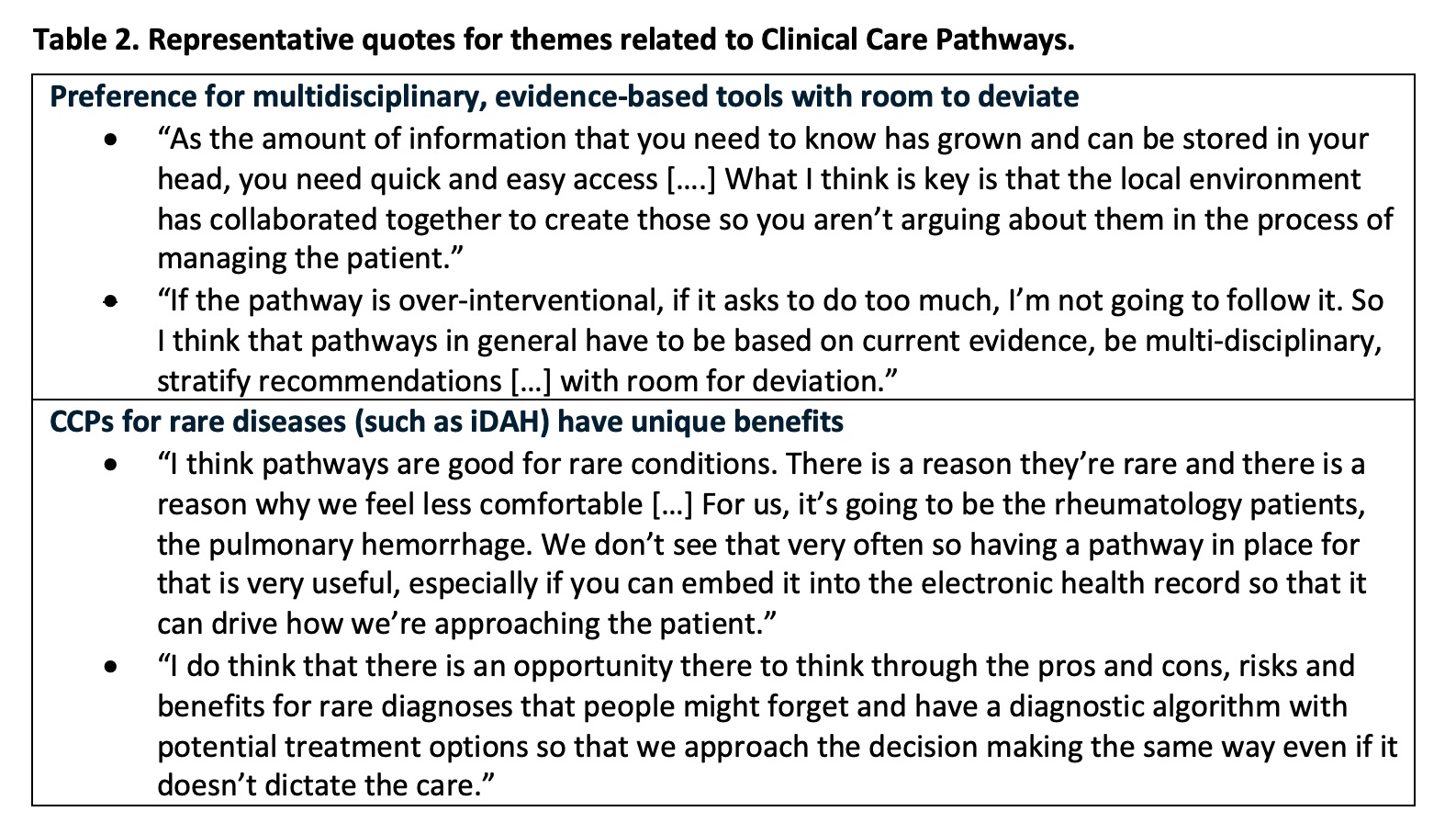 ---
Disclosure: J. Bloom, None; R. Fuhlbrigge, None.
To cite this abstract in AMA style:
Bloom J, Fuhlbrigge R. Pediatric Providers' Perspectives on Suspected Immune-Mediated Diffuse Alveolar Hemorrhage and Clinical Care Pathways [abstract].
Arthritis Rheumatol.
2020; 72 (suppl 4). https://acrabstracts.org/abstract/pediatric-providers-perspectives-on-suspected-immune-mediated-diffuse-alveolar-hemorrhage-and-clinical-care-pathways/. Accessed December 2, 2022.
« Back to 2020 Pediatric Rheumatology Symposium
ACR Meeting Abstracts - https://acrabstracts.org/abstract/pediatric-providers-perspectives-on-suspected-immune-mediated-diffuse-alveolar-hemorrhage-and-clinical-care-pathways/