Session Information
The 2020 Pediatric Rheumatology Symposium, originally scheduled for April 29 – May 2, was postponed due to COVID-19; therefore, abstracts were not presented as scheduled.
Session Type: ACR Abstract Session
Session Time: 5:00PM-6:00PM
Background/Purpose: Systemic autoinflammatory diseases (SAIDs) encompass multiple clinical entities in which spontaneous inflammation occurs due to dysregulation of the innate immune response.  The variability in presentation, rarity in occurrence, and mimicking features to other conditions can frequently lead to a diagnostic delay with potentially, uncontrolled inflammation. Due to their unpredictable course, we hypothesized that SAIDs have a negative impact on quality of life (QOL).
We aimed to investigate the patient-reported factors underlying this negative impact.
Methods: A self-reported 25 question online survey on QOL of patients with SAIDs was developed by the non-profit organizations, the Autoinflammatory Alliance, KAISZ/VAISZ, ENCA and SJIA Foundation in English. Respondents were recruited by convenience sampling through online social media posts. Data on triggers, medications, family history, and correlation of symptoms with labs were collected in addition to detailed information on QOL both during and in-between flares.
Results: Between 2017 and 2019, there were 347 responses. Demographics are in table 1. The most commonly reported diagnosis was undifferentiated SAID. Seventy percent of patients were diagnosed by a rheumatologist. Delay in diagnosis was common, at up to 5-20 years for 40% of patients. More than half of the respondents saw at least 3-8 specialists before receiving their final diagnosis. In addition to common SAID features occurring in SAID patients, such as  fever (79%), rash (60%), abdominal pain (70%), oral ulcers (50%);  pain and fatigue affected 80% and 87%, respectively. Half of the patients rated being "severely limited" during flares and "somewhat limited" in-between flares. 80% felt their condition affected their studies, job, and career.
After an analysis of open-ended responses, we categorized the impact into different domains of: Physical Impact (lack of understanding of the disease amongst the medical community and community at large, delays in diagnosis, unpredictable symptomatology, and unknown long term side effects of medications), Emotional Impact (feelings of anxiety, hopelessness and frustration, feeling doubted about disease severity, constant worry about flares), Social Impact (inability to make plans for vacations/social events because of the unpredictability of symptoms, which leads to isolation, dependence on others), Financial Impact (insurance not covering specialists/medications, inability to work).
Conclusion: Our study emphasizes the importance of patient engagement in designing survey questions to better capture the impact of a disease on all aspects of life. In addition to the well-known negative impact of chronic diseases on QOL, the unpredictable nature of the course of SAIDs magnifies the stress of daily living for patients and caretakers. Further studies with more granular questionnaires paired with clinical and biomarker analyses are needed to identify specific vulnerabilities and risk factors so that preventive measures can be implemented to improve QOL of patients with SAIDs.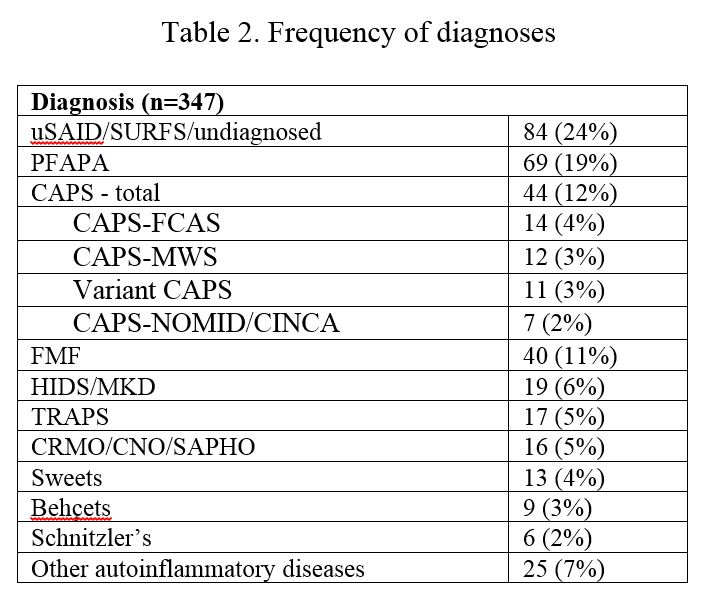 ---
Disclosure: M. Correia Marques, None; N. Tennermann, None; S. Lapidus, None; G. Schulert, Novartis, 1, SOBI, 1; J. Tousseau, None; R. Sinha, None; K. Durrant, None; S. Angevare, None; F. Dedeoglu, Novartis, 1, UptoDate, 1.
To cite this abstract in AMA style:
Correia Marques M, Tennermann N, Lapidus S, Schulert G, Tousseau J, Sinha R, Durrant K, Angevare S, Dedeoglu F. Patients Perspectives on Living with a Systemic Autoinflammatory Disease: Impact on Quality of Life [abstract].
Arthritis Rheumatol.
2020; 72 (suppl 4). https://acrabstracts.org/abstract/patients-perspectives-on-living-with-a-systemic-autoinflammatory-disease-impact-on-quality-of-life/. Accessed October 23, 2020.
« Back to 2020 Pediatric Rheumatology Symposium
ACR Meeting Abstracts - https://acrabstracts.org/abstract/patients-perspectives-on-living-with-a-systemic-autoinflammatory-disease-impact-on-quality-of-life/