Session Information
Session Type: Abstract Submissions (ACR)
Background/Purpose:
Rheumatoid arthritis (RA) is an inflammatory autoimmune condition typified by systemic inflammation targeted towards synovial joints. Inhibition of pro-inflammatory networks by disease-modifying anti-rheumatic drugs e.g. methotrexate and biologic therapies including TNFα inhibitors, often leads to suppression of disease activity. However, despite the era of widespread use of disease-modifying treatments, there remain significant groups of patients who continue to experience pain.
Methods:
Our study formulated a pain assessment tool to be used in the arthritis clinic to assess feasibility of measurements including the visual analogue scale (VAS) for pain (range 0-100 mm) and painDETECT questionnaires (range 0-38) to evaluate neuropathic features of pain in people with established RA (n=100). Clinical measures of disease activity (DAS28), disease-modifying medication use, body mass index (BMI) and worst pain ever were also recorded. Continuous data was described and analysed using parametric statistics, with ANOVA and Chi-squared tests for groups with 3 or more categories.
Results:
We found that participants with RA reported relatively high pain levels, despite widespread use of disease-modifying drugs (Table 1). The majority, 54%, reported 'severe pain' on the visual analogue scale (VAS), which identifies people with a VAS of 54-100 mm as having the highest severity of pain. The mean DAS28 in the group was 2.09 ± 0.96. The majority of subjects had duration of diagnosis greater than or equal to 5 years (84%), suggesting that pain was a persisting symptom despite sustained use of disease-modifying agents and a DAS28 score suggesting clinical remission. All participants evaluated had been stable on DMARD therapy for at least 3 months prior to completing the study and had not required a change in their treatment, or addition of corticosteroid therapy during that time. The majority of participants were being treated with disease-modifying drugs, including the commonest agent, methotrexate (82%). Using the painDETECT questionnaire, 67% of patients had unlikely neuropathic pain. A significantly high proportion of 28% subjects had possible neuropathic pain and 5% had features of likely neuropathic pain by painDETECT scoring. We found a positive correlation between VAS and painDETECT (r2=0.757). Of note, the group who had likely or probable neuropathic pain also showed significantly increased pain reporting by VAS (p < 0.01). Subjects who were clinically obese (BMI > 30) had statistically higher proportions of pain reporting (VAS 89.0 ± 0.7) compared with subjects who had a normal BMI (VAS 45.2 ± 21.8), p<0.05.
Conclusion:
Our findings suggest that multimodal features of pain perception exist in RA, including neuropathic and sensitisation elements, perhaps explaining why a subgroup of people with RA continue to experience ongoing pain, despite their apparent suppression of inflammation.
Table 1.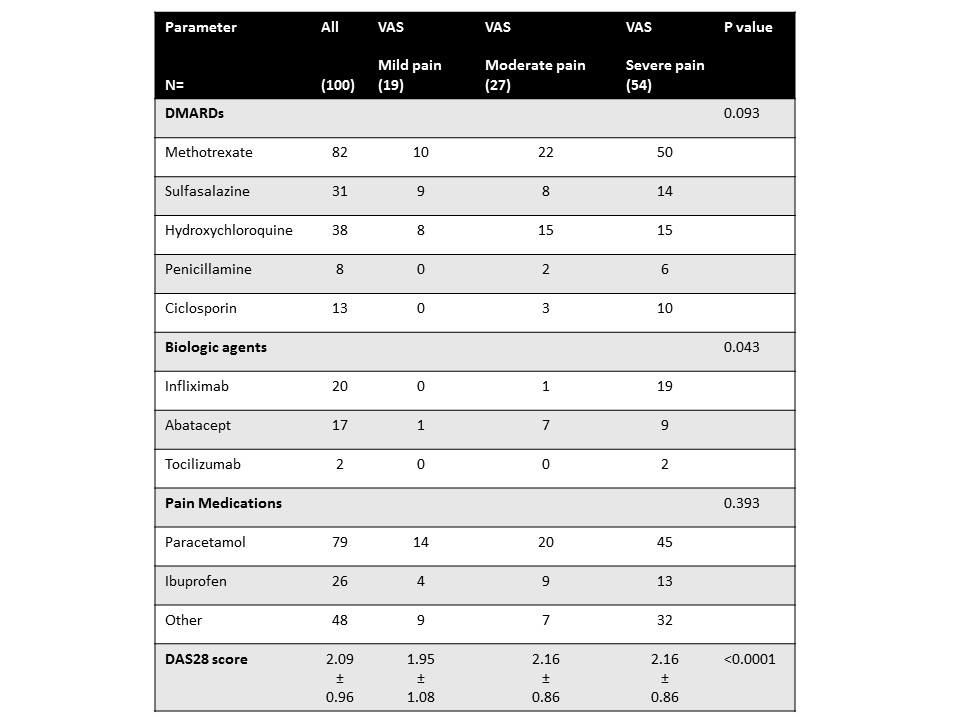 ---
Disclosure:
S. Ahmed,
None;
T. Magan,
None;
M. Vargas,
None;
A. Harrison,
None;
N. Sofat,
None.
« Back to 2014 ACR/ARHP Annual Meeting
ACR Meeting Abstracts - https://acrabstracts.org/abstract/patient-reported-pain-by-the-paindetect-questionnaire-reveals-multimodal-elements-to-pain-perception-in-rheumatoid-arthritis/