Session Information
Session Type: Poster Session (Tuesday)
Session Time: 9:00AM-11:00AM
Background/Purpose: Methotrexate (MTX) is a frequently used therapy in both Rheumatoid Arthritis (RA) and Psoriatic Arthritis (PsA) due to its beneficial effects in both populations. Despite the well-known benefits of MTX, it is associated with a number of potential side effects and tolerability issues including nausea and fatigue, gastrointestinal toxicity, skin reactions, headaches, mouth sores and more serious, though rare, side effects such as liver toxicity and bone marrow suppression. The combined risks of rare but potential adverse events along with frequently reported side effects such as nausea and fatigue may add to patient burden of dealing with a chronic disease. Furthermore, many RA and PsA patients discontinue MTX with or without their physicians' knowledge (Mease, 2013). Currently, there is a gap in patient-centered studies focusing on patients' experience with MTX and how this relates to adherence and consequently patient outcomes. The purpose of this ongoing study is to examine patient beliefs and perceptions relating to methotrexate therapy for the treatment of RA and PsA.
Methods: Adult US patients in the ArthritisPower registry with self-reported rheumatoid arthritis RA or PsA taking or previously taking MTX were invited to participate in the survey via email invitation. Participants (pts) were either current or past users of MTX who completed a brief online survey. Recruitment for this study is ongoing. Descriptive statistics were conducted on data collected to date.
Results: As of May 2019, the survey had been completed by 121 pts of whom 88.4% were living with RA and 22.3% with PsA, not mutually exclusive. Mean age was 57.2 (8.8) years, 89.3% female, 93.4% White, with mean BMI 31.2 (7.7) (Table 1). Mean duration of MTX treatment among current users was 6.2 (5.9) years. Among respondents, 49 (40.5%) were currently taking oral MTX and 72 (59.5%) had taken it previously but stopped. The majority of pts reported experiencing side effects on MTX: 26 (53.1%) among current users of MTX, 57 (79.2%) among those who previously discontinued MTX (Table 2). Fatigue was the most common symptom among current users, while nausea, abdominal pain, hair thinning, and difficulty sleeping were more common among discontinuers. When asked specifically, 57.1% of current users and 69.4% of discontinuers stated that they experienced fatigue within a day of their MTX dose. Nevertheless, among those currently taking MTX, most (69.4%) felt that MTX protects them from becoming worse and 47.0% agreed that their life would be impossible without MTX (Figure).
Conclusion: A majority of patients experience side effects such as fatigue, nausea and brain fog that they attribute to MTX. Importantly, people living with RA or PsA acknowledge the importance of taking MTX to manage their condition.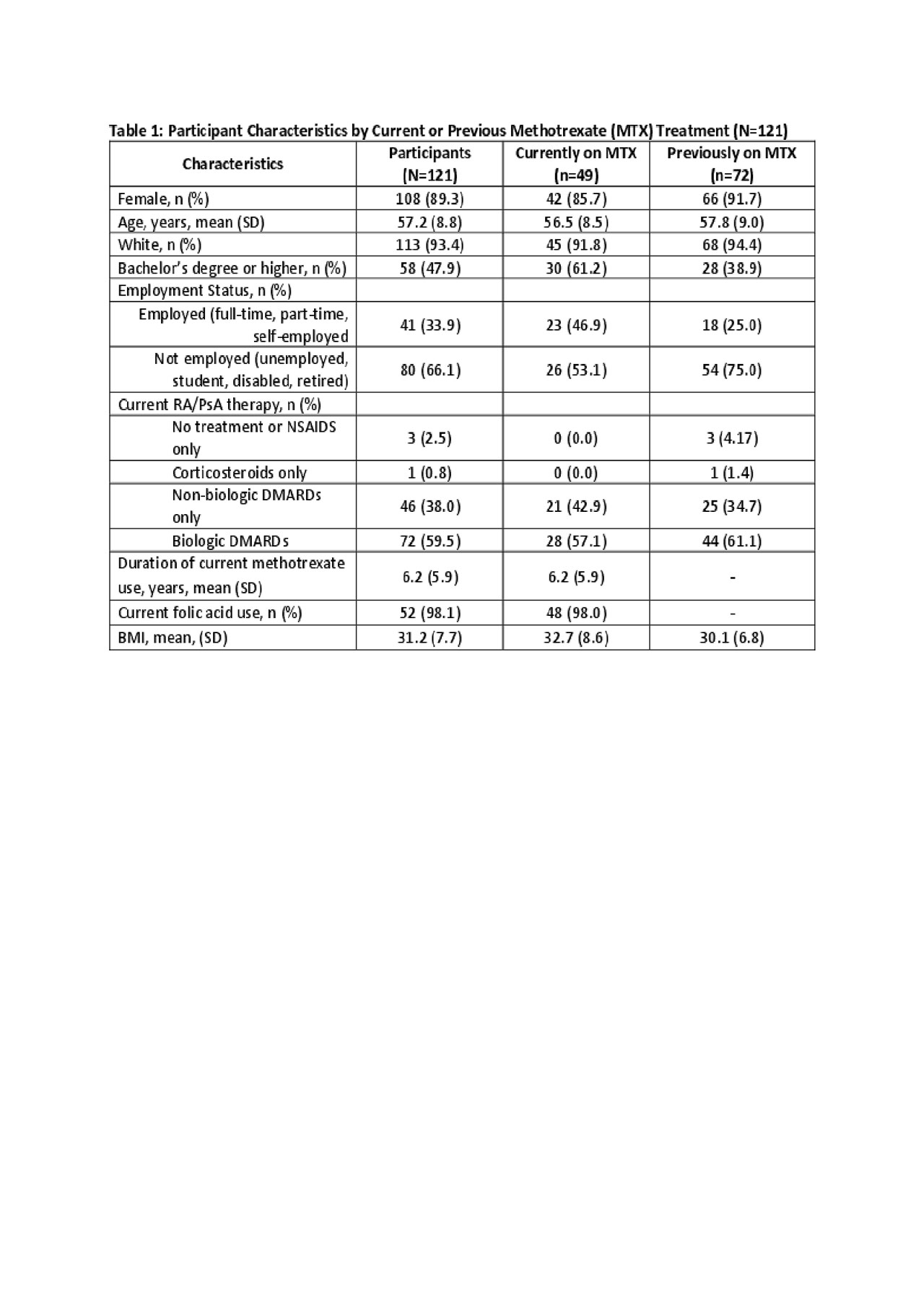 Table 1 MTX

Table 2 MTX
---
Disclosure: W. Nowell, AbbVie, 1, Allergan, 1, Biogen, 1, BMS, 1, CVS, 1, Eli Lilly, 1, Global Healthy Living Foundation, 3, GSK, 1, Merck, 1, Pfizer, 1, Stryker, 1; E. Karis, Amgen, 1, 3, Amgen Inc., 3, 4; K. Gavigan, Global Healthy Living Foundation, 3; L. Stradford, Global Healthy Living Foundation, 3; S. Stryker, Amgen Inc., 3, 4, Amgen, Inc, 3, 4; S. Venkatachalam, Global Healthy Living Foundation, 3; G. Kricorian, Amgen Inc., 1, 3, 4; J. Curtis, AbbVie, 2, 5, Abbvie, 2, 5, AbbVie, Amgen, Bristol-Myers Squibb, Corrona, Lilly, Janssen, Myriad, Pfizer, Regeneron, Roche, and UCB, 2, 5, Amgen, 2, 5, Amgen Inc., 2, 5, BMS, 2, 5, Bristol-Myers Squibb, 2, 5, Corrona, 2, 5, Crescendo, 2, 5, Eli Lilly, 2, 5, Eli Lilly and Company, 2, 5, Genentech, 2, 5, Janseen, 5, Janssen, 2, 5, Janssen Research & Development, LLC, 2, Lilly, 2, 5, Myriad, 2, 5, Patient Centered Outcomes Research Insitute (PCORI), 2, Pfizer, 2, 5, Radius Health, Inc., 9, Regeneron, 2, 5, Roche, 2, 3, 5, Roche/Genentech, 5, UCB, 2, 5.
To cite this abstract in AMA style:
Nowell W, Karis E, Gavigan K, Stradford L, Stryker S, Venkatachalam S, Kricorian G, Curtis J. Patient Beliefs and Perceptions of Methotrexate for the Treatment of Rheumatoid Arthritis and Psoriatic Arthritis [abstract].
Arthritis Rheumatol.
2019; 71 (suppl 10). https://acrabstracts.org/abstract/patient-beliefs-and-perceptions-of-methotrexate-for-the-treatment-of-rheumatoid-arthritis-and-psoriatic-arthritis/. Accessed December 5, 2022.
« Back to 2019 ACR/ARP Annual Meeting
ACR Meeting Abstracts - https://acrabstracts.org/abstract/patient-beliefs-and-perceptions-of-methotrexate-for-the-treatment-of-rheumatoid-arthritis-and-psoriatic-arthritis/