Session Information
Session Type: ACR Concurrent Abstract Session
Session Time: 2:30PM-4:00PM
Background/Purpose: Aromatase inhibitors (AIs) are the preferred treatment for estrogen receptor positive breast cancer in postmenopausal women, but are frequently associated with arthralgias, which can decrease adherence. While the syndrome of AI-associated arthralgias has been well-recognized, the mechanism by which AIs induce arthralgias is not clear. Estrogen may be anti-nociceptive, and therefore with estrogen deprivation, it is possible pain sensitization develops. Further, whether exercise, which decreases AI-associated arthralgia pain, mediates its effects through improving pain sensitization is not known. Pressure pain threshold (PPT) provides one means of assessing pain sensitization. We therefore examined the relation of PPT to pain in AI-associated arthralgias, and also evaluated the effect of exercise on pain and PPT.
Methods: The HOPE (Hormones and Physical Exercise) study randomized 121 postmenopausal women with history of breast cancer treated with AIs for at least 6 months and also had arthralgias to an exercise intervention versus usual care. Exclusion criteria included pre-existing rheumatologic conditions. The exercise group had supervised resistance training twice a week and 150 minutes of aerobic exercise weekly. The usual care group did not have any specific exercise support. Self-reported pain severity (WOMAC for lower extremity symptoms; QuickDash for upper extremity symptoms), pain location and an assessment of pain sensitization measured by PPT evaluations at the knee and wrist using a hand-held algometer were obtained. We evaluated the relationship between pain severity, number of painful sites and PPT using linear regression.
Results: Of the 121 subjects enrolled in the trial, 99 subjects had pain and PPT data available at 6-months. Their mean age was 62 and mean BMI was 30. Higher number of joints with pain were associated with higher baseline pain severity scores on WOMAC (42.6±5.2 for 7-10 sites vs. 9.4±3.7 with 0-3 sites, p<.0001) and on QuickDash (29.2±3.4 for 7-10 sites vs. 12.0±2.3 with 0-3 sites, p<.0001), and with lower PPT at baseline (PPT 1.94±0.47 for 7-10 sites and 3.31±0.32 with 0-3 sites, p 0.02) (Table 1). While pain severity improved more in the exercise arm than the usual care arm, there was no significant change in PPT over time (Table 2).
Conclusion: The severity of AI-associated arthralgias by WOMAC and QuickDash were associated with number of painful joints and PPT. While pain severity improved with exercise, this improvement was unrelated to improvement in PPT, suggesting that pain improvement through exercise must occur through mechanisms other than improvements in pain sensitization.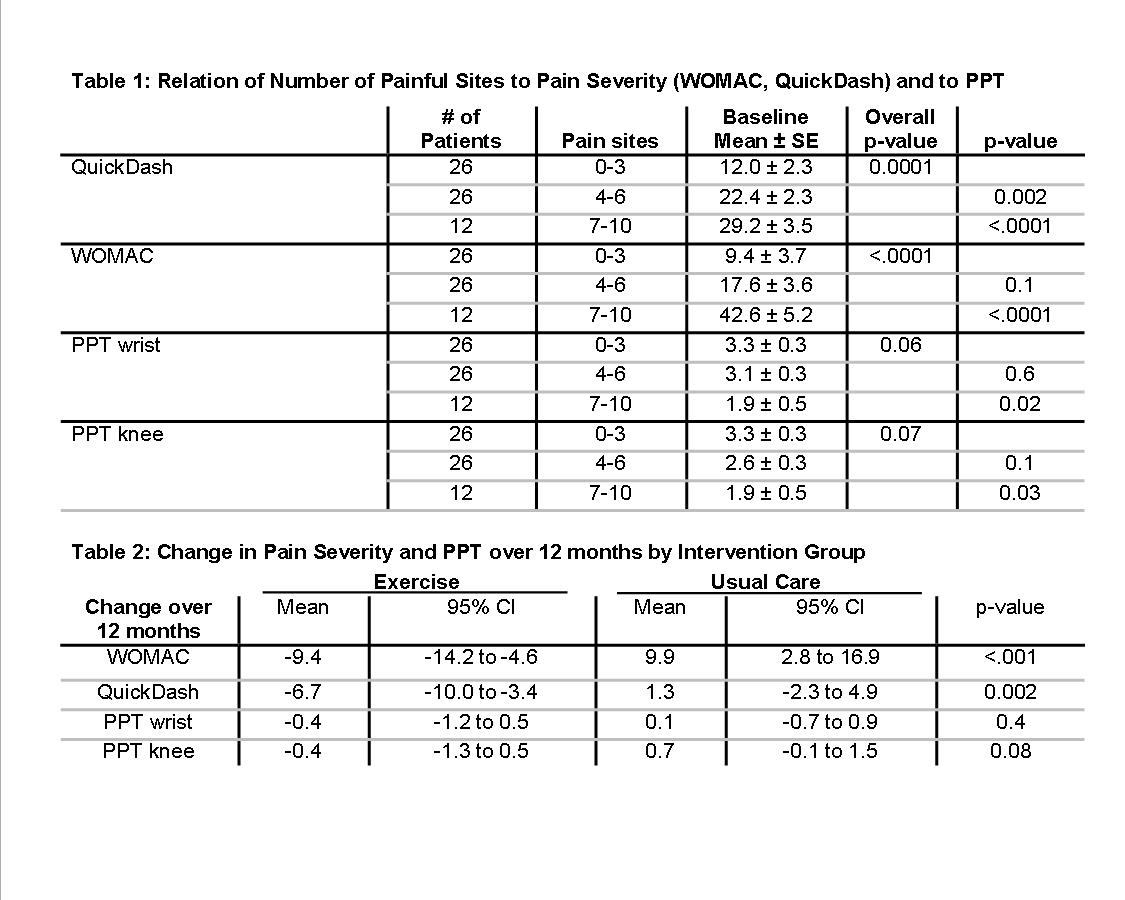 ---
Disclosure: M. Crespo-Bosque, None; C. Brown, None; B. Cartmel, None; M. Harrigan, None; M. Irwin, None; T. Neogi, None.
To cite this abstract in AMA style:
Crespo-Bosque M, Brown C, Cartmel B, Harrigan M, Irwin M, Neogi T. Pain and Sensitization in Women with Aromatase Inhibitor-Associated Arthralgias [abstract].
Arthritis Rheumatol.
2016; 68 (suppl 10). https://acrabstracts.org/abstract/pain-and-sensitization-in-women-with-aromatase-inhibitor-associated-arthralgias/. Accessed October 24, 2021.
« Back to 2016 ACR/ARHP Annual Meeting
ACR Meeting Abstracts - https://acrabstracts.org/abstract/pain-and-sensitization-in-women-with-aromatase-inhibitor-associated-arthralgias/