Session Information
Session Type: Poster Session (Sunday)
Session Time: 9:00AM-11:00AM
Background/Purpose: Rheumatologic pain, especially fibromyalgia, is difficult to treat. While Nonsteroidal anti-inflammatory drugs (NSAIDs) are traditionally prescribed as the first line treatment for fibromyalgia, when patients are unable to tolerate, or the pain persists, or when other treatment modalities have failed, opioids have been prescribed. Even though the guidelines do not recommend opioids for the routine treatment of pain in rheumatologic conditions, they are frequently used.
Purpose: To identify the rheumatologic diagnosis for which opioids are most frequently prescribed at one community-based outpatient clinic.
Methods: The medical records of 553 patients treated at the rheumatology clinic from January 1, 2016 until December 31, 2017 were reviewed. To be included in the study, the patients had to have received at least one opioid prescription, but only those who received three or more opioid prescriptions were considered to be reliant on opioids for pain control. The variables used for data collection were age, gender, the primary and secondary rheumatology diagnoses, NSAID prescription as well as the number, name and dose of opioid prescribed. Tramadol and codeine were considered weak opioids, while Fentanyl, Morphine, Oxycodone, Hydrocodone were classified as strong opioids.
Results: Fibromyalgia (FM) was the most common patient diagnosis at 49%, the other 51% had a variety of rheumatologic diagnoses with the next most frequent being rheumatoid arthritis  7%, followed by lupus, 3%,  then primary osteoarthritis 2%,, and Sjogren's 1.4%(Image1). Data was missing on 4 patients. Fifty-six per cent (n=311) of the sample had received three or more opioid prescriptions. Of those who received three or more opioid prescriptions, 84% had a diagnoses other than FM, a difference that was statistically significant (ꭓ₂ = 302, p < .001)(Table1). When receiving three or more opioids, 86% (n = 43) of the 51 FM patients who were opioid-dependent for pain control had been prescribed a strong opioid compared to the other diagnoses, 253 (81.4%) of whom were receiving a strong opioid(Table 2).
Conclusion: Although most research on opioid prescription for rheumatologic pain control has found that FM is the most common diagnosis, this was not the case for one community-based clinic. These results may be attributable to differences in prescribing practices in a community clinic versus a tertiary setting where most of the research has been conducted. Or perhaps patient preferences for treatment accounted for the differences. Additionally the disease duration and degree of suffering for our sample could not be ascertained and it may be that this sample was intrinsically different from others who have been studied.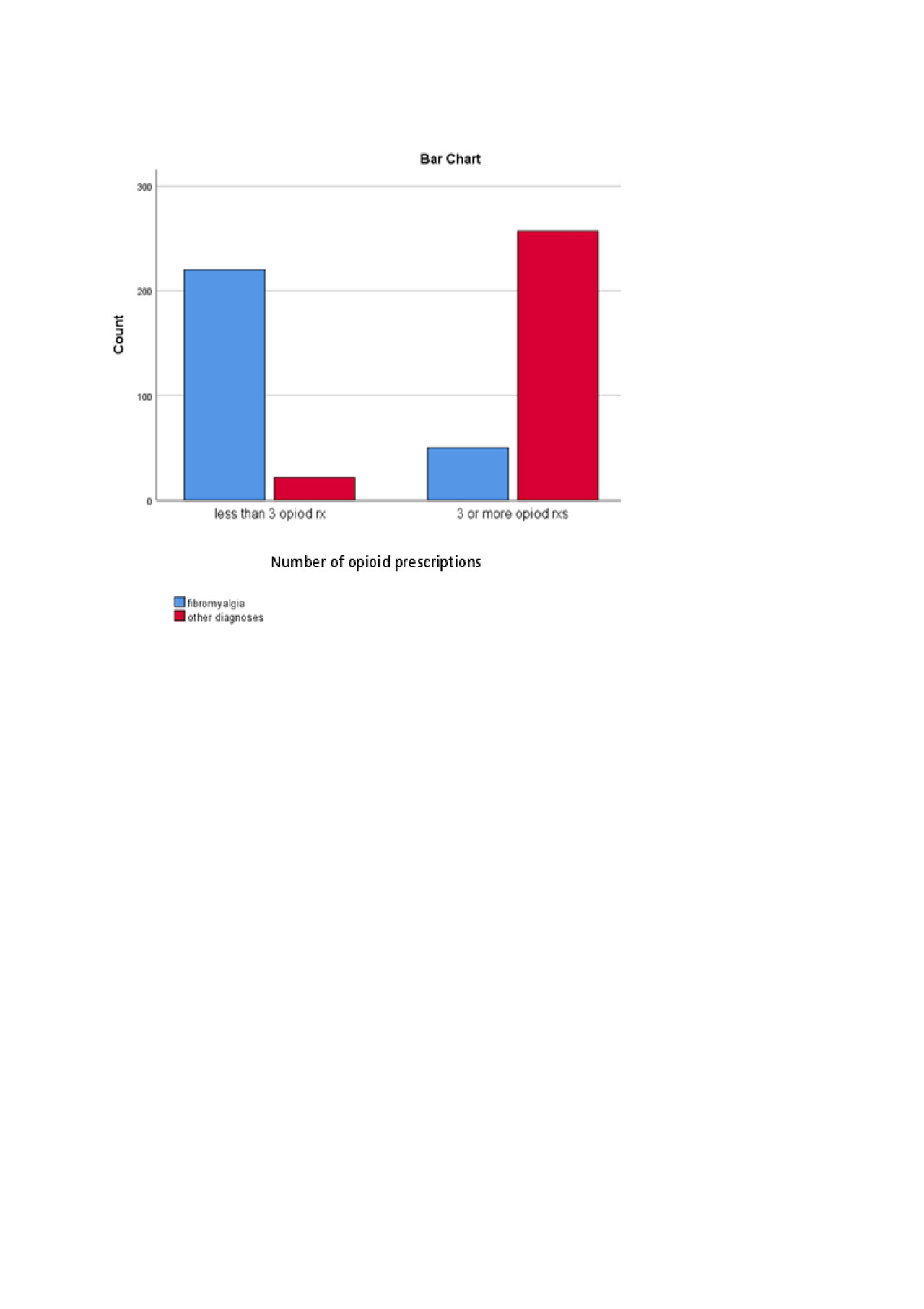 Image 1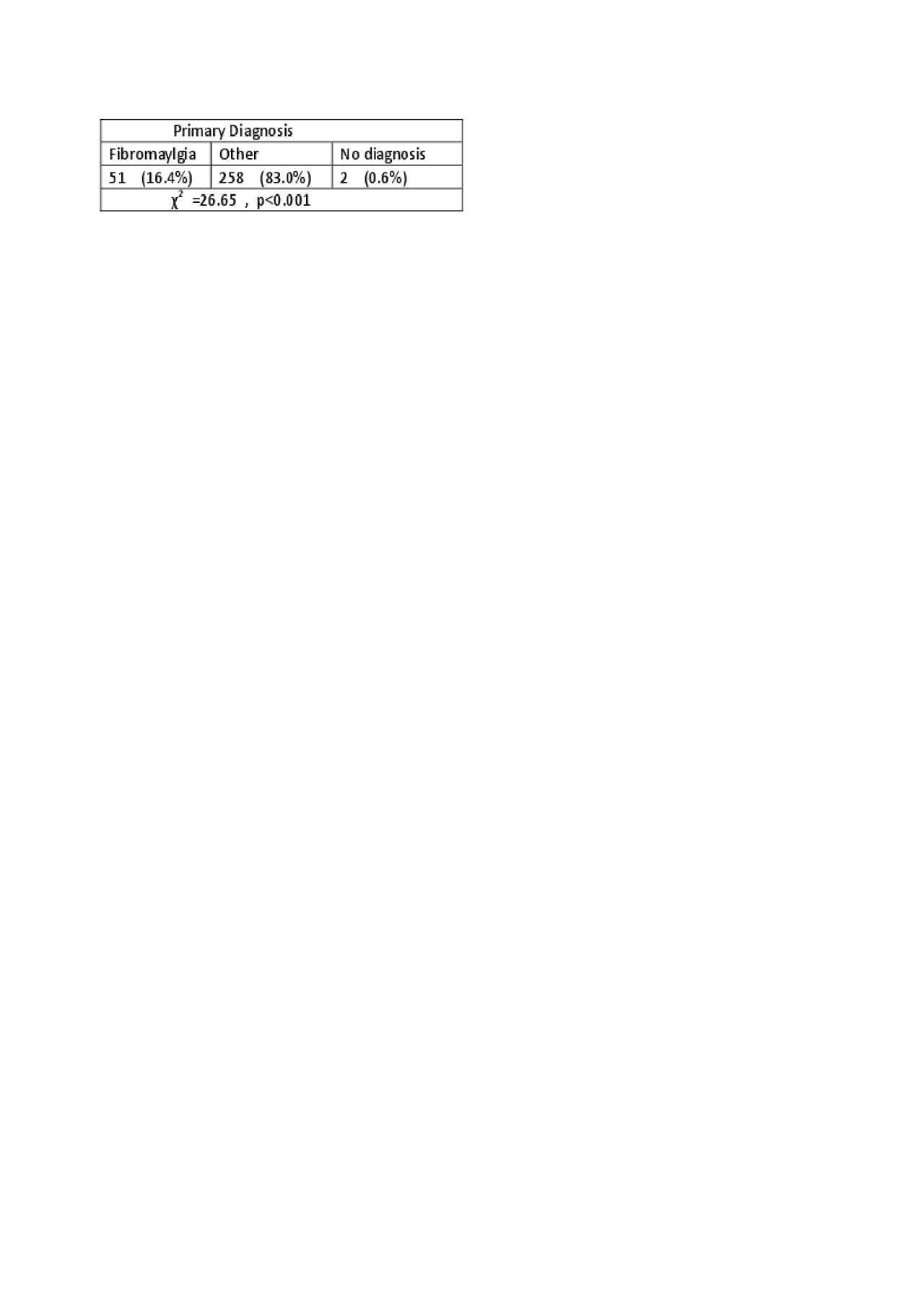 Table 1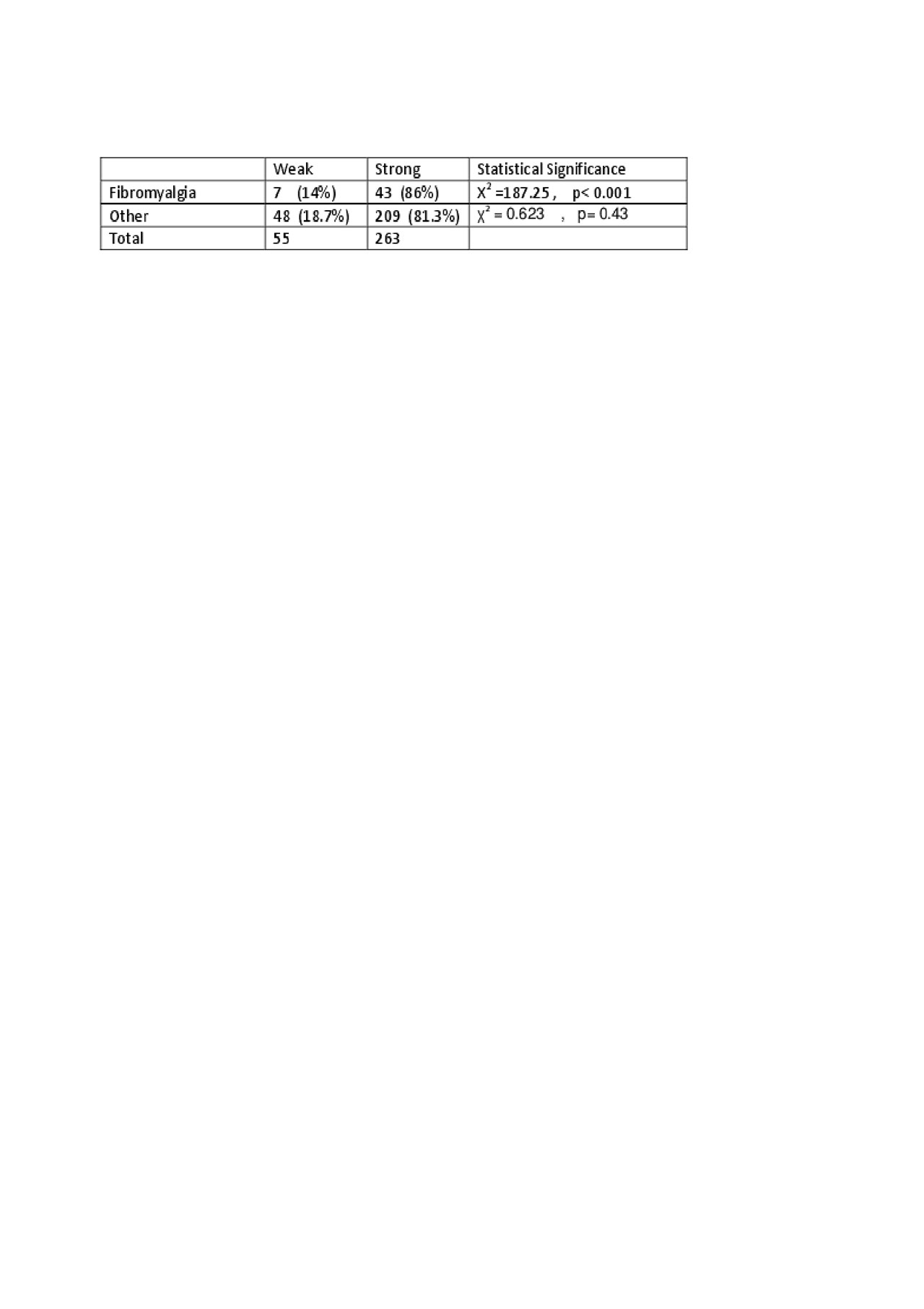 Table 2
---
Disclosure: R. Andrade, None; P. Roe - Prior, None; O. Doan, None; J. Ramos, None.
To cite this abstract in AMA style:
Andrade R, Roe - Prior P, Doan O, Ramos J. Opioid Treatment Pattern in a Community Based Rheumatology Clinic [abstract].
Arthritis Rheumatol.
2019; 71 (suppl 10). https://acrabstracts.org/abstract/opioid-treatment-pattern-in-a-community-based-rheumatology-clinic/. Accessed June 2, 2023.
« Back to 2019 ACR/ARP Annual Meeting
ACR Meeting Abstracts - https://acrabstracts.org/abstract/opioid-treatment-pattern-in-a-community-based-rheumatology-clinic/