Session Information
Session Type: Poster Session (Tuesday)
Session Time: 9:00AM-11:00AM
Background/Purpose: Cancer immunotherapy with monoclonal antibodies that antagonize molecular checkpoint pathways in immune activation, the PD-1/PDL1 axis and CTLA-4, have revolutionized the treatment of solid cancers. These therapies however are limited by immune related adverse events (irAEs), including inflammatory arthritis (irIA). Presentations can be subtle, and recognition delayed. Here we describe point-of-care musculoskeletal ultrasound (MSKUS) findings in patients with solid cancer treated with checkpoint inhibitors.
Methods: Patients >18 years treated with an ICI at our tertiary care center from 2011-2019 were seen by rheumatology for evaluation of musculoskeletal symptoms following ICI. Forty-one patients with suspected MSK irAEs had MSKUS performed and interpreted by the same ultra-sonographer. Findings were reviewed and confirmed by a blinded US reader. US findings in patients with confirmed de novo MSK irAEs were reviewed and correlated with the presence or absence of documented clinical synovitis and with available synovial fluid analysis.
Results: Twenty-eight out of forty-one patients had definite de novo MSK irAE, five patients had an alternative etiology identified with assistance of diagnostic MSKUS, 1 patient had pre-existing rheumatoid arthritis, and 7 patients were classified as possible MSK irAE when diagnosis was uncertain (Figure 1). Twenty out of the twenty-eight patients with definite de novo MSK irAE had clinical evidence of synovitis at the time of initial MSKUS examination, while 8 did not. Among patients with clinically evident synovitis, MSKUS examination confirmed inflammatory pathology in all patients. The most common MSKUS features identified were grade 2 or higher synovial thickening (80%), hyperemia measured by color power Doppler (CPD) signal (70%), tenosynovial proliferation (60%), and moderate or large effusion (45%). Among the 8 patients without clinically evident synovitis, the initial US examination identified inflammatory synovial or tenosynovial pathology in 6 patients (75%); in 2 patients, inflammatory features evolved only on follow up and were identified by MSKUS examination. Fourteen patients with definite de novo MSK IRAE had synovial fluid analysis; 6 patients had synovial fluid cell counts < 2000 cells/µl. Of these 6 patients with synovial analysis within the 'non-inflammatory' range, all patients had grade 2 or higher synovial thickening, 50% had moderate or large effusions, 50% had tenosynovial proliferation, and 33% had evidence of hyperemia (+CPD).  All 6 patients required steroids (intra-articular or oral) and initiation of DMARD therapy at first or subsequent visits with improvement in symptoms.
Conclusion: Point-of-care MSKUS is a valuable tool for confirming inflammatory pathology and expediting early identification of subclinical synovitis or tenosynovitis among patients with ICI-therapy associated MSK symptoms. Additionally, MSKUS helps identify patients with inflammatory features when synovial fluid analysis is within the traditional non-inflammatory range and assists in excluding alternative etiologies.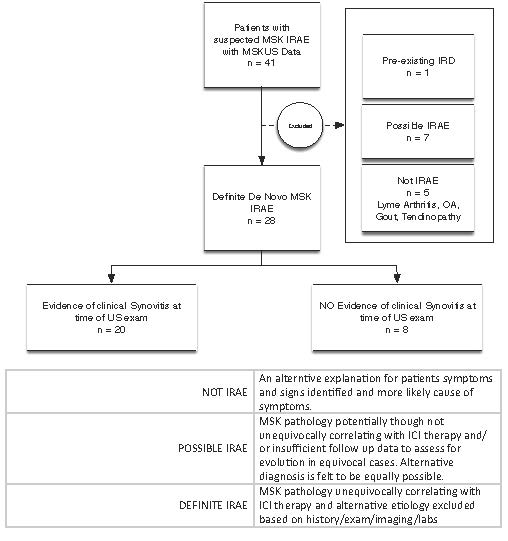 Figure1
---
Disclosure: M. Nasrallah, None; S. Schoenfeld, None; M. Matza, None; D. Lawrence, None; J. Cohen, None; M. Mooradian, None; K. Reynolds, None; R. Sullivan, None; M. Kohler, Horizon pharma, 5, Springer, 7.
To cite this abstract in AMA style:
Nasrallah M, Schoenfeld S, Matza M, Lawrence D, Cohen J, Mooradian M, Reynolds K, Sullivan R, Kohler M. Musculoskeletal Ultrasound Enhances the Evaluation of Checkpoint Inhibitor Associated Musculoskeletal Immune Related Adverse Events [abstract].
Arthritis Rheumatol.
2019; 71 (suppl 10). https://acrabstracts.org/abstract/musculoskeletal-ultrasound-enhances-the-evaluation-of-checkpoint-inhibitor-associated-musculoskeletal-immune-related-adverse-events/. Accessed February 27, 2021.
« Back to 2019 ACR/ARP Annual Meeting
ACR Meeting Abstracts - https://acrabstracts.org/abstract/musculoskeletal-ultrasound-enhances-the-evaluation-of-checkpoint-inhibitor-associated-musculoskeletal-immune-related-adverse-events/