Session Information
Session Type: ACR Poster Session C
Session Time: 9:00AM-11:00AM
Background/Purpose: Sarcoidosis, a systemic disease characterized by non-caseating granulomas within the affected organs. Less than 10% of cases manifest as musculoskeletal (MSK) involvement of joints, muscles and bone tissue. Common first line therapies for MSK sarcoidosis are NSAIDs and systemic steroids. Due to its rarity, studies assessing clinical presentation and therapeutic efficacy of disease modifying drugs are rare.
We aim to determine prevalence of MSK sarcoidosis at University of Iowa Hospitals and clinics, describe epidemiologic and clinical characteristics of MSK sarcoidosis and describe various therapeutic agents and their outcomes in our cohort.
Methods: We conducted an IRB-approved, retrospective electronic medical records (EMR) search using ICD-9 codes for sarcoidosis followed by review of individual records to identify patients with MSK sarcoidosis between January 1, 2000 and December 31, 2014.
MSK sarcoidosis cases were based on:
a. Lofgren syndrome, or
b. biopsy-proven sarcoidosis and chronic arthritis not attributed to other causes, or
c. biopsy-proven sarcoidosis of MSK tissue (bone, muscle).
Clinical data from the MSK sarcoid cases was then entered into a standardized questionnaire created in REDCap. Statistical analysis was done using REDCap.
Results: Among 1016 patients with sarcoidosis, 58 patients met the inclusion criteria, making the prevalence 5.70%. Epidemiological and clinical characteristics were as follows: Mean age (47.21 years); Female (74.14%); Caucasian (82.76%), African American (10.34%), Lofgren syndrome (46.55%), chronic arthritis (24.14%), osseous sarcoid (25.86%), myopathy (6.90%) (Figure 1). Most commonly involved sites in Lofgren syndrome was ankle (96.30%), in chronic arthritis was finger joints (71.43%), in Osseous sarcoid was pelvis (53.33%), in Myopathy was proximal upper and lower extremity muscles.
Treatment was considered not necessary in 14.81% with Lofgren syndrome and 26.67% with osseous sarcoid. Most commonly used medication was prednisone (59.26% Lofgren, 57.14% chronic arthritis, 60% osseous, 75% myopathy). Methotrexate was the most commonly (25.86%) used DMARD. Biologics (anti-TNF agents) were used for chronic arthritis (n=1), osseous sarcoid (n=1) and myopathy (n=1).
Conclusion: To our knowledge, this is the largest case series describing all forms of MSK sarcoidosis in the US since 1984. MSK sarcoidosis appears to be seen in a small fraction of patients with sarcoidosis, with Lofgren syndrome being the most frequent and myopathy least frequent MSK manifestation. Ankle was most commonly involved in Lofgren and finger joints in chronic arthritis. Osseous sarcoid was seen most commonly in pelvis. Prednisone was most commonly used medication and methotrexate was the most commonly used DMARD across all forms of MSK sarcoidosis. Anti-TNF medications were used in a small minority of patients.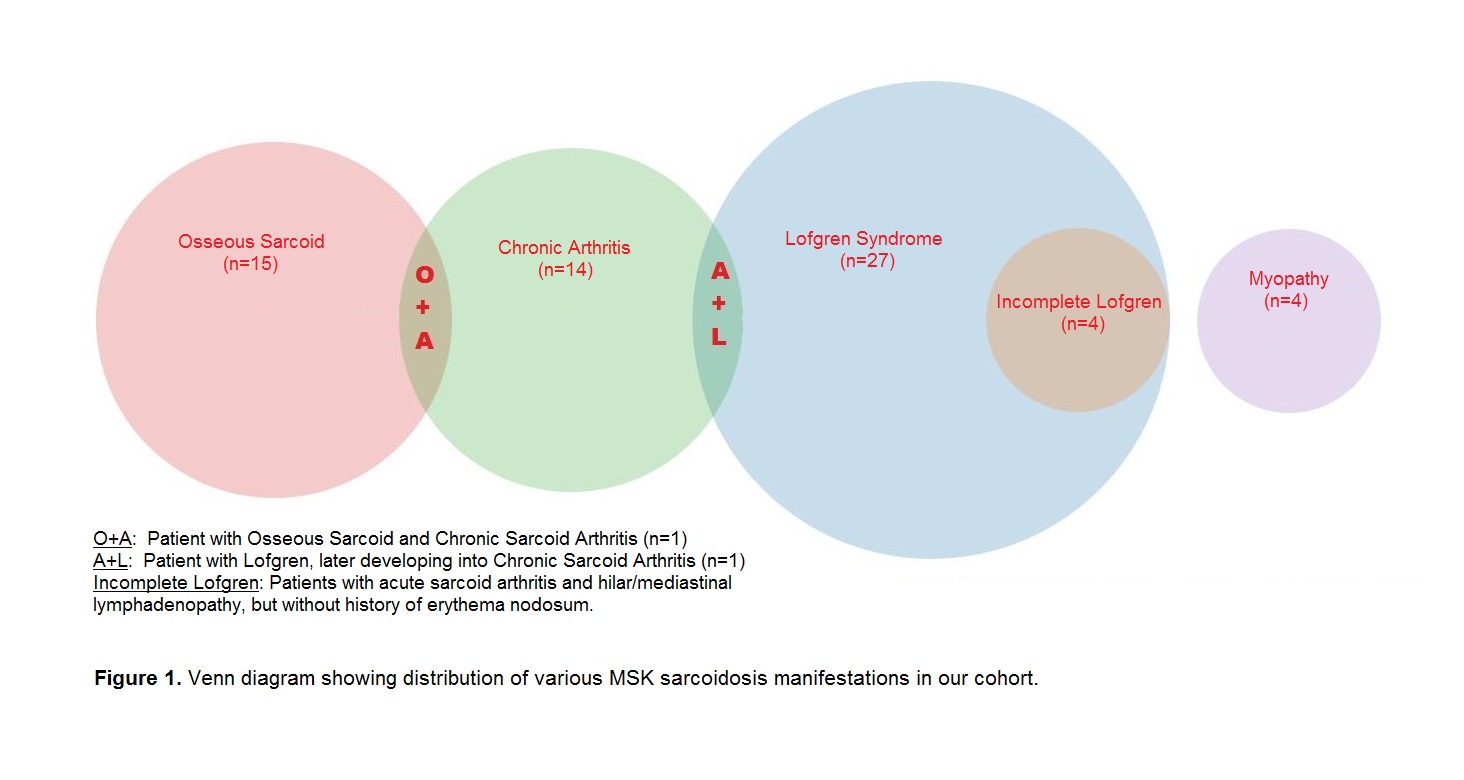 ---
Disclosure: S. Patil, None; M. Arakane, None; S. Jenigiri, None; E. Field, None; N. Singh, None.
To cite this abstract in AMA style:
Patil S, Arakane M, Jenigiri S, Field E, Singh N. Musculoskeletal Sarcoidosis: A 15-Year Experience from a Tertiary Care Center in the US [abstract].
Arthritis Rheumatol.
2018; 70 (suppl 10). https://acrabstracts.org/abstract/musculoskeletal-sarcoidosis-a-15-year-experience-from-a-tertiary-care-center-in-the-us/. Accessed January 22, 2022.
« Back to 2018 ACR/ARHP Annual Meeting
ACR Meeting Abstracts - https://acrabstracts.org/abstract/musculoskeletal-sarcoidosis-a-15-year-experience-from-a-tertiary-care-center-in-the-us/