Session Information
Session Type: Poster Session (Tuesday)
Session Time: 9:00AM-11:00AM
Background/Purpose: The multidisciplinary unit of psoriatic arthritis (PsA) are attractive to improve the early diagnosis and optimize the management of complex patients with PsA. There are published data about different models, activity data and patient satisfaction in this kind os unit. To evaluate its effectiveness, we also need to know the clinical results of patients with PsA who visit them.
The objective of this study is to evaluate the control of the cutaneous and articular activity of the patients with psoriatic arthritis in our multidisciplinary unit.
Methods: We reviewed 199 medical records and included 132 patients with peripheral, mixed or axial PsA, treated with DMARDs or biological therapy (TB), followed up for at least 6 months in our unit. Epidemiological, clinical and skin and joint activity  data are collected, evaluating DAPSA, PASI, BSA, PGA and percentage of patients that reach MDA (minimal disease activity). The data is analyzed using SPSSv23.
Results: 132 patients, 65.2% males, with a mean age (SD) of 54.98 (13.99) years, and a time of evolution of 110.37 months (SD 89.77). Diagnosis: 65.9% peripheral PsA, 30.3% mixed and 3.8% pure axial involvement. 68.2% had one comorbidity and 27.3% two or more. 56.8% had a family history of psoriasis and 19.7% of PsA. The presentation of psoriasis was predominantly in plaques (81.8%) and 8.3% in folds. 36.4% had previous enthesitis, 39.4% previous dactylitis. 68.2% had received one DMARD, 37.1% two or more. 22% had received previous biological therapy and 10.6% had received at least two biological drugs. Current treatment: 57 patients (43.1%) received BT and 75 patients received DMARD (only 2.3% receive two DMARDs). BT: 30.3% anti-TNF, 6.1% Ustekinumab, 3.8% Secukinumab and 3.8% Apremilast. Time of current treatment in months: mean 59.79 (SD 58.87).   Cutaneous and joint activity: median of DAPSA 3.53 (0.06-54.50), PASI 2 (0-13) and BSA 2 (0-18). PGA from very mild to mild 83.6%, mild PASI 79% and mild BSA 52%. DAPSA of low activity 90.1% and DAPSA of remission (< 4) 59.2%. 62.4% of the patients reached MDA criteria.
Conclusion: We consider that the clinical results of the patients visited in our multidisciplinary clinic are in general, good or very good, even in the subgroup of more complex patients. It would be necessary to carry out an additional cost study to assess its efficiency.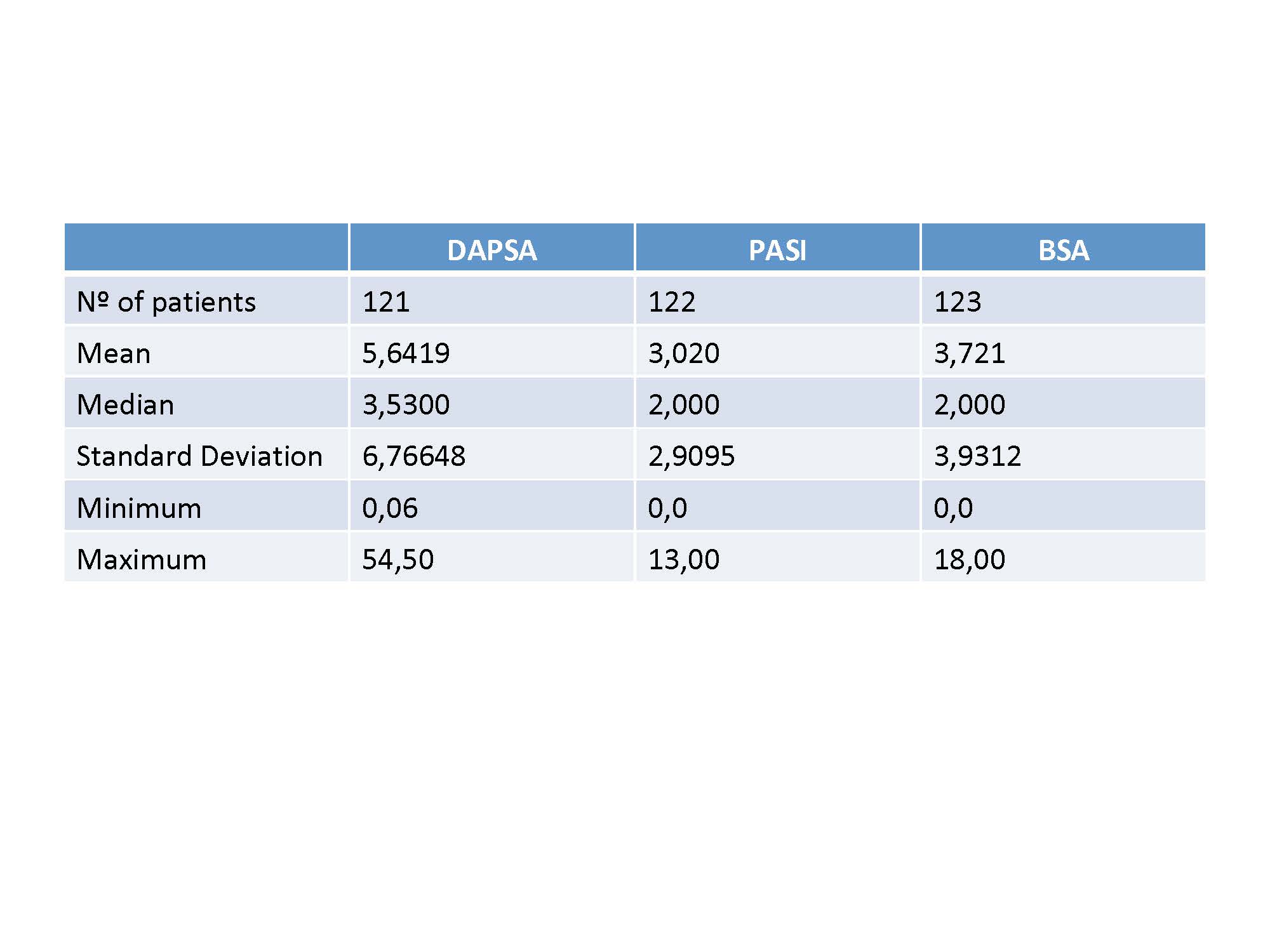 ACR Unit tabla1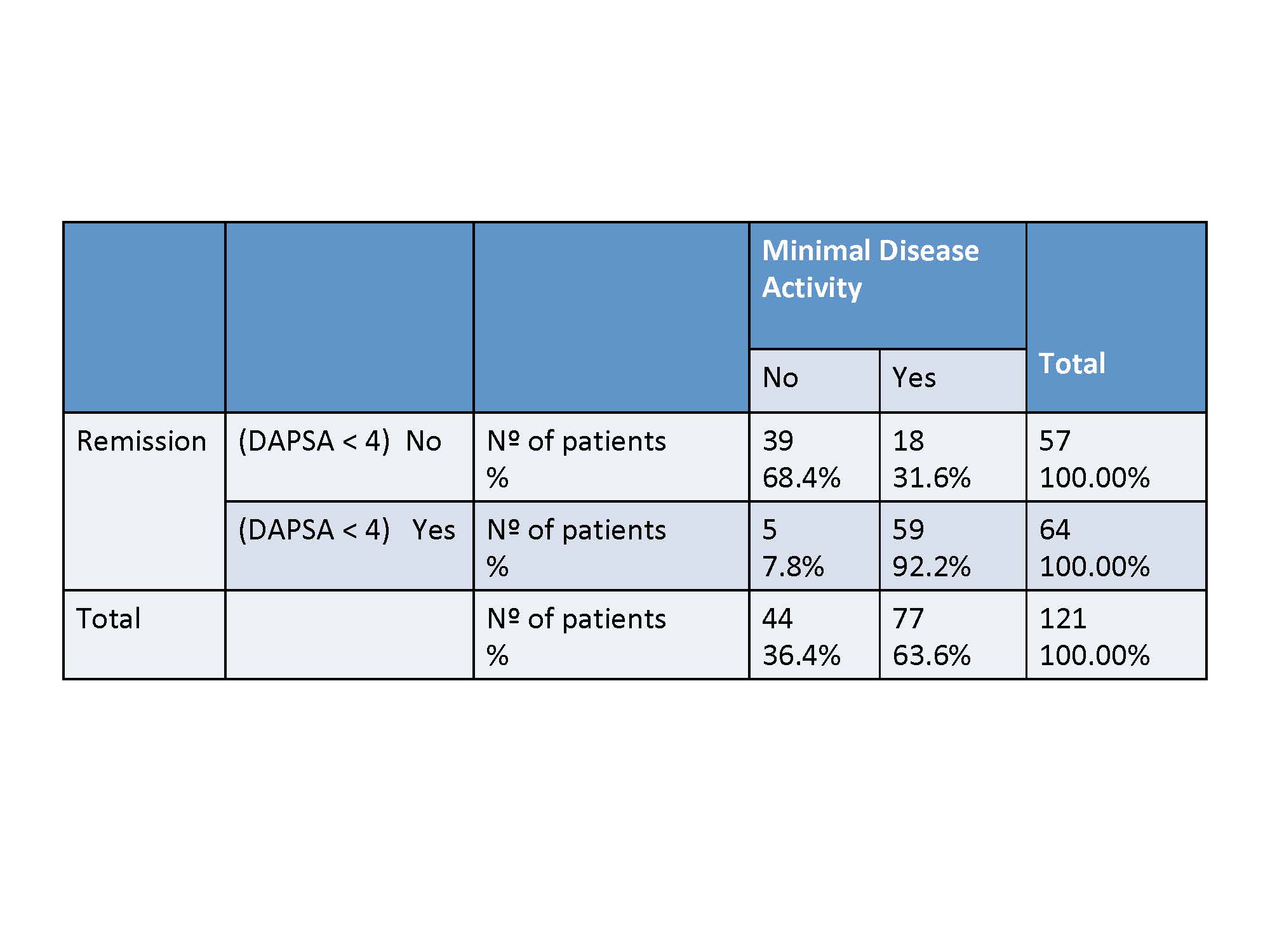 ACR Unit tabla2
---
Disclosure: C. Pérez-Velásquez, None; O. Ibarguengoitia-Barrena, None; D. Montero-Seisdedos, None; L. Vega-Alvarez, None; C. García-Gómez, None; E. Galindez-Agirregoikoa, None; S. Pérez-Barrio, None; M. Ruiz-Lucea, None; I. Torre-Salaberri, None; A. Intxaurbe-Pellejero, None; O. Fernandez-Berrizbeitia, None; J. Blanco-Madrigal, None; E. Cuende-Quintana, None; I. Calvo-Zorrilla, None; I. Gorostiza-Hormaeche, None; N. Rivera-García, None; M. Allande-López-Linares, None; H. Ugarte-Zuazo, None; M. García-Vivar, None.
To cite this abstract in AMA style:
Pérez-Velásquez C, Ibarguengoitia-Barrena O, Montero-Seisdedos D, Vega-Alvarez L, García-Gómez C, Galindez-Agirregoikoa E, Pérez-Barrio S, Ruiz-Lucea M, Torre-Salaberri I, Intxaurbe-Pellejero A, Fernandez-Berrizbeitia O, Blanco-Madrigal J, Cuende-Quintana E, Calvo-Zorrilla I, Gorostiza-Hormaeche I, Rivera-García N, Allande-López-Linares M, Ugarte-Zuazo H, García-Vivar M. Multidisciplinary Unit of Psoriatic Arthritis: Clinical Results [abstract].
Arthritis Rheumatol.
2019; 71 (suppl 10). https://acrabstracts.org/abstract/multidisciplinary-unit-of-psoriatic-arthritis-clinical-results/. Accessed January 27, 2023.
« Back to 2019 ACR/ARP Annual Meeting
ACR Meeting Abstracts - https://acrabstracts.org/abstract/multidisciplinary-unit-of-psoriatic-arthritis-clinical-results/