Session Information
Session Type: ACR Poster Session C
Session Time: 9:00AM-11:00AM
Background/Purpose: Previous studies have shown that abnormal loads induce meniscus cell damage and matrix degradation both in-vivo and in-vitro1,2. Monosodium urate (MSU) crystal is considered a Òdanger signalÓ as it activates the innate immunity3. Presence of MSU in synovial fluid is associated with the worst osteoarthritis (OA) pathology and disease progression4. Mineralization is dependent on the ratio of Phosphate/Pyrophosphate (Pi/PPi) that is influenced by manifold factors including Ank, Enpp1 and Alp respectively5. The objective of this study was to investigate the effect of increasing concentrations of MSU crystals on chondrocyte function, differentiation, and mineralization.
Methods: Primary chondrogenic cell line (ATDC5) was cultured in a 1:1 mixture of DMEM/F12 medium containing 10% FBS, Insulin-Transferrin-Selenium and incubated with increasing concentrations of endotoxin-free MSU crystals at increasing concentrations (0.01, 0.025, 0.05 and 0.1 mg/ml) for 4, 7, and 14 days respectively. Purification of total cellular RNA for real time PCR was prepared from ATDC5 cells at different time points. Real-time quantitative PCR and immunohistochemistry were performed on specific extracellular matrix genes, metalloproteinases, and specific mineralization genes such as Ankh, Enpp1 and Alp. Alcian-blue and Alizarin red S staining was performed at selected time point of ATDC5 cells exposed to different MSU concentrations.
Results: MSU crystals have a negative effect in the function and differentiation of ATDC5 chondrogenic cell lines. The ability of chondrocyte to produce matrix protein assessed by relative mRNA expression of aggrecan and type II collagen was reduced in chondrocytes following culture with MSU crystals and correlated with Alcian-blue staining. The expression of Type X collagen and MMP-13 in monolayer and pellet cultures was increased following culture with MSU crystals and correlated with Alizarin red staining. The expression of genes involved in extracellular PPi metabolism such as Ankh and Epp1 were increased after prolonged exposure to MSU crystals (1-way ANOVA p<0.05) while Alp remained unchanged (Figure 1). The expression of Ankh, Enpp1 and Alkp was confirmed by western blotting (p<0.05) and was associated with changes in the extracellular Pi/PPi ratio.
Conclusion: Long-term culture of MSU crystals with chondrogenic cell line ATDC5 impairs the function and differentiation of chondrocytes with increased hypertrophy and mineralization. Our findings lend additional support to the potential involvement of the innate immune system in OA pathology and progression by accelerating chondrocyte hypertrophy. Figure 1. Increase in Ankh, PC-1 gene expression compared to Alp in ATDC5 14 day pellet cultures exposed to 0.1 mg/ml MSU.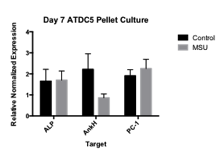 ---
Disclosure: N. Yang, None; A. M. Reginato, None; C. Sun, None.
To cite this abstract in AMA style:
Yang N, Reginato AM, Sun C. Monosodium Urate Monohydrate (MSU) Crystals Induces Cartilage Degeneration By Accelerating Hypertrophy and Mineralization. [abstract].
Arthritis Rheumatol.
2016; 68 (suppl 10). https://acrabstracts.org/abstract/monosodium-urate-monohydrate-msu-crystals-induces-cartilage-degeneration-by-accelerating-hypertrophy-and-mineralization/. Accessed November 24, 2020.
« Back to 2016 ACR/ARHP Annual Meeting
ACR Meeting Abstracts - https://acrabstracts.org/abstract/monosodium-urate-monohydrate-msu-crystals-induces-cartilage-degeneration-by-accelerating-hypertrophy-and-mineralization/