Session Information
Session Type: Poster Session (Monday)
Session Time: 9:00AM-11:00AM
Background/Purpose: Mobile applications promise to facilitate the life of patients as well as physicians. In routine practice, however, rheumatology apps are largely unknown and little is known about their quality and safety. The aim of this study was to provide an overview of the mobile rheumatology applications currently available in the German App Stores, to evaluate the app quality using the Mobile App Rating Scale (MARS) and compile brief, ready to-use descriptions for patients as well as rheumatologists.
Methods: The German Google Play and Apple App Stores were systematically searched to identify German Rheumatology mobile applications addressing patients as well as physicians. App quality was assessed independently using MARS by in total 8 physicians, 4 using Android and 4 using iOS smartphones. The MARS score is based on a 5-point Likert scale in four sections with multiple items: engagement (5 items), functionality (4 items), aesthetics (3 items), and information quality (7 items). In addition, there is a "subjective" section consisting of 4 items. Apps were randomly assigned so that 4 apps were rated by all raters and the remaining apps were rated by two Android and two iOS users. Furthermore, brief app descriptions including app developers, app categories and features were compiled to inform potential users and developers.
Results: In total 128 and 63 apps were identified in the German Google Play and Apple App Stores, respectively. After removing doublets and only including apps that were available in both stores 28 apps remained, of which 16 final apps met the inclusion criteria, which were: (1) German language; (2) availability in both app stores; (3) targeting patients or physicians as users, and (4) clearly including rheumatology or rheumatic diseases as subject matter. Exclusion criteria were: (1) congress apps (2) company apps with advertisements. 9 apps addressed patients, 7 apps addressed physicians. No clinical studies to support the effectiveness and safety of these apps could be found. Pharmaceutical companies were the main developers of two apps. Rheuma-Auszeit, was the only app mainly developed by a patient organization. This app, had the highest overall MARS score (4.19/5). 3/9 patient apps featured validated questionnaires. The median overall MARS score was 3.85/5 ranging from 2.81/5 to 4.19/5. One patient targeted app and one physician targeted app had a MARS score >4/5. No significant gender or platform (iOS/Android) differences could be observed.
Conclusion: This is the first study, which systematically identified and evaluated mobile applications in rheumatology for patients as well as physicians available in German App Stores. We found a lack of supporting clinical studies, use of validated questionnaires and involvement of academic developers. Overall app quality was very heterogeneous. To create high-quality apps a closer cooperation lead by patients and physicians is vital.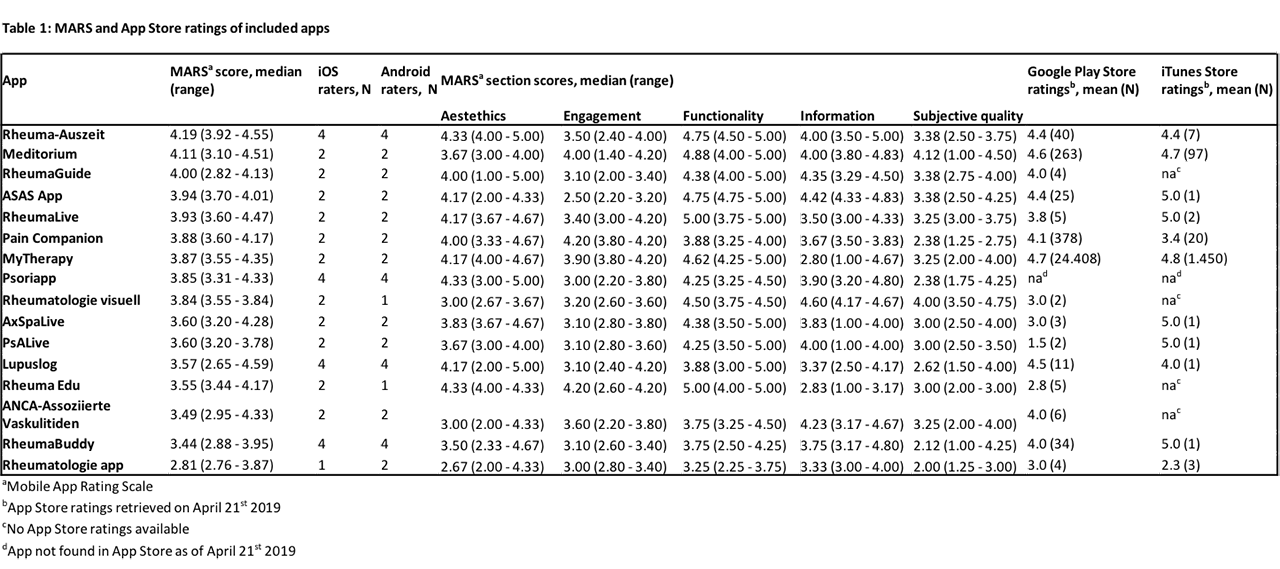 ---
Disclosure: J. Knitza, None; K. Tascilar, None; E. Messner, None; M. Meyer, None; D. Vossen, None; A. Pulla, None; P. Bosch, None; J. Kittler, None; A. Kleyer, None; P. Sewerin, AbbVie, 2, 5, 8, Biogen, 5, 8, BMS, 5, 8, Celgene, 2, 5, 8, Chugai, 2, 5, 8, Hexal, 5, 8, Janssen-Cilag, 2, 5, 8, Lilly, 2, 5, 8, Novartis, 2, 5, 8, Pfizer, 2, 5, 8, Roche, 5, 8, Sanofi-Genzyme, 5, 8, Swedish Orphan Biovitrum, 5, 8, UCB, 2, 5, 8; J. Mucke, None; I. Haase, None; D. Simon, None; M. Krusche, None.
To cite this abstract in AMA style:
Knitza J, Tascilar K, Messner E, Meyer M, Vossen D, Pulla A, Bosch P, Kittler J, Kleyer A, Sewerin P, Mucke J, Haase I, Simon D, Krusche M. Mobile Apps in Rheumatology: Review and Analysis Using the Mobile App Rating Scale (MARS) [abstract].
Arthritis Rheumatol.
2019; 71 (suppl 10). https://acrabstracts.org/abstract/mobile-apps-in-rheumatology-review-and-analysis-using-the-mobile-app-rating-scale-mars/. Accessed January 27, 2023.
« Back to 2019 ACR/ARP Annual Meeting
ACR Meeting Abstracts - https://acrabstracts.org/abstract/mobile-apps-in-rheumatology-review-and-analysis-using-the-mobile-app-rating-scale-mars/