Session Information
Session Type: Poster Session (Monday)
Session Time: 9:00AM-11:00AM
Background/Purpose: Interstitial lung disease (ILD) are a heterogeneous group of diseases that could be either idiopathic or secondary to environmental exposure, drugs or connective tissue disease (CTD). ILD related to CTD has different treatment options and different survival depending on the underlying CTD disease. Interstitial pneumonia with autoimmune features (IPAF) is the term used to describe patients with interstitial lung disease that have clinical or serological markers that suggest an underlying autoimmune process, but do not meet stablished criteria of a CTD. This diagnosis is made based on three domains: clinical, serologic and intrathoracic morphologic features. It is not known if Sjögren's Syndrome (SS) is underdiagnosed among patients with IPAF. The aim of the study is to define the utility of performing a Minor Salivary Gland Biopsy (MSGB) and dry eye tests (DET) in patients with IPAF to detect occult SS.
Methods: Prospective study. Interstitial Lung Disease patients without defined Connective Tissue Disease and at least one criteria of one or more IPAF classification domains were included. A MSGB, Schirmer's test (ST) and Ocular Staining Score (OSS) were performed in a blinded manner by experienced specialists. MSGB was considered positive when at least 1 focus of lymphocytes was detected, while DET were positive if OSS ≥ 5 and/or ST ≤5 secs. SS diagnosis was according to the 2016 ACR EULAR criteria.
Results: 534 patients on first consult were screened. 67 patients had at least one IPAF criteria, of which 53 (79.1%) were female with a mean age (SD) of 64.18 years (10.81). Positive ST in 36 (53.73%), positive OSS in 29 (43.28%) and positive MSGB in 36 (53.73%) were found. 27 (40.29%) met SS diagnostic criteria. Of these, 2 (7.41%) and 8 (29.6%) did not report dry eyes or dry mouth respectively, 16 (59.25%) had negative anti RO, 22 (81.48%) negative anti LA, 7 (25.92%) negative ANA, and 10 of 17 (58.8%) negative RF. Comparing patients with and without SS we found a significant higher proportion of patients with ANA (+), positive DET and positive MSGB in the SS population.
Conclusion: We found a significant proportion of patients with occult SS in our study population. Most of these patients with IPAF met Sjogren criteria despite having negative anti Ro, anti LA or RF. In addition to physical examination and immunological profile, the MSGB and dry eye tests should be considered in the evaluation of patients with IPAF.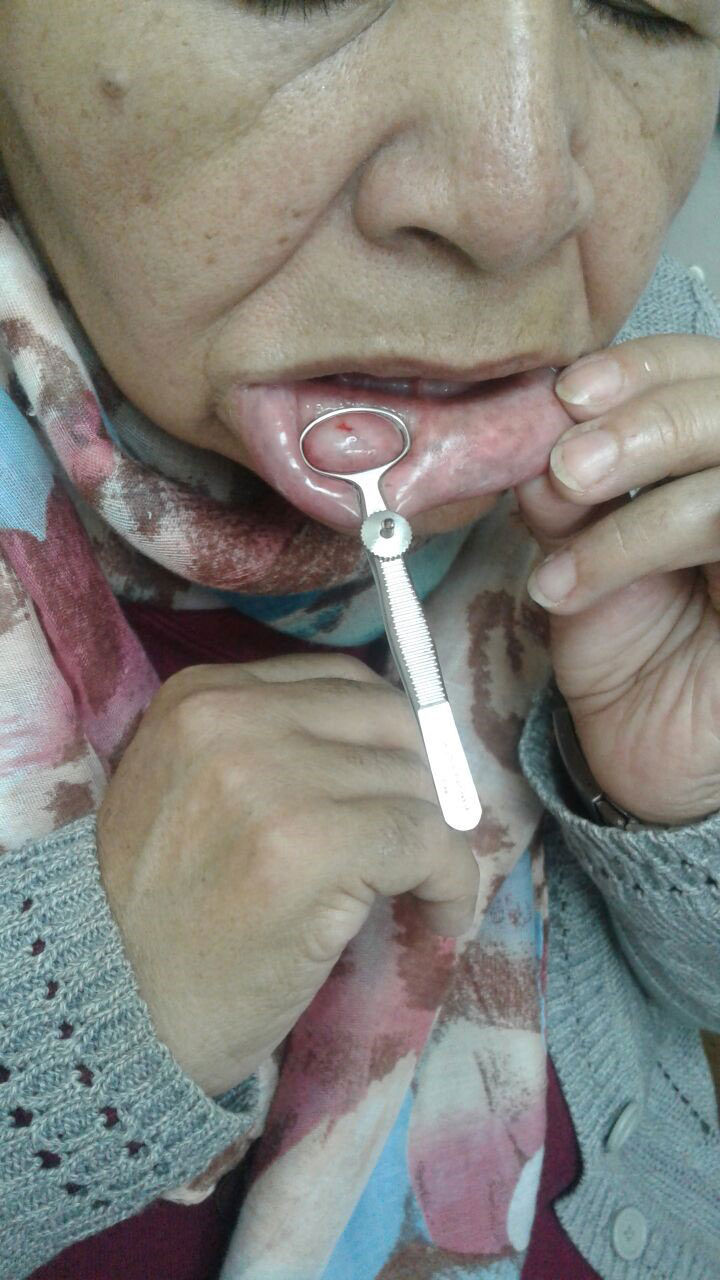 ---
Disclosure: M. Garbarino, None; S. Auteri, None; M. Blanco, None; L. Alberti, None; F. PAULIN, None; M. Fernandez, None; G. Carballo, None; M. Raya, None; G. Guman, None; F. CARO, None.
To cite this abstract in AMA style:
Garbarino M, Auteri S, Blanco M, Alberti L, PAULIN F, Fernandez M, Carballo G, Raya M, Guman G, CARO F. Minor Salivary Gland Biopsy and Dry Ocular Tests to Detect Occult Sjögren Syndrome in Patients with Interstitial Pneumonia with Autoimmune Features [abstract].
Arthritis Rheumatol.
2019; 71 (suppl 10). https://acrabstracts.org/abstract/minor-salivary-gland-biopsy-and-dry-ocular-tests-to-detect-occult-sjogren-syndrome-in-patients-with-interstitial-pneumonia-with-autoimmune-features/. Accessed April 13, 2021.
« Back to 2019 ACR/ARP Annual Meeting
ACR Meeting Abstracts - https://acrabstracts.org/abstract/minor-salivary-gland-biopsy-and-dry-ocular-tests-to-detect-occult-sjogren-syndrome-in-patients-with-interstitial-pneumonia-with-autoimmune-features/