Session Information
The 2020 Pediatric Rheumatology Symposium, originally scheduled for April 29 – May 2, was postponed due to COVID-19; therefore, abstracts were not presented as scheduled.
Session Type: ACR Abstract Session
Session Time: 4:15PM-5:15PM
Background/Purpose: Disease-modifying antirheumatic drugs (DMARDs) and biologic agents are routinely used in the treatment of JIA and JIA-associated uveitis (JIA-AU). Parents are often fearful, however, of the potential side effects of these medication.  The term decisional conflict (DC) is used to describe a state of uncertainty about a course of action, such as making a decision about treatment. DC can result in verbalized uncertainty, vacillation between choices, delayed decision making, and signs of emotional and physical distress. This study measured and compared the level of DC in parents when making the decision to begin a DMARD or a biologic for the first time.
Methods: Parents of children with JIA or JIA-AU, whose pediatric rheumatologist recommended beginning a DMARD or biologic for the first time, were invited to participate in this prospective study. The level of DC was measured within one month of enrolment using the Decision Conflict Scale (DCS). The DCS, which has a total of 16 questions across 5 subscales (informed, values clarity, support, uncertainty and effective decision subscales), generates a score from 0-100 with higher scores reflecting greater conflict. Scores ≥ 25 are associated with clinically significant conflict while scores ≥ 37.5 can be associated with decision delay. Parents were asked to indicate their decision on starting the recommended medication for their child. They were also asked to describe factors which affected their decision via an open-ended question. Stata 11 was used for the descriptive analysis.
Results: Forty parents with a mean age of 40.4 ± 6.7 were included in our study; 35 (87.5%) females and 5 (12.5%) males. The mean age of the patients was 10.4 ± 4.5; 25 (62.5%) females and 15 (37.5%) males. The majority of patients were being counselled to begin a DMARD or biologic due to JIA alone (90%), 3 patients (7.5%) for JIA-AU, and 1 for both (2.5%). The mean active joint count was 6.4 ± 7.5. Almost all parents (38/40) indicated that they decided to start the recommended medication; two parents were undecided. The overall mean DC score was 17.3 ± 16.2 (median 10.9, range 0-51). Mean DCS score was 16.1 ± 15 (median 9.4, range 0-50) and 18.8 ± 17.8 (median 14.06, range 0-51) for the DMARD and biologic groups respectively. There was no statistically significant difference between the two groups. The total number of DCS scores ≥ 25, indicating clinically significant conflict, was 14 (37.5%) in both groups, 8 (33.3%) in the DMARD group, and 7 (36.8%) in the biologic group (Figures 1 and 2). Two parents (10%) in the DMARD group and 4 parents (21%) in the biologic group had DCS scores ≥37.5. The 2 undecided parents both had DCS scores < 25.  Factors which contributed to parents making a decision included witnessing ongoing pain in their child, trust in physicians, and previous treatment failures.
Conclusion: Parents of patients with JIA or JIA-AU experienced generally low levels of DC when making the decision to begin DMARDs and biologics for the first time. Still, a third of parents demonstrated clinically significant DC, although this did not lead to a decision delay in our population. The impact of DC on parents deserves further exploration.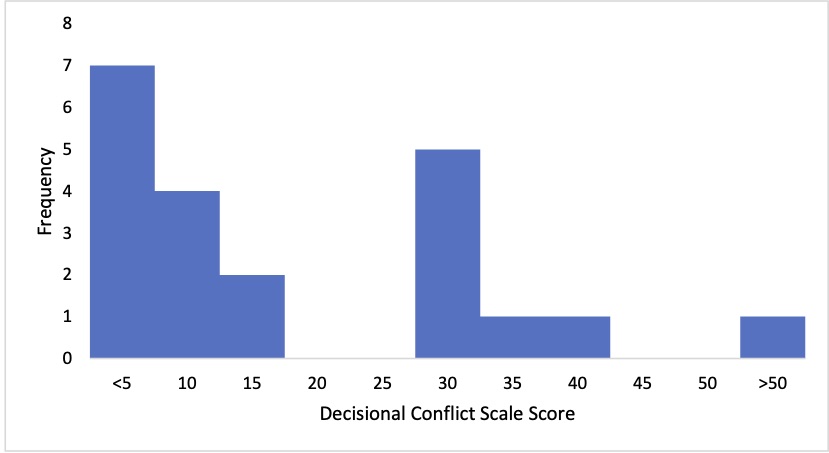 Figure 1. Decisional Conflict Scale Score for those being recommended DMARD treatment.
Figure 2. Decisional Conflict Scale Score for those being recommended biologic treatment.
---
Disclosure: C. DeCoste, None; S. Ramsey, None; A. Huber, None; B. Lang, None; E. Stringer, None.
To cite this abstract in AMA style:
DeCoste C, Ramsey S, Huber A, Lang B, Stringer E. Measuring Decision Conflict in Parents of Children with Juvenile Idiopathic Arthritis When Making the Decision to Begin Disease Modifying Anti-Rheumatic Drugs or Biologic Agents [abstract].
Arthritis Rheumatol.
2020; 72 (suppl 4). https://acrabstracts.org/abstract/measuring-decision-conflict-in-parents-of-children-with-juvenile-idiopathic-arthritis-when-making-the-decision-to-begin-disease-modifying-anti-rheumatic-drugs-or-biologic-agents/. Accessed December 9, 2022.
« Back to 2020 Pediatric Rheumatology Symposium
ACR Meeting Abstracts - https://acrabstracts.org/abstract/measuring-decision-conflict-in-parents-of-children-with-juvenile-idiopathic-arthritis-when-making-the-decision-to-begin-disease-modifying-anti-rheumatic-drugs-or-biologic-agents/