Session Information
Session Type: Poster Session A
Session Time: 8:30AM-10:30AM
Background/Purpose: Idiopathic pulmonary fibrosis is an interstitial lung disease of unknown etiology. The most critical event in the evolution of fibrosis is the appearance of activated myofibroblasts. Mast cells (MC) are reportedly involved in various inflammatory and fibrotic conditions, although little is known about their roles in interstitial lung disease (ILD). Since the pathogenic role of MC in ILD remains unclear, we examined whether MCs play a critical role in the development of pulmonary fibrosis.
Methods: Lung tissue was examined using histology and immunohistochemistry. The samples for biopsy were obtained from the involved lung tissue of 13 patients with idiopathic pulmonary fibrosis (IPF) and 13 patients with connective tissue disease (CTD)-associated-ILD (RA 7 systemic sclerosis 6). As a control, we used noncancerous lung sections of 10 patients who had undergone surgery for lung cancer. We used immunohistochemistry to identify and quantify tryptase-, prolyl-4-hydroxylase β-, and alpha-smooth muscle actin (α-SMA)-positive cells as MCs, fibroblasts, and myofibroblasts, respectively. The co-culture of the human mast cell line (HMC-1) with pulmonary fibroblasts was performed in a Transwell system. Fibroblasts cultured with or without HMC-1 cells were cytospun and the expression of α-SMA, a marker of myofibroblast differentiation, was examined by immunohistochemistry after 7 days of culture. The ACTA2 mRNA synthesis in the fibroblasts was evaluated by RT-qPCR. The conditioned medium for the fibroblast culture was obtained from HMC-1 cells stimulated with recombinant human IL-33 and stem cell factor for 24 hours. Fibroblasts were treated with HMC-1-conditioned medium for 24 hours and the ACTA2 mRNA synthesis in the fibroblasts was evaluated by RT-qPCR. Neutralization antibodies for human TGF-β1, 2, and 3 were used during the fibroblast culture with HMC-1-conditioned or standard culture media.
Results: MCs were significantly more numerous in the lung samples with IPF and CTD-ILD than in the control (Fig. 1a and b). MCs were proximal to the Elastica van Gieson (EVG)-stained fibrous tissue and pulmonary fibroblasts and myofibroblasts (Fig 1c, d, and e). We examined whether MCs induced pulmonary fibroblasts to differentiate into myofibroblasts. In the co-culture experiment, the ACTA2 mRNA level significantly increased compared to that in the control fibroblast monoculture (Fig. 2a). Consistently with this result, the upregulation of α-SMA in the fibroblasts during the co-culture was confirmed by immunohistochemistry. Furthermore, the ACTA2 mRNA was significantly upregulated in fibroblasts conditioned with the HMC-1 medium compared to that in fibroblasts cultured in a standard medium (Fig. 3). In addition, the neutralization of TGF-β abolished the ACTA2 mRNA upregulation in fibroblasts conditioned in the HMC-1 medium, thereby suggesting that HMC-1-derived TGF-β contributes to myofibroblast differentiation (Fig. 3).
Conclusion: The findings suggest a novel role for MCs in the development of lung fibrosis via TGF-β production-induced myofibroblast differentiation.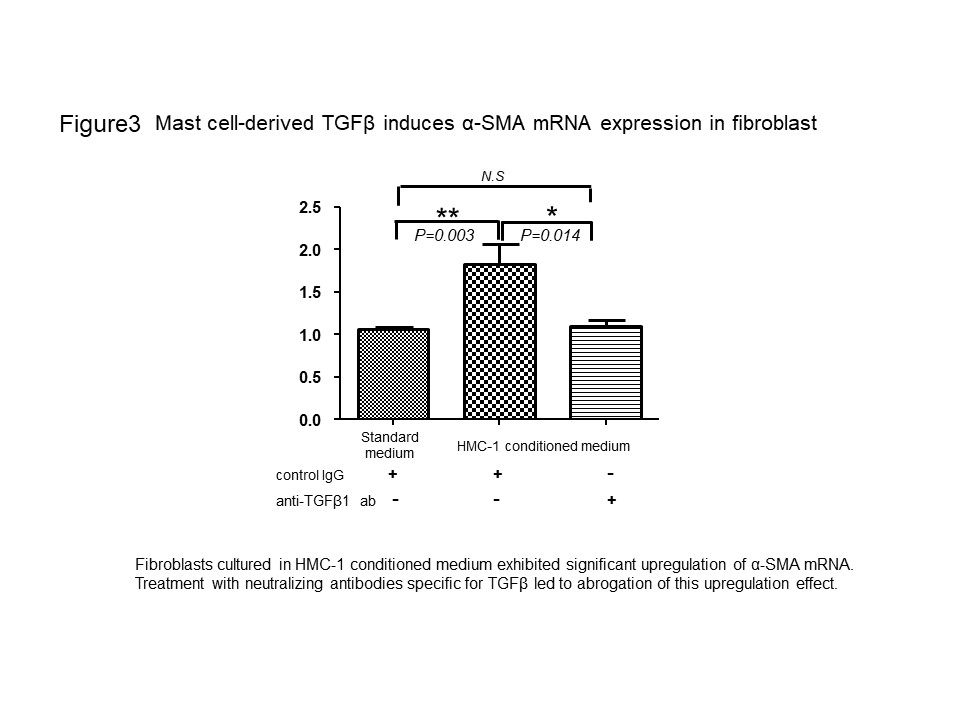 ---
Disclosures: S. Kaieda, None; M. Okamoto, None; M. Tominaga, None; T. Hoshino, None.
To cite this abstract in AMA style:
Kaieda S, Okamoto M, Tominaga M, Hoshino T. Mast Cells Contribute to the Development of Lung Fibrosis via Inducing Myofibroblast Differentiation by TGF-β Production [abstract].
Arthritis Rheumatol.
2021; 73 (suppl 9). https://acrabstracts.org/abstract/mast-cells-contribute-to-the-development-of-lung-fibrosis-via-inducing-myofibroblast-differentiation-by-tgf-%ce%b2-production/. Accessed January 27, 2023.
« Back to ACR Convergence 2021
ACR Meeting Abstracts - https://acrabstracts.org/abstract/mast-cells-contribute-to-the-development-of-lung-fibrosis-via-inducing-myofibroblast-differentiation-by-tgf-%ce%b2-production/