Session Information
Session Type: ACR Poster Session C
Session Time: 9:00AM-11:00AM
Background/Purpose: Little is known on what subjective or objective data that rheumatologists consider most important for them to inform their treatment decisions for patients with rheumatoid arthritis (RA). Objective: To understand what data is most relevant for rheumatologists to inform treatment recommendations for their RA patients.
Methods: Participants were recruited nationally by email invitation to participate in one of 3 nominal groups held in March and April of 2016. Each of the 3 groups generated a list of elements from their patients' history, signs, and symptoms ('items'), that they deemed helpful in making treatment decisions. The results of each group were combined into a single data set, categorized by a sorting procedure, in which items were independently reviewed and then aggregated into common topic groups, redundant or duplicate items were removed, and the topic groups were then identified according to the major theme emerging from each group. These themes were then evaluated through calculation of a rank-order coefficients based number of items in each theme, number of items in each theme ranked in the top 3 in terms of importance, and the average score for each item within a theme.
Results: A total of 21 rheumatologists participated. Twelve themes emerged and 10 of these received ranking votes (Figure). Subjective information such as patient symptoms was the theme with the highest amount of votes (43%) while more objective data such as signs and tests captured only 21% of the ranking votes.  These physicians did not rank assessment of medication adherence very highly. Among the unranked themes, "social relationships" had the fourth highest number of items (7 items emerged but no votes to any for any of these items), consistent with the concept that rheumatologists are aware of patients' social context for their health, but most do not yet recognize it as an important component in patients' care.
Conclusion:  Most rheumatologists highly valued patients' symptoms to inform their treatment decisions. Collection of subjective data from patients between physician appointments (e.g. via Smartphone technology), even for domains not directly related to RA (e.g. sleep symptoms), appears valuable to rheumatologists to have a more complete representation of RA patient's health. Figure: Themes that emerged during physician nominal groups regarding the elements of RA patient's history, signs and symptoms they value the most and their respective percentage of votes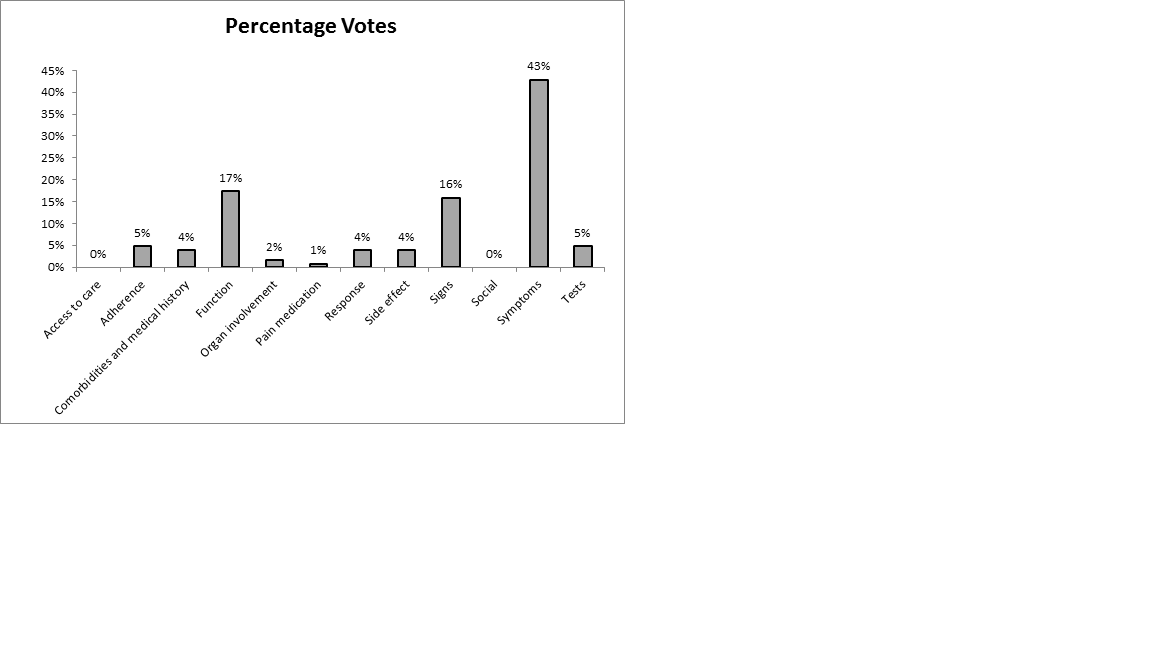 ---
Disclosure: I. Navarro-Millán, None; R. O'Beirne, None; M. Morris, None; B. Johnson, None; J. Willig, None; H. Yun, None; A. Cherrington, None; L. Fraenkel, None; M. M. Safford, None; J. Curtis, Roche/Genentech, UCB, Janssen, Corrona, Amgen, Pfizer, BMS, Crescendo, AbbVie, 2,Roche/Genentech, UCB, Janssen, Corrona, Amgen, Pfizer, BMS, Crescendo, AbbVie, 5.
To cite this abstract in AMA style:
Navarro-Millán I, O'Beirne R, Morris M, Johnson B, Willig J, Yun H, Cherrington A, Fraenkel L, Safford MM, Curtis J. Making Room for RA Patient Symptoms into Treatment Decision: A Physician Perspective Study [abstract].
Arthritis Rheumatol.
2016; 68 (suppl 10). https://acrabstracts.org/abstract/making-room-for-ra-patient-symptoms-into-treatment-decision-a-physician-perspective-study/. Accessed February 26, 2021.
« Back to 2016 ACR/ARHP Annual Meeting
ACR Meeting Abstracts - https://acrabstracts.org/abstract/making-room-for-ra-patient-symptoms-into-treatment-decision-a-physician-perspective-study/