Session Information
Session Type: Poster Session (Monday)
Session Time: 9:00AM-11:00AM
Background/Purpose: The information associated with loss to follow-up (LFU) patients may affect real-world data evaluation of the use of biologics that is not being adequately captured in registries. 
Methods: We identified all patients (Pts) treated with biologics in our center who had no registered visits for more than 6 months, in the Rheumatic Diseases Portuguese Register, Reuma.pt.,. We retrieved baseline information from Reuma.pt and from the hospital electronic clinical record. We then performed a telephonic interview to characterize the reasons for LFU at our day care unit. For Pts unable to be contacted by telephone a letter of invitation to an appointment at the hospital was sent.
Results: From a total of 794 Pts registered in Reuma.pt at our center with active biologic therapy 227 did not have any information registered in the last 6 months. Of this, 36 Pts were on biologic therapy prescribed by other Departments (gastroenterology and dermatology) and maintained follow-up in these departments. 102 Pts had suspended biologic administration by medical indication and this information was registered in the hospital electronic clinical records but not updated in Reuma.pt. For 89 Pts no information could be retrieved from either the hospital electronic clinical record or Reuma.pt and we classified these Pts as true LFU. 
28 of these LFU Pts were being followed up in another Rheumatology center. The most frequent reasons for this change were: transfer of the follow-up to a newly created and closer Rheumatology Department (15); relocation to another city (6); administrative problems issues related to our Department/Hospital (5) and socio-economic reasons that were interfering with travelling to our department (2).
26 of the LFU Pts died, at a mean age of 66.3 years. The mean disease duration was 14.3 years and 20 Pts had RA. The mean duration of biologics was 5.9 years and 53.8% were under anti-TNF therapy, 16% under Anti-CD20 therapy and 12% under interleukin-6R inhibitors. Cause of death was identified in only 3 Pts: 1 had a myocardial infarction, 2 had complications of surgeries. 
11 Pts who were LFU had stopped biologic therapy and abandoned follow-up by their own decision after suffering adverse effects attributed by the Pts to the use of biologics. 6 Pts had infections: cutaneous (n=3) or urinary tract related (n=3; with need for hospital admission in 2 of the cases). The remaining Pts stopped the drug because of cutaneous reactions (n=5). 
4 Pts of the LFU were in remission and decided to stop the drug and the medical follow up. All of them believed that the disease was inactive without the need of medical drugs. 
We were not able to contact 15 of the LFU pts.
Conclusion: Identifying LFU Pts and clarifying the reason for the loss of data in a register contributes to a better knowledge on strategies to discontinue biologics in stable pts, to a better pharmacovigilance of adverse effects and to more efficiency in data capture by registries. Due to data protection reasons It was impossible to have access to the Pts's death certificates.

tabela 1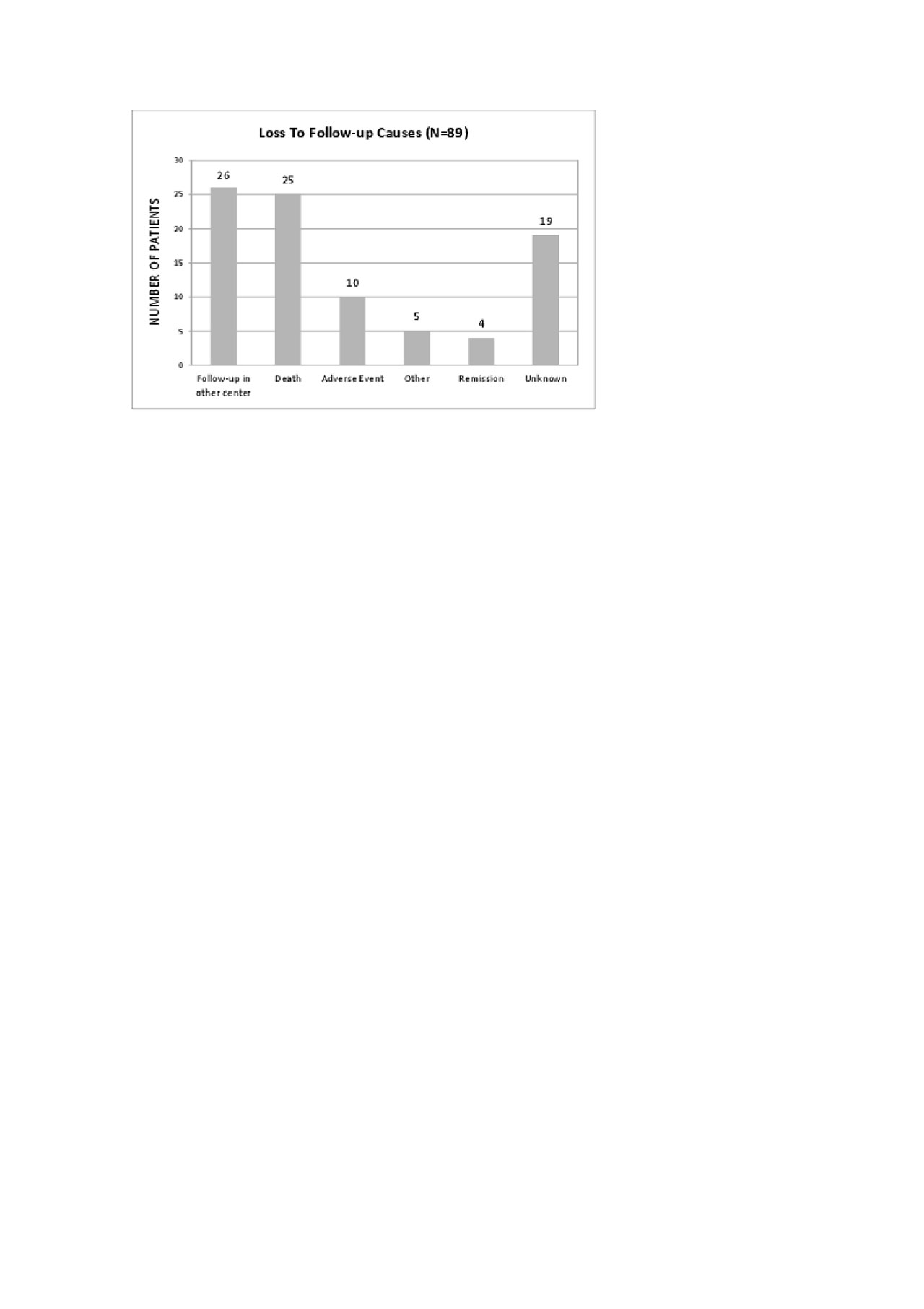 graphic 1
---
Disclosure: A. Valido, None; J. Silva-Dinis, None; R. Cruz-Machado, None; M. Gonçalves, None; V. Romao, None; M. Saavedra, None; J. Eurico Fonseca, None.
To cite this abstract in AMA style:
Valido A, Silva-Dinis J, Cruz-Machado R, Gonçalves M, Romao V, Saavedra M, Eurico Fonseca J. Loss to Follow-up in Registries of Rheumatic Patients Treated with Biologics: A Potentially Valuable Hidden Real-world Data That Is Being Overlooked? [abstract].
Arthritis Rheumatol.
2019; 71 (suppl 10). https://acrabstracts.org/abstract/loss-to-follow-up-in-registries-of-rheumatic-patients-treated-with-biologics-a-potentially-valuable-hidden-real-world-data-that-is-being-overlooked/. Accessed February 3, 2023.
« Back to 2019 ACR/ARP Annual Meeting
ACR Meeting Abstracts - https://acrabstracts.org/abstract/loss-to-follow-up-in-registries-of-rheumatic-patients-treated-with-biologics-a-potentially-valuable-hidden-real-world-data-that-is-being-overlooked/