Session Information
Session Type: Poster Session (Tuesday)
Session Time: 9:00AM-11:00AM
Background/Purpose: Interstitial lung disease (ILD) is a leading cause of death in patients with rheumatoid arthritis (RA). In end-stage RA-ILD, lung transplant becomes the only option for these patients. However, there are concerns about worse outcomes and a higher risk of allograft dysfunction in patients with RA after lung transplantation due to the underlying immune dysregulation in this population. The main aim was to assess post-transplant survival in patients with RA-ILD compared with patients with idiopathic pulmonary fibrosis (IPF). Secondary outcomes included rate of acute rejection and chronic rejection.
Methods: Single center study in a referral center for lung transplant of all patients with RA-ILD who underwent lung transplantation from 2008 to 2017 compared with a control group of patients with IPF matched for age, transplant year and basiliximab induction. Cumulative survival rates after lung transplantation were estimated by the Kaplan-Meier method and compared between groups using the log-rank test. Distributions of categorical variables were compared by Pearson Chi2 or Fisher exact test as appropriate.
Results: Patients with RA-ILD (n=9) had similar baseline characteristics than IPF patients (n=9) which are shown in the TABLE. All patients with RA showed the histological subtype of usual interstitial pneumonia. RA-ILD patients tended to experience acute graft rejection less commonly than those with IPF (77.8% vs 44.4%; p=0.34). However, a non-statistically significant increased frequency of chronic graft rejection was observed in the group of RA-ILD (11.1% vs 22.2%; p=0.45). Cumulative survival rates at 5 year post-transplant did no differ significantly between RA-ILD and IFP [61.0% vs 85.7% (p=0.27)] (FIGURE 1).
Conclusion: Patients who underwent lung transplantation for RA-ILD in our center showed a trend to lower long-term post-transplant survival than in those with IPF. This could be explained by an increased frequency of chronic graft rejection. However, in selected candidates, RA-ILD should not be considered a contraindication for lung transplantation.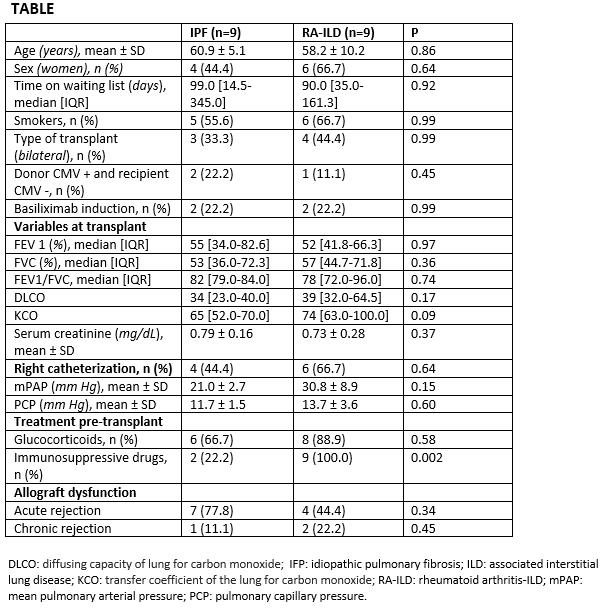 ---
Disclosure: D. PRIETO- PENA, None; A. Martinez Meñaca, None; M. Calderón-Goercke, None; V. Mora Cuesta, None; S. Fernández Rozas, None; D. Iturbe Fernandez, None; I. Gonzalez-Mazon, None; L. Sanchez-Bilbao, None; J. Cifrian Martínez, None; M. González-Gay, AbbVie, 2, 5, 8, Abbvie, 2, 5, 8, Celgene, 5, 8, Eli Lilly, 2, 5, EliLilly, 2, 5, Jansen, 2, Janssen, 2, MSD, 2, 5, 8, Novartis, 2, 5, Pfizer, 5, 8, Roche, 2, 5, 8, Sanofi, 2, 5, 8, Sobi, 5, 8; R. Blanco, None.
To cite this abstract in AMA style:
PRIETO- PENA D, Martinez Meñaca A, Calderón-Goercke M, Mora Cuesta V, Fernández Rozas S, Iturbe Fernandez D, Gonzalez-Mazon I, Sanchez-Bilbao L, Cifrian Martínez J, González-Gay M, Blanco R. Long-term Survival in Lung Transplantation and Allograft Rejection in Patients with Interstitial Lung Disease Related with Rheumatoid Arthritis: Study from a Single Referral Center [abstract].
Arthritis Rheumatol.
2019; 71 (suppl 10). https://acrabstracts.org/abstract/long-term-survival-in-lung-transplantation-and-allograft-rejection-in-patients-with-interstitial-lung-disease-related-with-rheumatoid-arthritis-study-from-a-single-referral-center/. Accessed December 5, 2020.
« Back to 2019 ACR/ARP Annual Meeting
ACR Meeting Abstracts - https://acrabstracts.org/abstract/long-term-survival-in-lung-transplantation-and-allograft-rejection-in-patients-with-interstitial-lung-disease-related-with-rheumatoid-arthritis-study-from-a-single-referral-center/