Session Information
Session Type: ACR Concurrent Abstract Session
Session Time: 4:30PM-6:00PM
Background/Purpose: Canakinumab (CAN), a selective, human anti-interleukin (IL)-1β  has demonstrated efficacy and safety in patients (pts) with colchicine-resistant familial Mediterranean fever (crFMF), hyper-IgD syndrome (HIDS)/mevalonate kinase deficiency (MKD), and tumor necrosis factor (TNF) receptor-associated periodic syndrome (TRAPS) in epochs 2 and 3 (E2 and E3) of the CLUSTER study (NCT02059291).1,2 Here, we evaluated the long-term maintenance of optimal control of disease activity (median of no or 1 flare and no up-titration) on every 4 weeks (q4w) and every 8 weeks (q8w) regimens of CAN and safety in pts with crFMF, HIDS/MKD and TRAPS through epoch 4 (E4) of the CLUSTER study.
Methods: The study comprised 4 epochs (E1–E4). The study design for E2 and E3 have been reported previously.1 After lead-in E1, E2, a 16–weeks (wk) randomized, double-blind, placebo (PBO)-controlled epoch, assessed the ability of CAN 150/300mg q4w to induce complete response (absence of flares). E3, a 24 wk open-label randomized withdrawal epoch, assessed whether responders to either doses in E2 could maintain clinical efficacy on PBO or a prolonged dosing interval (150/300mg q8w). Pts who did not maintain clinical response on PBO or q8w were up-titrated to 150/300mg q4w. E4, a 72–wk, open-label epoch, assessed the long-term maintenance of efficacy and safety in pts on q4w and q8w dose regimens. Safety assessments included adverse events (AEs) and serious AEs.
Results: At the end of E4 (Wk 112), the proportion of pts who maintained optimal control of disease activity following treatment with 150/300mg q4w or q8w in all 3 cohorts are shown in Figure 1. More HIDS/MKD pts required up-titration to maximum dose (300mg q4w). The majority of pts in all 3 cohorts had Physician Global Assessment <2 (no or minimal disease activity) and a median of 1 or no new flare (crFMF: 96.6%, HIDS/MKD: 83.3%, TRAPS: 94.3%). In all 3 cohorts, the median SAA levels decreased rapidly from baseline and remained suppressed through E4 (crFMF: 618 to 21 mg/L, HIDS/MKD: 2061 to 16 mg/L and TRAPS: 243 to 12 mg/L).  The most frequent AEs in E4, were infections and infestations (crFMF, 70.0%; HIDS/MKD, 86.4%; TRAPS, 81.1%) followed by gastrointestinal disorders (crFMF, 40.0%; HIDS/MKD, 65.2%;  TRAPS, 50.9%). No deaths were reported in this study. No new or unexpected safety issues were reported over 112 weeks (E1-E4) of CAN treatment.
Conclusion: CLUSTER study demonstrated that long-term treatment (up to Week 112) with canakinumab 150/300 mg, with up-titrations to q4w as necessary maintained optimal control of disease activity in crFMF, HIDS/MKD, and TRAPS patients. Majority of patients particularly in the HIDS/MKD cohort remained on the 150/300mg q4w at the end of Epoch 4. No new or unexpected safety issues were reported over 112 weeks of CAN treatment.  
References: 1De Benedetti F, et al. Arthritis Rheumatol. 2016;68 (suppl 10). 2De Benedetti F, et al. NEJM 2018;378:1908-19.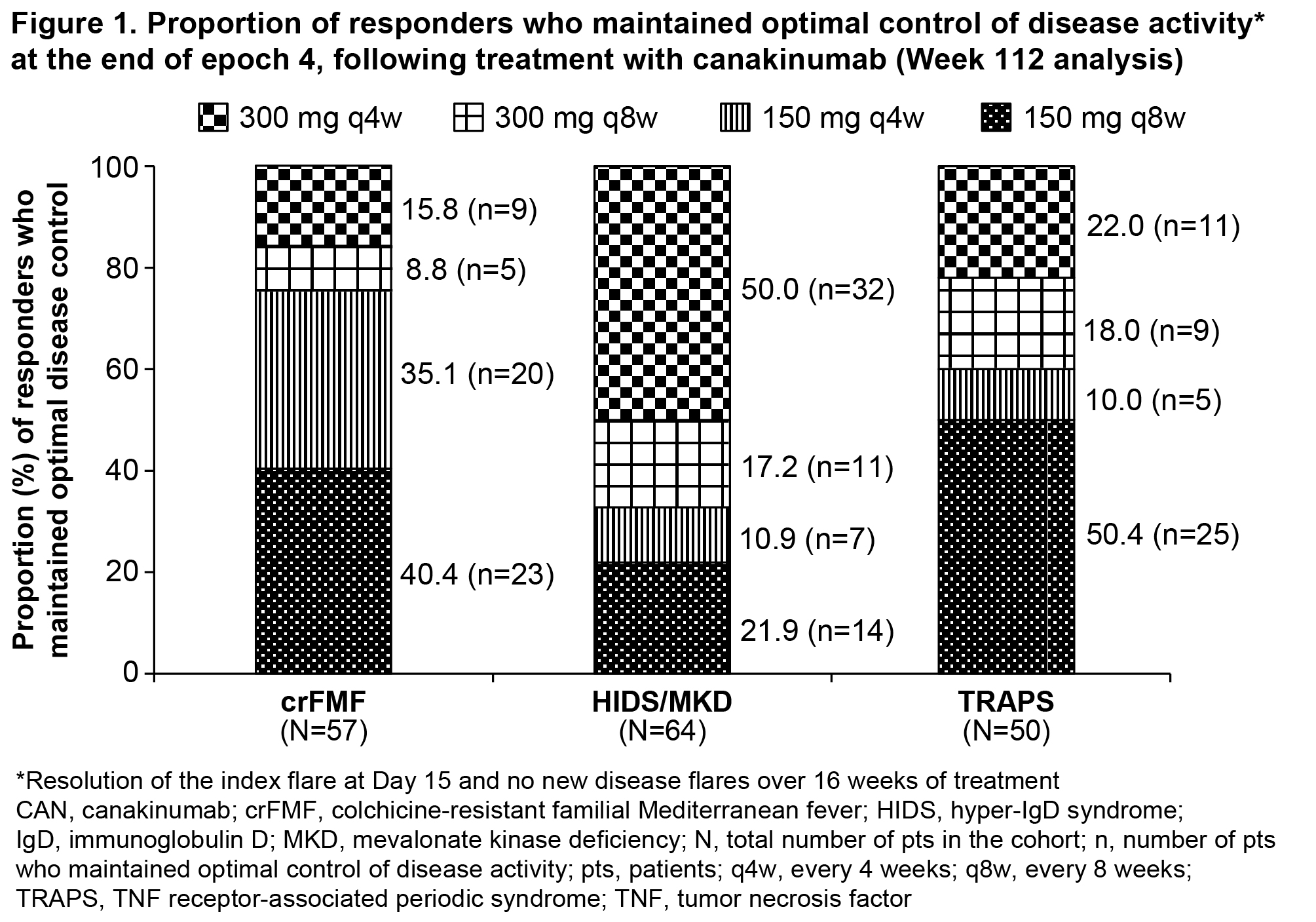 ---
Disclosure: F. De Benedetti, Novartis, Roche, Pfizer, SOBI, AbbVie, Novimmune, BMS, Sanofi, 2; J. Frenkel, Novartis and SOBI, 2; A. Simon, Novartis, Xoma/Servier, CSL Behring, 2,Novartis, Takeda, SOBI, Xoma, 5; J. Anton, None; H. J. Lachmann, Novartis, SOBI, Takeda, GSK, 5,Novartis, SOBI, 8; M. Gattorno, Novartis and SOBI, 2,Novartis and SOBI, 5; S. Ozen, None; I. Koné-Paut, None; E. Ben-Chetrit, Novartis, 5; M. Wozniak, Novartis, 3; X. Wei, Novartis, 3; E. Vritzali, Novartis, 3.
To cite this abstract in AMA style:
De Benedetti F, Frenkel J, Simon A, Anton J, Lachmann HJ, Gattorno M, Ozen S, Koné-Paut I, Ben-Chetrit E, Wozniak M, Wei X, Vritzali E. Long-Term Efficacy and Safety of Canakinumab in Patients with Colchicine-Resistant FMF (crFMF), Hids/Mkd and TRAPS: Results from the Pivotal Phase 3 Cluster Trial [abstract].
Arthritis Rheumatol.
2018; 70 (suppl 10). https://acrabstracts.org/abstract/long-term-efficacy-and-safety-of-canakinumab-in-patients-with-colchicine-resistant-fmf-crfmf-hids-mkd-and-traps-results-from-the-pivotal-phase-3-cluster-trial/. Accessed April 13, 2021.
« Back to 2018 ACR/ARHP Annual Meeting
ACR Meeting Abstracts - https://acrabstracts.org/abstract/long-term-efficacy-and-safety-of-canakinumab-in-patients-with-colchicine-resistant-fmf-crfmf-hids-mkd-and-traps-results-from-the-pivotal-phase-3-cluster-trial/