Session Information
Session Type: Poster Session (Tuesday)
Session Time: 9:00AM-11:00AM
Background/Purpose: While there have been significant improvements in quality of life among people living with rheumatic and musculoskeletal disease (RMD) with the introduction of biologics and targeted therapies, patients often seek non-pharmacological alternative and complementary treatments, such as marijuana for medical use (MMU), to help manage their condition and symptoms. An understanding of patient use and perceptions of MMU is necessary to inform future research and care.
Methods: A 77-item cross-sectional survey was developed in partnership with RMD patient partners and administered online via CreakyJoints and the ArthritisPower research registry. Participants (pts) were eligible if they were ≥19 years of age, resided in the US and reported physician-diagnosed RMD. Pts reported on their current health status (NIH PROMIS Global Health), use and perceptions of MMU, and related information needs.
Results: A total of 1,059 pts completed the survey. A majority of pts were female (88%) and white (92%), with mean (SD) age of 57 (11) (Table 1). Of the total pts, 37% (n=387) reported use of MMU, either currently or in the past. Of those, a majority (93%) used it to manage a specific condition: 51% for rheumatoid arthritis, 46% for osteoarthritis, and 35% for fibromyalgia. Nearly two-thirds (62%) of current MMU users report using it at least once a day. Most current or past MMU users live in a state where marijuana is legal for medical reasons (77%), but only 40% have used a medical marijuana card to purchase it, with 60% citing the desire for use to be legal as a reason for using the card (Table 2). Top reasons for not using a medical marijuana card were marijuana not being legal for medical use where pt lives (42%), cost being more expensive through a medical dispensary (19%) and difficulty getting a card (18%). Among the 63% of all pts who had never used MMU, illegality (40%), potential impairment (24%), and not knowing where (21%) or how (20%) to obtain MMU were cited as top reasons for not using it. When asked about the likelihood of using MMU if it were legal where the pt lives, half of pts responded that they were likely to use it. The majority of pts (84%) living in states where marijuana is medically legal correctly identified their state as legal, whereas 66% of pts living in a state where medical marijuana is illegal knew that this was so. Overall, two-thirds of current or past MMU users informed their HCP about using MMU, but only 42% perceived that their HCP integrated it into their care (e.g. considering MMU part of pts' treatment regimen and advising on dosage). Of pts who live in states where marijuana is medically legal, 68% had informed their health care provider (HCP) of using MMU, whereas only 54% (p=0.02) informed their HCP in non-legal states.
A majority (62%) of participants expressed interest in participating in a trial on MMU treatment of RMD. Pts' top concern about a trial was ensuring participation would be legal (36%) (Table 3).
Conclusion: Despite the lack of quality evidence to guide MMU, and regardless of its legality, many patients are using MMU to manage their RMD. Trials to inform MMU for RMD are urgently needed and patients are interested in participating in such studies.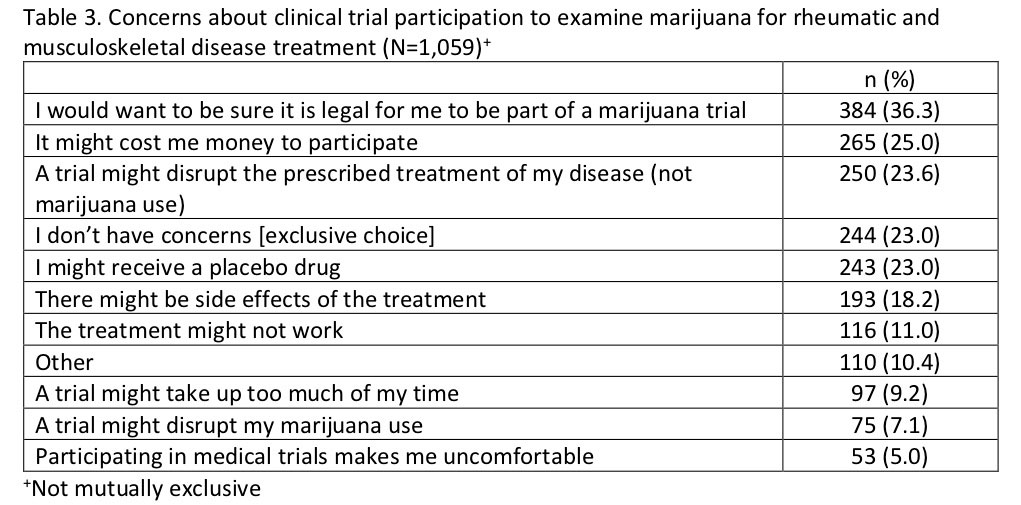 ---
Disclosure: K. Gavigan, Global Healthy Living Foundation, 3; S. Venkatachalam, Global Healthy Living Foundation, 3; J. Curtis, AbbVie, 2, 5, Abbvie, 2, 5, AbbVie, Amgen, Bristol-Myers Squibb, Corrona, Lilly, Janssen, Myriad, Pfizer, Regeneron, Roche, and UCB, 2, 5, Amgen, 2, 5, Amgen Inc., 2, 5, BMS, 2, 5, Bristol-Myers Squibb, 2, 5, Corrona, 2, 5, Crescendo, 2, 5, Eli Lilly, 2, 5, Eli Lilly and Company, 2, 5, Genentech, 2, 5, Janseen, 5, Janssen, 2, 5, Janssen Research & Development, LLC, 2, Lilly, 2, 5, Myriad, 2, 5, Patient Centered Outcomes Research Insitute (PCORI), 2, Pfizer, 2, 5, Radius Health, Inc., 9, Regeneron, 2, 5, Roche, 2, 3, 5, Roche/Genentech, 5, UCB, 2, 5; C. Wiedmeyer, None; T. Sydnor-Campbell, None; C. Stake, None; T. Robinson, None; W. Nowell, AbbVie, 1, Allergan, 1, Biogen, 1, BMS, 1, CVS, 1, Eli Lilly, 1, Global Healthy Living Foundation, 3, GSK, 1, Merck, 1, Pfizer, 1, Stryker, 1.
To cite this abstract in AMA style:
Gavigan K, Venkatachalam S, Curtis J, Wiedmeyer C, Sydnor-Campbell T, Stake C, Robinson T, Nowell W. Legal Matters: Attitudes Regarding Marijuana for Medical Use Among Patients with Rheumatic and Musculoskeletal Disease [abstract].
Arthritis Rheumatol.
2019; 71 (suppl 10). https://acrabstracts.org/abstract/legal-matters-attitudes-regarding-marijuana-for-medical-use-among-patients-with-rheumatic-and-musculoskeletal-disease/. Accessed April 1, 2023.
« Back to 2019 ACR/ARP Annual Meeting
ACR Meeting Abstracts - https://acrabstracts.org/abstract/legal-matters-attitudes-regarding-marijuana-for-medical-use-among-patients-with-rheumatic-and-musculoskeletal-disease/