Session Information
Session Type: Poster Session (Tuesday)
Session Time: 9:00AM-11:00AM
Background/Purpose: Giant cell arteritis (GCA) is the most common systemic vasculitis in the elderly. In the EULAR recommendations of 2018 for the use of imaging in GCA, color Doppler ultrasound (CDUS)  is recognized as the first diagnostic tool to be performed in centers with experience and OMERACT 2018 definitions and reliability of elemental ultrasound lesion of GCA have been published. Today the CDUS of TA is well known and used in clinical practice but the involvement of large vessel vasculitis (LVV) remains underdiagnosed by ultrasound and most of the diagnoses are performed by MRI or PET. In other way, TA halo sign responsiveness to the treatment and apparition in relapses is well know, but the information about this finding is sparse and even in the GiACTA study MRI lack of response in many patients was present. The objective of the present study was to know the frequency, pattern and sensitivity to change of CDUS to detect elemental lesions characteristics of cranial and LVV in patients with GCA diagnosis.
Methods: Observational descriptive study of 148 consecutive patients sent to our fast track clinic with suspicion of GCA. Every patient had a clinical history and a CDUS examination of TA and large vessel (LV) including axilary, subclavian, vertebral and carotid arteries. The OMERACT definitions of halo sign with an hypoechoic wall thickness ≥ 0.34 mm for TA pathology was used for GCA ultrasound diagnosis and for axilary, subclavian and carotids arteries and homogeneous hypoechoic thickness ≥ 1mm of the arterial wall were applied, in vertebral arteries we used a clear halo sign. Atherosclerosis lesions were evaluated to detect this disease as a possible false positive halo sign. The medical records of these patients were reviewed and demographic, physical examination, clinical and laboratory data were collected. The clinical diagnosis based on the evolution of the patient over at least one year was established as the definitive diagnosis.
Results: Of the 148 cases explored 52 had GCA, 34 women, mean age 77.2±7,9 years. The patterns of GCA were: 41 (78.8%) had cranial involvement of TA, with 24 patients with only temporal artery pathology in CDUS and 17 with a mixed patter of TA and LVV. In other way, 28 patients had LVV (53.8%) (17 with TA affectation and 11 with isolated LVV). This means that in our cohort we can see three patterns of GCA affectation: 1) a cranial pattern (affectation of TA) in the 46.1% of cases; 2) a mixed pattern of cranial and LVV affected the 33.3% of the patients and 3) an isolated LVV pattern in the 21.1% of the patients. Mean age of patients with LVV was younger that patients with cranial vasculitis 74 vs. 79 years, with a mean age of mixed pattern of 77 years. In the follow-up we can see as 9 patients with LVV reduce the thickening of the arterial wall below the 1mm cut-off point showing sensitivity to change with the treatment and open the possibility to use ultrasound to measure activity or relapses in GCA LVV.
Conclusion: Ultrasound is an useful tool for the screening GCA including LVV. LVV is very common in our patients (53.8% of GCA cases) and 21.1 % presented only a LVV pattern. LV arteries should be included in the ultrasound examination of GCA suspicions. Ultrasound is sensitive to change in LVV.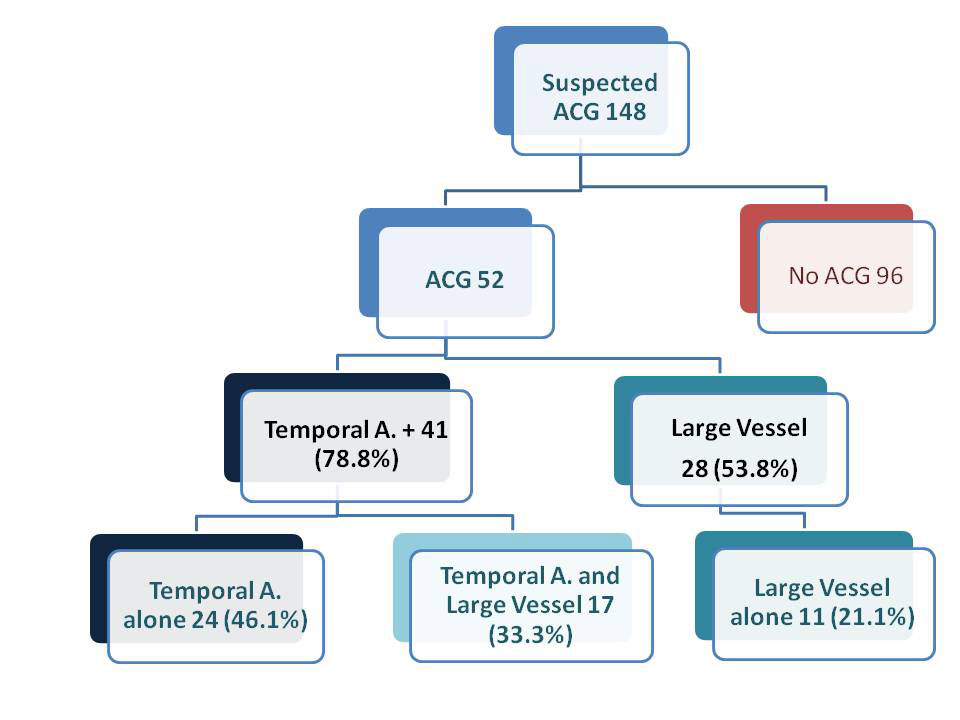 ---
Disclosure: E. de Miguel, AbbVie, 2, 5, 8, BMS, 8, BMS, MSD, UCB, Roche, 8, MSD, 8, Novartis, 2, 5, 8, Pfizer, 2, 5, 8, Roche, 8, UCB, 8; I. Monjo, BMS, 2; E. Fernández, None; D. Peiteado, None; C. Plasencia, None; A. Balsa, BMS, 2, Roche Pharma, 2.
To cite this abstract in AMA style:
de Miguel E, Monjo I, Fernández E, Peiteado D, Plasencia C, Balsa A. Large Vessel Vasculitis: Diagnosis Is Very Frequent with Ultrasound Examination and Shows Responsiveness to Treatment [abstract].
Arthritis Rheumatol.
2019; 71 (suppl 10). https://acrabstracts.org/abstract/large-vessel-vasculitis-diagnosis-is-very-frequent-with-ultrasound-examination-and-shows-responsiveness-to-treatment/. Accessed July 31, 2021.
« Back to 2019 ACR/ARP Annual Meeting
ACR Meeting Abstracts - https://acrabstracts.org/abstract/large-vessel-vasculitis-diagnosis-is-very-frequent-with-ultrasound-examination-and-shows-responsiveness-to-treatment/