Session Information
Session Type: Poster Session (Sunday)
Session Time: 9:00AM-11:00AM
Background/Purpose: Background: Although early diagnosis and treatment are pivotal for successful outcomes in rheumatoid arthritis (RA), a gap remains in our understanding of its earliest symptoms. Current diagnosis requires physician evaluation for joint involvement, serology, inflammatory markers and symptom duration to allow accumulation of at least 6 points by the 2010 ACR/EULAR criteria. Patients may experience symptoms not accounted for in the criteria, a discrepancy which could impede early identification of RA. Data on patient perceptions of early RA symptoms and first body parts affected could provide important information to help facilitate the earliest recognition of disease and enable earlier treatment. To examine first symptoms, a non-profit organization collaborated with an academic rheumatology center to describe early RA symptoms as reported by patients in their own words.
Methods: Methods: From 2009-2017, people with RA who visited an RA-specific blog site or Facebook page were asked to describe their first RA symptom. Responses were extracted and de-identified.  Data collected included: date of response, text of response, and source. Responses from moderators and those who said they did not have RA, or who shared unrelated information were not included in the analysis; responses from the same person were combined. Content analysis was performed to identify themes of response and to tabulate: 1) very first symptom reported; 2) number of symptoms reported per respondent (1-4+), 3) data source (RA patient or other), and 4) length or ease of diagnosis experience.
Results: Results: 724 unique responses (99% RA patients self-reporting), 564 (77%) from the blog and 160 (23%) from Facebook were reviewed.  People with RA reported 37 different first symptoms, with 83.3% reporting a symptom outside of the hand(s), with feet (24.7%), hands (16.7%), knees (8.7%), fatigue (7.9%) and wrists (4.7%) being most common.  When categorizing first reported symptom, we found the top four were: 1) small joints (51.4%), 2) large joints (16.7%), 3) general (e.g. fatigue, pain) (8.7%), and 4) extra articular (e.g. pleurisy, iritis) (7.9%)    Overall, we found that among those describing the number and pattern of first symptoms (from 1-4+), the majority reported more than four (50.6%).  For example, one respondent wrote: "My eyes were my first symptom, followed by my feet, spine then ankles…my GP [general practitioner] continually said 'no not RA', that affects the hands first." Themes included in responses were: 1) first symptom(s) and co-morbidities; 2) timing of symptoms to diagnosis/treatment, including pattern of onset and barriers; 3) life events surrounding symptoms (e.g. illness, accident); 4) patient/physician experience, among others.
Conclusion: Conclusions: Results show people with RA report a wide variety of first symptoms that do not always include hands or joints with varying patterns of onset over time.  Such findings could provide valuable information to help patients and physicians decrease the time between diagnosis and treatment by considering the possibility of more non-traditional RA presentations.   

Figure 1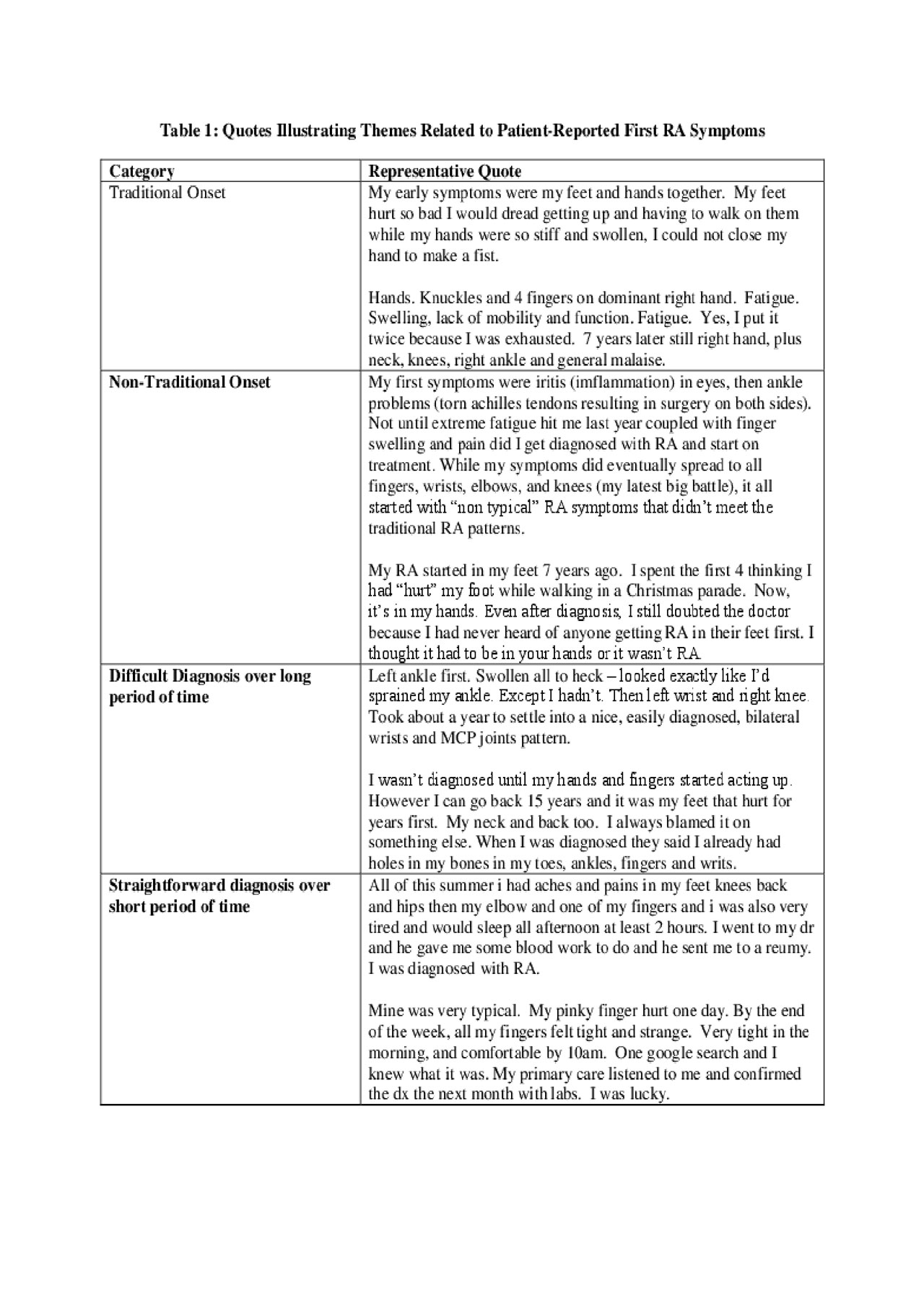 Table 1
---
Disclosure: P. Sinicrope, None; D. Symons, None; A. P. Tafti, None; C. Patten, None; M. Bock, None; J. Tilburt, None; C. Crowson, None; E. Myasoedova, Pfizer, 2; J. Davis, None; K. O'Neill, None.
To cite this abstract in AMA style:
Sinicrope P, Symons D, P. Tafti A, Patten C, Bock M, Tilburt J, Crowson C, Myasoedova E, Davis J, O'Neill K. 'It Felt Like I Was Walking on Rocks" Patients Share First Symptoms of RA [abstract].
Arthritis Rheumatol.
2019; 71 (suppl 10). https://acrabstracts.org/abstract/it-felt-like-i-was-walking-on-rocks-patients-share-first-symptoms-of-ra/. Accessed March 27, 2023.
« Back to 2019 ACR/ARP Annual Meeting
ACR Meeting Abstracts - https://acrabstracts.org/abstract/it-felt-like-i-was-walking-on-rocks-patients-share-first-symptoms-of-ra/