Session Information
Session Type: Poster Session C
Session Time: 9:00AM-11:00AM
Background/Purpose: Intra-articular (i.a.) calcium crystal deposition is common in knee osteoarthritis (OA). Low-grade inflammation related to crystals may contribute to knee pain, including pain fluctuation. Chondrocalcinosis has been measured primarily on radiographs to date, which have low sensitivity. We used CT to identify i.a. mineralization to overcome this limitation, and used longitudinal data to examine the relation of i.a. mineralization to the development of knee pain.
Methods: We used data from the Multicenter Osteoarthritis (MOST) Study, a NIH-funded longitudinal cohort of people with or at risk of knee OA. The 12th-year visit was the baseline for this analysis as this was the first study visit at which CTs were obtained, and a new cohort was recruited (age 45-69) who had KL ≤2 in both knees, and either no knee pain or if they had knee pain, it could not be severe, constant pain. All participants had pain questionnaires, knee radiographs, and bilateral knee CTs at baseline, and assessed for pain outcomes every 8 months x3. A musculoskeletal radiologist scored multiplanar CT images (axial native images with coronal and sagittal 2D reformats) using the Boston University Calcium Knee Score (BUCKS). Mineralization in each of WORMS-defined subregions of cartilage and menisci was scored on a 0-3 scale. Ligament and joint capsule mineralization were scored as present or absent. We examined presence of any i.a. mineralization, any cartilage mineralization, and any meniscal mineralization to the risk of development of: frequent knee pain (FKP) among those free of FKP at baseline, development of more frequent intermittent knee pain (indicated as at least "often") or constant pain among those with no constant pain or only infrequent intermittent pain (occurring no more than "sometimes" based on the ICOAP) at baseline, and WOMAC worsening of ≥2/20 (MCID) over 2 years.  We carried out knee-specific analyses using logistic regression with GEE and adjusting for age, sex, BMI, race, and KL grade.
Results: A total of 2090 participants were included (mean age 61, mean BMI 28.8, 57% female). Overall, 10.2% of knees had i.a. mineralization, 7.3% had any cartilage, and 8.2% had meniscal mineralization. Presence of i.a. mineralization in a greater number of regions was associated with risk of developing FKP (OR 1.95, 95% CI 1.12-3.40), more frequent intermittent or constant pain (OR 1.97 (95% CI 1.06-3.66), and a trend towards more severe pain (OR 1.54, 95% CI 0.99-2.40) (Table). In addition, cartilage mineralization was significantly associated with developing more frequent intermittent and constant pain as well as developing more severe knee pain, while the association of meniscal mineralization with these pain outcomes did not reach statistical significance, though there were trends towards increased risk.
Conclusion: Intra-articular mineralization was associated with risk of developing knee pain and worsening pain over two years. This first report of CT-based i.a. mineralization on risk of knee pain highlights the important role crystals play in the knee pain experience. These findings implicate crystal deposition in changing pain patterns over time in knee OA, and point to need for research at therapy directed towards crystal disease in OA.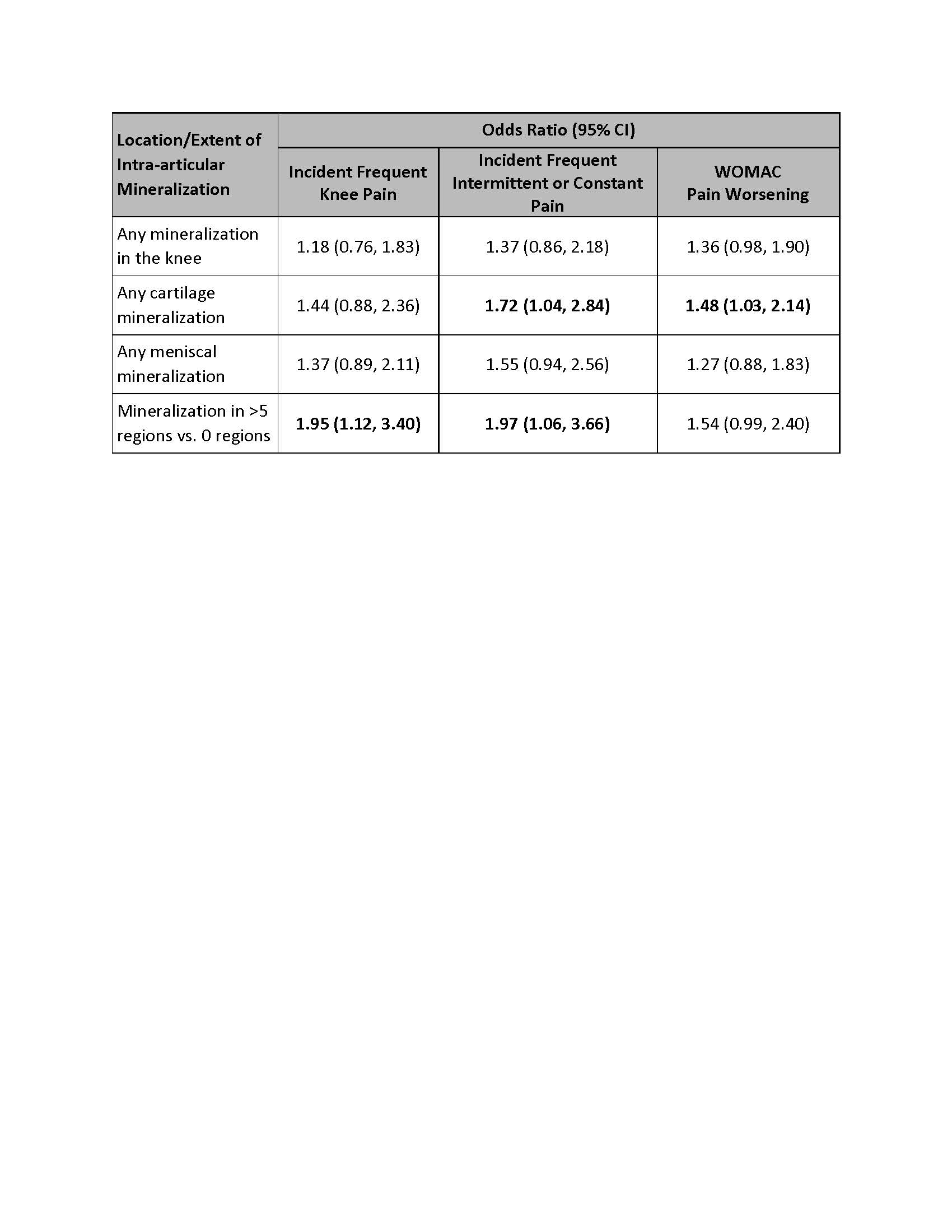 Relation of Intra-Articular Mineralization to Risk of Developing Knee Pain or Knee Pain Worsening Over Two Years
---
Disclosure: T. Neogi, Lilly, 1, EMD Merck Serono, 1, Novartis, 1, Regeneron, 1, Pfizer/Lilly, 1; J. Lynch, None; M. Jarraya, None; D. Felson, None; N. Wang, None; J. Torner, None; C. Lewis, None; M. Nevitt, None; A. Guermazi, AstraZeneca, 1, Pfizer, 1, MerckSerono, 1, Galapagos, 1, Roche, 1, TissueGene, 1, Boston Imaging Core Lab, 1.
To cite this abstract in AMA style:
Neogi T, Lynch J, Jarraya M, Felson D, Wang N, Torner J, Lewis C, Nevitt M, Guermazi A. Intra-Articular Mineralization on Knee CT Increases Risk of Knee Pain: The Multicenter Osteoarthritis Study [abstract].
Arthritis Rheumatol.
2020; 72 (suppl 10). https://acrabstracts.org/abstract/intra-articular-mineralization-on-knee-ct-increases-risk-of-knee-pain-the-multicenter-osteoarthritis-study/. Accessed September 17, 2021.
« Back to ACR Convergence 2020
ACR Meeting Abstracts - https://acrabstracts.org/abstract/intra-articular-mineralization-on-knee-ct-increases-risk-of-knee-pain-the-multicenter-osteoarthritis-study/