Session Information
Session Type: Poster Session (Monday)
Session Time: 9:00AM-11:00AM
Background/Purpose: Fluorine-18-fluorodeoxyglucose (18F-FDG) PET/CT has been proposed as a promising tool for assessing both musculoskeletal and vascular involvement in patients with polymyalgia rheumatica (PMR). Glucocorticoids (GC) may decrease the intensity of 18F-FDG uptake. Therefore, performance of PET/CT before steroid therapy is recommended. However, in many patients with PMR, large vessel vasculitis (LVV) is precisely suspected because of steroid resistance after a long-term treatment with GC. Our aim was to assess the influence of long-term medium-dose treatment on 18F-FDG vascular and musculoskeletal uptake to discern if 18F FDG PET/CT could be useful to evaluate patients with polymyalgia rheumatica under treatment with GC.
Methods: Single-center study of 75 patients with PMR diagnosis based on 2012 EULAR/ACR criteria. All patients underwent a PET/CT scan due to LVV suspicion based on the presence of atypical symptoms and/or persistent symptoms despite steroid therapy. We considered two groups: a) Steroid-naïve PMR patients. b) Steroid-resistant PMR patients. Both musculoskeletal and vascular 18F-FDG uptake was assessed. The statistical analysis was performed with SPSS. Distributions of categorical variables were compared by Pearson Chi2 or Fisher exact test as appropriate.
Results: We evaluated 75 patients, 27 men and 48 women (mean age ± SD: 68.2 ± 10.7 years). PET/CT was performed in 14 steroid-naïve PMR patients (18.7%) and 61 steroid-resistant PMR patients (81.3%). Patients under steroid treatment had received a median dose of Prednisone of 10.0 [5.0-15.0] mg/day during 9.0 [2.0-22.0] months. Vascular 18F-FDG uptake was more frequently detected in steroid-naïve patients. In regard with musculoskeletal 18F-FDG uptake, no statistically significant differences were seen between both groups (TABLE).
Conclusion: Vascular 18F-FDG uptake detection was higher in PMR patients with LVV suspicion who had never received GC. However, PET/CT was also useful to detect vascular involvement in most of the patients under a long-term medium-dose steroid treatment.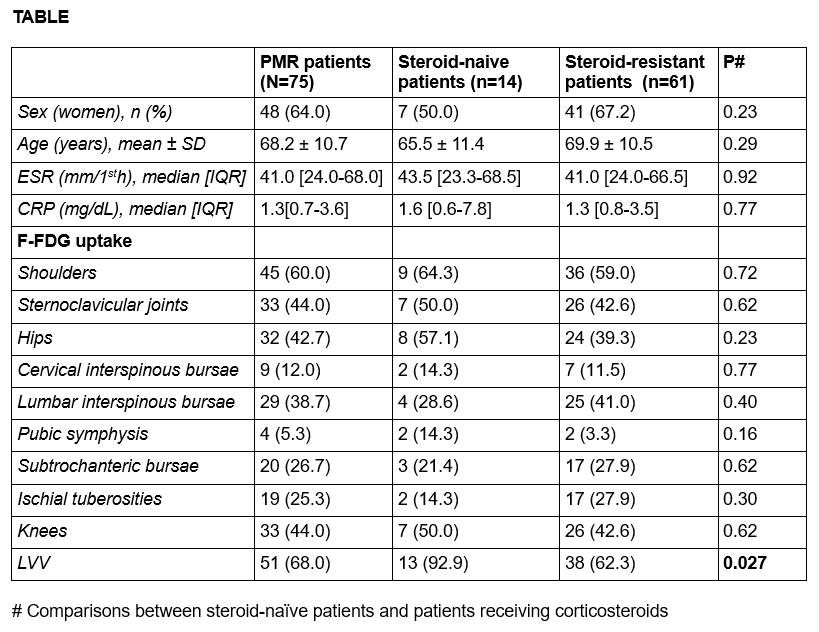 ---
Disclosure: D. PRIETO- PENA, None; M. Calderón-Goercke, None; I. Martínez Rodríguez, None; I. Banzo, None; L. Sanchez-Bilbao, None; I. Gonzalez-Mazon, None; B. Atienza-Mateo, None; M. González-Gay, AbbVie, 2, 5, 8, Abbvie, 2, 5, 8, Celgene, 5, 8, Eli Lilly, 2, 5, EliLilly, 2, 5, Jansen, 2, Janssen, 2, MSD, 2, 5, 8, Novartis, 2, 5, Pfizer, 5, 8, Roche, 2, 5, 8, Sanofi, 2, 5, 8, Sobi, 5, 8; R. Blanco, None.
To cite this abstract in AMA style:
PRIETO- PENA D, Calderón-Goercke M, Martínez Rodríguez I, Banzo I, Sanchez-Bilbao L, Gonzalez-Mazon I, Atienza-Mateo B, González-Gay M, Blanco R. Influence of Steroid Treatment on 18F-FDG PET/CT Accuracy to Detect Vascular and Musculoeskeletal Involvement in Patients with Polymyalgia Reumatica [abstract].
Arthritis Rheumatol.
2019; 71 (suppl 10). https://acrabstracts.org/abstract/influence-of-steroid-treatment-on-18f-fdg-pet-ct-accuracy-to-detect-vascular-and-musculoeskeletal-involvement-in-patients-with-polymyalgia-reumatica/. Accessed September 27, 2021.
« Back to 2019 ACR/ARP Annual Meeting
ACR Meeting Abstracts - https://acrabstracts.org/abstract/influence-of-steroid-treatment-on-18f-fdg-pet-ct-accuracy-to-detect-vascular-and-musculoeskeletal-involvement-in-patients-with-polymyalgia-reumatica/