Session Information
Session Type: Abstract Submissions (ACR)
Background/Purpose:   Renal sarcoidosis is an unusual form of a rare multisystem disease, and there is little data to guide therapy. The cytokines implicated in chronic sarcoidosis include IL-8, IL-12, and TNF-α, suggesting potential role of treatment with an anti-TNF-α monoclonal antibody.  There are case reports of the use of infliximab in refractory sarcoidosis in adults, and one report in a child with renal sarcoid. There are no current studies investigating infliximab as a steroid sparing agent in pediatric sarcoidosis.
Methods:   We identified 3 pediatric patients with an established diagnosis of sarcoidosis based on systemic manifestations, non-caseating granulomas on biopsy, and exclusion of other granulomatous diseases. They had biopsy proven renal manifestations and were treated with infliximab.  A retrospective chart review was conducted to evaluate the disease course.   All patients had failed a steroid taper prior to initiation of infliximab.  Creatinine levels and concurrent steroid doses were plotted in relation to initiation of infliximab.  IRB exemption was granted prior to the start of chart review.
Results:  In all 3 patients, a linear plot demonstrates that infliximab allowed for successful tapering of steroids without flare, and stabilization/improvement of serum Cr.  
Patient 1 was diagnosed with sarcoidosis at 14 years with an elevated ACE and hepatic biopsy revealing multiple non-caseating granulomas.   She was treated with corticosteroids. During an attempt to taper, she developed acute renal failure warranting a renal biopsy showing granulomatous interstitial nephritis.  After failure with mycophenolate mofetil and IV methylprednisolone pulses, she was treated with infliximab.  IV steroids were weaned over the next 4 months then discontinued.  Four months later, her oral steroids were weaned completely.  She remains stable on infliximab and mycophenolate mofetil.
Patient 2 was diagnosed at 10 years with sarcoid based on systemic manifestations and lymph node granulomas.  She developed renal manifestations 4 years later.  She failed chronic steroids and methotrexate.  After initiation of infliximab, her steroids were weaned, her creatinine stabilized.  After developing renal cell carcinoma, infliximab was discontinued, with an increase in daily oral steroid and eventual renal failure.
Patient 3 was diagnosed with sarcoidosis at 12 years based on elevated serum ACE level, uveitis, and conjunctival biopsy with non-caseating granulomas.  His serum Cr was 2 mg/dL prior to initiation of steroids and methotrexate.  Methotrexate was an ineffective steroid sparing agent.  After initiation of infliximab, he was able to wean on his oral steroids, with stabilization of serum Cr.  His Cr rose when infliximab was held for cellulitis and returned to baseline when reinitiated.
Conclusion:   Infliximab is an effective steroid sparing agent in our pediatric patients with renal sarcoidosis.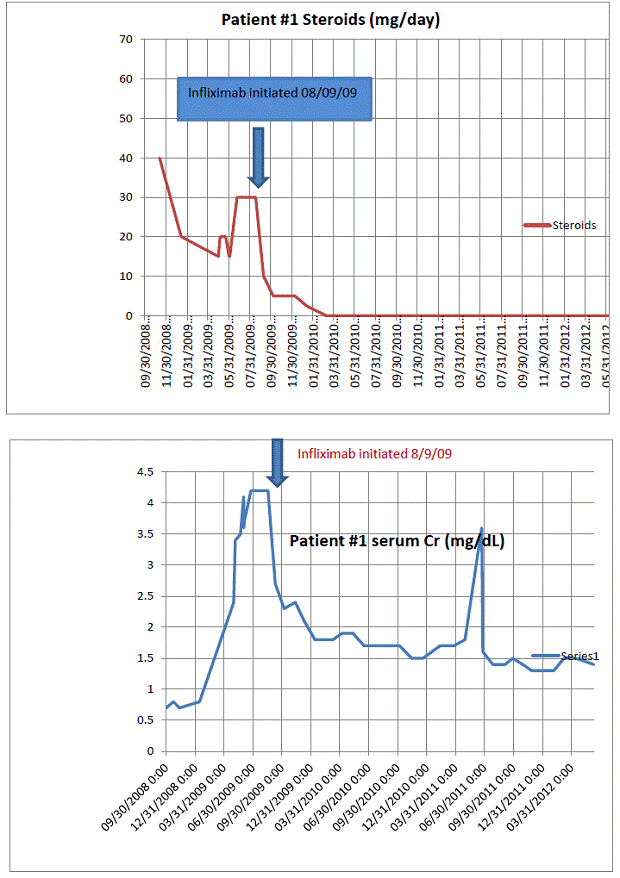 ---
Disclosure:
E. Wershba,
None;
L. Lewandowski,
None;
H. Van Mater,
None;
C. E. Rabinovich,
None.
« Back to 2012 ACR/ARHP Annual Meeting
ACR Meeting Abstracts - https://acrabstracts.org/abstract/infliximab-is-an-effective-therapy-in-pediatric-renal-sarcoidosis/