Session Information
Session Type: Abstract Submissions (ACR)
Background/Purpose: Immune mediated necrotizing myopathy (IMNM), characterized histologically by predominant myofiber necrosis with minimal or no inflammatory infiltrate and clinically by response to immunosuppressive therapy, is a relatively newly recognized category of idiopathic inflammatory myopathy (IIM). IMNM itself is a heterogeneous group with some cases associated with presence of anti-SRP, anti-HMGCR or, less frequently, antisynthetase antibodies. The relative frequency of IMNM compared to other IIM subtypes and the temporal pattern of its incidence is not known.
Methods: We have performed a retrospective evaluation of muscle biopsy results, clinical and laboratory data including antibody associations of all patients newly diagnosed with IIM in the Institute of Rheumatology between the year 2004 and February 2013.  All biopsies were interpreted by a single experienced pathologist, results were subcategorized as necrotizing myopathy (NM), polymyositis (PM), dermatomyositis (DM), non-specific myositis (N-SM) or non-classifiable (NC).
Results: A total of 315 biopsies were performed, with 206 obtained  from patients who fulfilled Bohan and Peter criteria for IIM (definite or probable category).  20 cases were histologically classified as NM, all of them were IMNM based on history, biopsy and clinical features. In the remaining 186 biopsies 24 were subcategorized as PM, 39 as DM, 77 as N-SM and 46 as NC. There were no IMNMs diagnosed between 2004 and 2007, subsequently 2-3 cases of IMNM per year were seen during the period of 2008 to 2011 with a sudden increase to 9 cases (36% of all biopsies) in the year 2012. This trend was confirmed in the first two months of 2013 (Figure 1). Three IMNM patients were positive for anti-SRP antibodies, two were anti-Jo1 positive, one had anti PM-Scl antibodies, one had isolated anti-Ro52 positivity and two were ANA positive with no identifiable antibody. Interestingly anti-CCP antibodies, considered  highly specific for rheumatoid arthritis (RA), were detected in two IMNM patients.  Anti-HMGCR antibodies were not tested. Nine patients with IMNM (45%) had no detectable autoantibodies (all of them diagnosed in or after 2011), six of them were exposed to statins before developing IMNM. Only two other  patients had a history of statin use (one anti-Jo1 positive diagnosed in 2008 and one with anti-CCP diagnosed in 2012).
Conclusion:  We have observed an increasing incidence of immune mediated necrotizing myopathy, which cannot be explained by changes of referral pattern or biopsy reporting. There has been an increasing number of statin exposed IMNM patients since 2011.
Acknowledgement: Supported by institutional support of MH CR no. 023728
Figure 1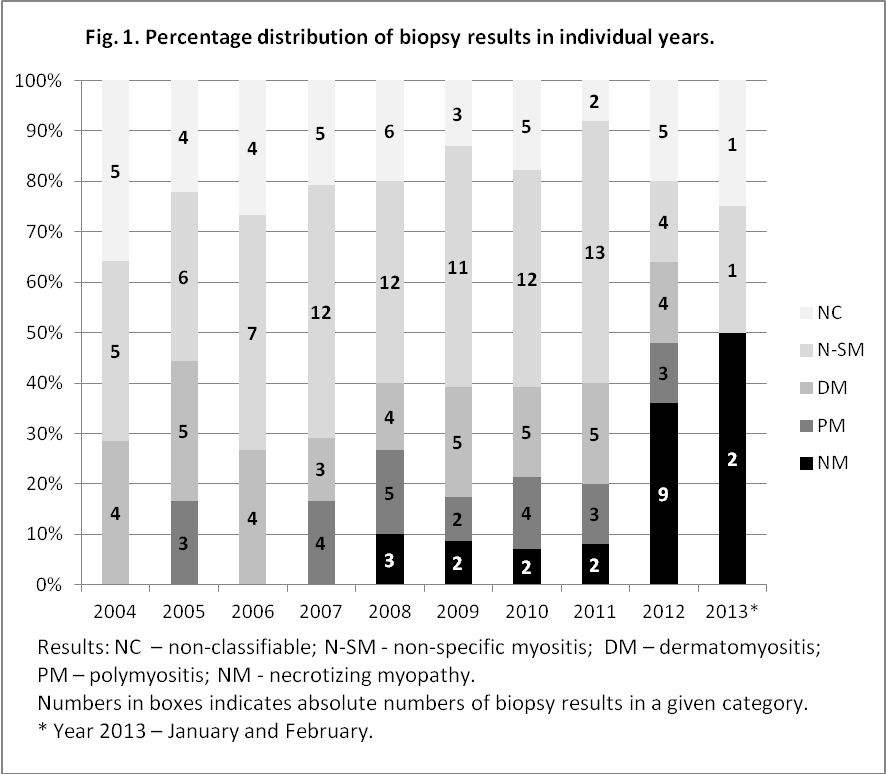 ---
Disclosure:
M. Klein,
None;
H. F. Mann,
None;
J. Zámecník,
None;
J. Vencovsky,
None.
« Back to 2013 ACR/ARHP Annual Meeting
ACR Meeting Abstracts - https://acrabstracts.org/abstract/increasing-incidence-of-immune-mediated-necrotizing-myopathy-in-a-single-center/