Session Information
Session Type: ACR Poster Session B
Session Time: 9:00AM-11:00AM
Background/Purpose: Rheumatoid Arthritis (RA) is a chronic inflammatory joint disease affecting approx. 1% of the adult population of Northern Europe and North America. Strategies for its early diagnosis are of high importance as prompt treatment improves clinical and structural outcome significantly. Formation of autoantibodies against cyclic citrullinated proteins (anti-CCP) are identified to be associated to RA-development. Non-specific musculoskeletal (nsMSK) pain often precedes RA-development. Fluorescence-optical imaging (FOI) technique is a new ICG-tailored technique to display changes in microvascularisation which might be useful for early detection of joint inflammation in high-risk populations.
Methods: In this prospective study (PANORA), patients presenting with new onset of nsMSK pain at General Practitioners (GP) and with evidence for anti-CCP positivity (rapid-test, CCPoint®) were included to be referred to Rheumatology Department for rheumatologic assessment and RA-evaluation. At Rheumatology Department, validation of anti-CCP testing (using ELISA) and a rheumatological examination including ultrasound was performed. Subclinical signs of inflammation defined as increase of microvascularisation were monitored by FOI. In case of ELISA positivity but missing evidence of clinical RA, patients were monitored for RA-development every 6 months for a total follow-up of 36 months or until RA-diagnosis.
Results: For this interims analysis, data from the first 692 patients was analyzed. 12% of the patients showed a positive anti-CCP rapid-test at GP, of which 40% were confirmed positive by ELISA. 10 patients were diagnosed with RA (1 in the ELISA negative group), thereof one case of a newly detected RA at month 6 of the follow-up period. In the three groups at baseline (figure 1), age was well balanced, the proportion of female patients was highest in the RA-diagnosis cohort (77.8%) and the proportion of patient with current or past smoking-status was prominent in the ELISA negative group (52.9%). Signs of unspecific subclinical inflammation defined as increased microvascularisation were detected by FOI in 83% of the ELISA positive patients compared to 39% in the ELISA negative cohort. Moreover, descriptive characteristics in FOI signals clear differ in both groups. After the first follow-up at month 6 (data from 40% available), 2 patients exhibited changes in the FOI from baseline towards "RA-suspicious" imaging patterns but without evidence of clinical RA.
Conclusion: The combination of serological biomarkers and imaging using FOI might represent a strategy for sensitive detection of early stages in RA-development in an at-risk population for improvement of a timely initiation of appropriate treatment options to prevent aggressive diseases courses. The continuation of PANORA will give more insights in specific characteristics of the RA-risk population at early stages of the disease.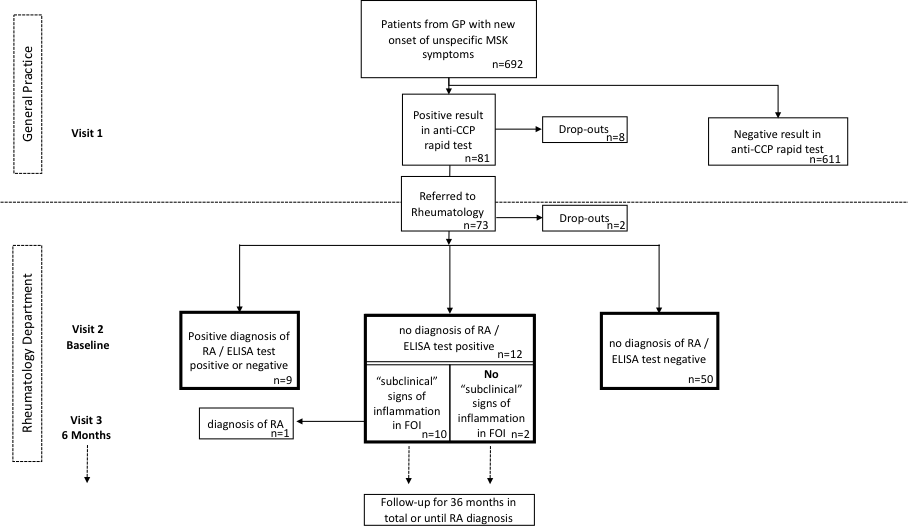 ---
Disclosure: M. Koehm, BMS, Pfizer, Janssen, Roche, 2,Celgene, Pfizer, Janssen, 8; U. Henkemeier, BMS, Pfizer, Janssen, Roche, 2; T. Rossmanith, BMS, Pfizer, Janssen, Roche, 2; S. Dauth, BMS, Pfizer, Janssen, 2; T. Oberwahrenbrock, BMS, Pfizer, Janssen, 2; A. C. Foldenauer, BMS, Pfizer, Janssen, 2; K. Mergenthal, None; H. Burkhardt, BMS, Pfizer, Janssen, Roche, 2,BMS, Pfizer, Janssen, Roche, 8; F. Behrens, Abbvie, Pfizer, Roche, Chugai, Prophylix, Novartis, Iron4U, 2,Abbvie, Pfizer, Roche, Chugai, UCB, BMS, Celgene, MSD, Novartis, Biotest, Janssen, Genzyme, Sanofi, Lilly, Sandoz,, 5, 8,Abbvie, Pfizer, Roche, UCB, Celgene, Novartis, Biotest, Janssen, Genzyme, Sanofi, Lilly, Boehringer, BMS, Sandoz, 6.
To cite this abstract in AMA style:
Koehm M, Henkemeier U, Rossmanith T, Dauth S, Oberwahrenbrock T, Foldenauer AC, Mergenthal K, Burkhardt H, Behrens F. Incidence of Subclinical Signs of Inflammation in Patients with New Onset of Non-Specific Musculoskeletal Symptoms and Anti-Citrullinated Peptide Positivity: First Interims Analysis of the Panora Trial [abstract].
Arthritis Rheumatol.
2018; 70 (suppl 10). https://acrabstracts.org/abstract/incidence-of-subclinical-signs-of-inflammation-in-patients-with-new-onset-of-non-specific-musculoskeletal-symptoms-and-anti-citrullinated-peptide-positivity-first-interims-analysis-of-the-panora-tria/. Accessed June 4, 2020.
« Back to 2018 ACR/ARHP Annual Meeting
ACR Meeting Abstracts - https://acrabstracts.org/abstract/incidence-of-subclinical-signs-of-inflammation-in-patients-with-new-onset-of-non-specific-musculoskeletal-symptoms-and-anti-citrullinated-peptide-positivity-first-interims-analysis-of-the-panora-tria/