Session Information
Session Type: Poster Session A
Session Time: 9:00AM-11:00AM
Background/Purpose: Osteoporosis is characterized by decreased bone tissue microarchitecture. This leads to reduced bone density and quality and is a significant contributor to morbidity, mortality, and resources. Current guidelines recommend serial BMD measurement with a DXA scan every 1 to 3 years and the latest position paper from International Society for Clinical Densitometry explicitly states the use of the same or cross-calibrated DXA scanners. Interpreting follow-up DXA scan results from different scanners that are not cross-calibrated may lead to erroneous clinical decisions. This retrospective study aims to determine the proportion of patients who had follow-up DXA scans done on different scanners that have not been cross-calibrated and to determine potential risk factors that may contribute to this type of error.
Methods: Service code X128 was used to extract DXA scan records from the Physician Claim Database (PCD) between 1 April 2009 and 31 December 2018, inclusively. Patients at least 18 years of age with at least 2 DXA scans completed during this period were included. Variables for each patient and DXA scan were obtained from the Pharmacy Information Network and PCD using pre-defined pharmaceutical, ICD-9, and ICD-10 codes.
The imaging facility identifier codes of all follow-up scans were compared to that of the immediately preceding scan. A follow-up scan was considered to have a scanner error (SE) if it was performed on different scanner that was not cross-calibrated. Logistic regression model with repeated measurements was used to calculate odds ratios for variables leading to SE.
Results: At least 2 DXA scans were done by 264,866 patients for a total of 470,641 follow-up DXA scans. Of the follow-up DXA scans, 116,401 (25%) were done on a different scanner. With consideration of cross-calibrations done between these different scanners, 88,922 (19%) had a SE. Overall, 97,813 patients (37%) had at least one follow-up DXA scan done at a different facility. With cross-calibration considered, 75,928 (29%) of all patients experienced at least one SE.
Factors associated with SE include increasing time between consecutive DXA scans (OR 1.2502, CI 1.2435-1.2569), rheumatoid arthritis (OR 1.1830, CI 1.1277-1.2410), and fragility fractures (OR 1.0564, CI 1.0339-1.0794). Factors associated with less SE include use of osteoporosis medication (OR 0.8922, CI 0.8753-0.9095), increasing follow-up scan year (OR 0.9762, CI 0.7260-0.9798), and older age at time of last DXA scan (OR 0.9942, CI 0.9933-0.9950). Female sex did not significantly affect SE (OR 0.9725, CI 0.9433-1.0026). The imaging facility groups at which follow-up DXA scans were performed was also associated with differing risk of patients experiencing SE.
Conclusion: Proper management of osteoporosis requires interpretation of comparable DXA scans. This study found that a large proportion of follow-up DXA scans were of minimal clinical utility due to use of different DXA scanners that were not cross-calibrated. Using such results pose significant risk to patients and economic cost to the healthcare system. Interventions are needed to decrease this type of DXA scan error.
Baseline characteristics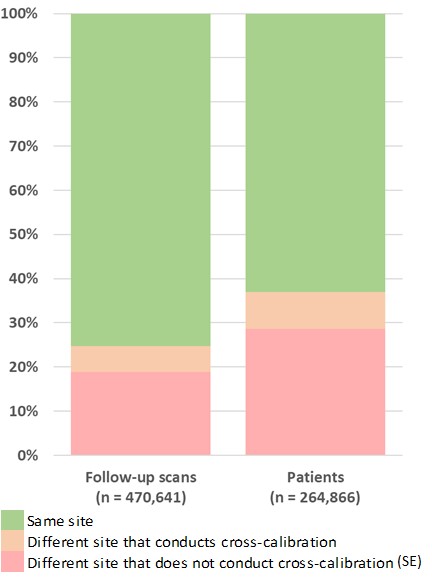 Percentage of follow-up DXA scans and patients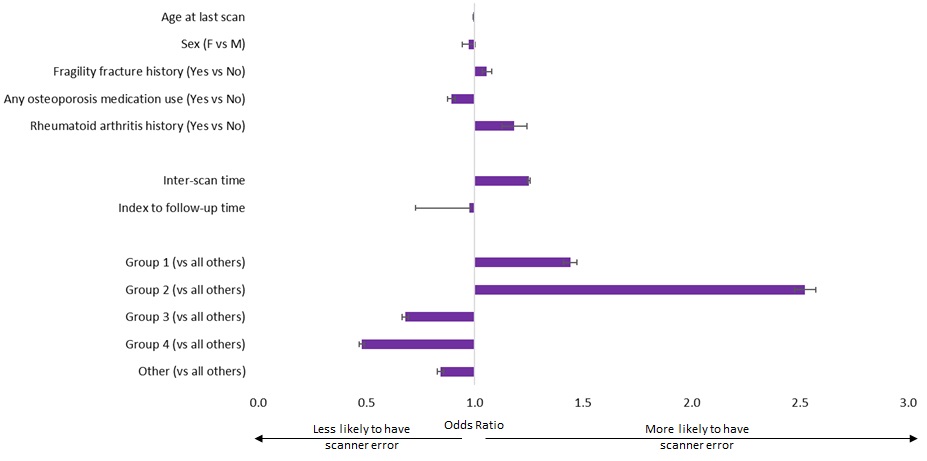 Factors associated with scanner error
---
Disclosure: K. Lee, None; K. Al Jumaily, None; M. Lin, None; K. Siminoski, None; C. Ye, None.
To cite this abstract in AMA style:
Lee K, Al Jumaily K, Lin M, Siminoski K, Ye C. Incidence of Follow-Up Dual-Energy X-Ray Absorptiometry Scanner Error: A Contributor to Precision Error [abstract].
Arthritis Rheumatol.
2020; 72 (suppl 10). https://acrabstracts.org/abstract/incidence-of-follow-up-dual-energy-x-ray-absorptiometry-scanner-error-a-contributor-to-precision-error/. Accessed January 23, 2022.
« Back to ACR Convergence 2020
ACR Meeting Abstracts - https://acrabstracts.org/abstract/incidence-of-follow-up-dual-energy-x-ray-absorptiometry-scanner-error-a-contributor-to-precision-error/