Session Information
Session Type: ACR Poster Session A
Session Time: 9:00AM-11:00AM
In vivo demonstration of tmTNF reverse signaling: significance in the therapeutic response to anti-TNF agents during murine arthritis.
N. Simons1,2, A. Kruglov 3, Y. Degboé 1,2, A. Constantin1,2, S. Nedospasov4, A. Cantagrel1,2, J.-L. Davignon1, B. Rauwel1
1CPTP, INSERM UMR 1043, Toulouse, France, 2Centre de Rhumatologie, CHU PURPAN, 3German Rheumatism Research Center (DRFZ), a Leibniz Institute Berlin 10117, Germany, 4Engelhardt Institute of Molecular Biology, Russian Academy of Sciences, Moscow 119991, Russia
Background/Purpose: Anti-TNF agents are widely used in rheumatoid arthritis (RA). Their effect on inflammation results from the neutralization of soluble TNF (sTNF), but also supposedly from the induction of reverse signaling through their binding to membrane TNF (tmTNF). Despite possible clinical relevance, reverse signaling has been described only in vitro but has not been proven in vivo.
Methods:  Triple transgenic mouse model (3TG), KO for TNFR1 / TNFR2 and KI for tmTNF, thus secreting no sTNF was developed. To analyze reverse signaling, mice were injected either with etanercept (ETA), an anti-mouse TNF antibody (MP6-XT22, rat IgG1) or an anti-human IL17 antibody (secukinumab, SEC) as a control. Daily clinical evaluation of K/BxN serum induced-arthritis was performed in 3TG as well as WT mice. Polarization of bone marrow-derived macrophages (BMDM) from non-arthritic WT and 3TG mice under the action of anti-TNF in vitro was evaluated by RT-qPCR and flow cytometry.
Results: In vivo, the administration of anti-TNF (ETA or MP6-XT22) decreased arthritic scores in WT mice (p=0.005) as well as in 3TG mice (p <0.001), unlike SEC which had no effect, proving that anti-TNF binding of tmTNF decreased arthritis (fig. 1). In vitro effect of anti-TNF on BMDM from WT as well as 3TG mice induced a decrease in the expression of genes specific of inflammatory macrophages, and an increase in the expression of genes specific of alternative macrophages. This suggested a switch in macrophage polarization as a probable mechanism for modulation of inflammation during K/BxN serum-induced arthritis.
Conclusion: Our work provides in vivo evidence for the involvement of reverse signaling in the anti-TNF-mediated modulation of arthritis. Reverse signaling is expected to result in the modulation of macrophage polarization from an inflammatory to an alternative functional phenotype in arthritic mice. Our data prompt us to consider new interpretation of the effects of anti-TNF in the treatment of RA.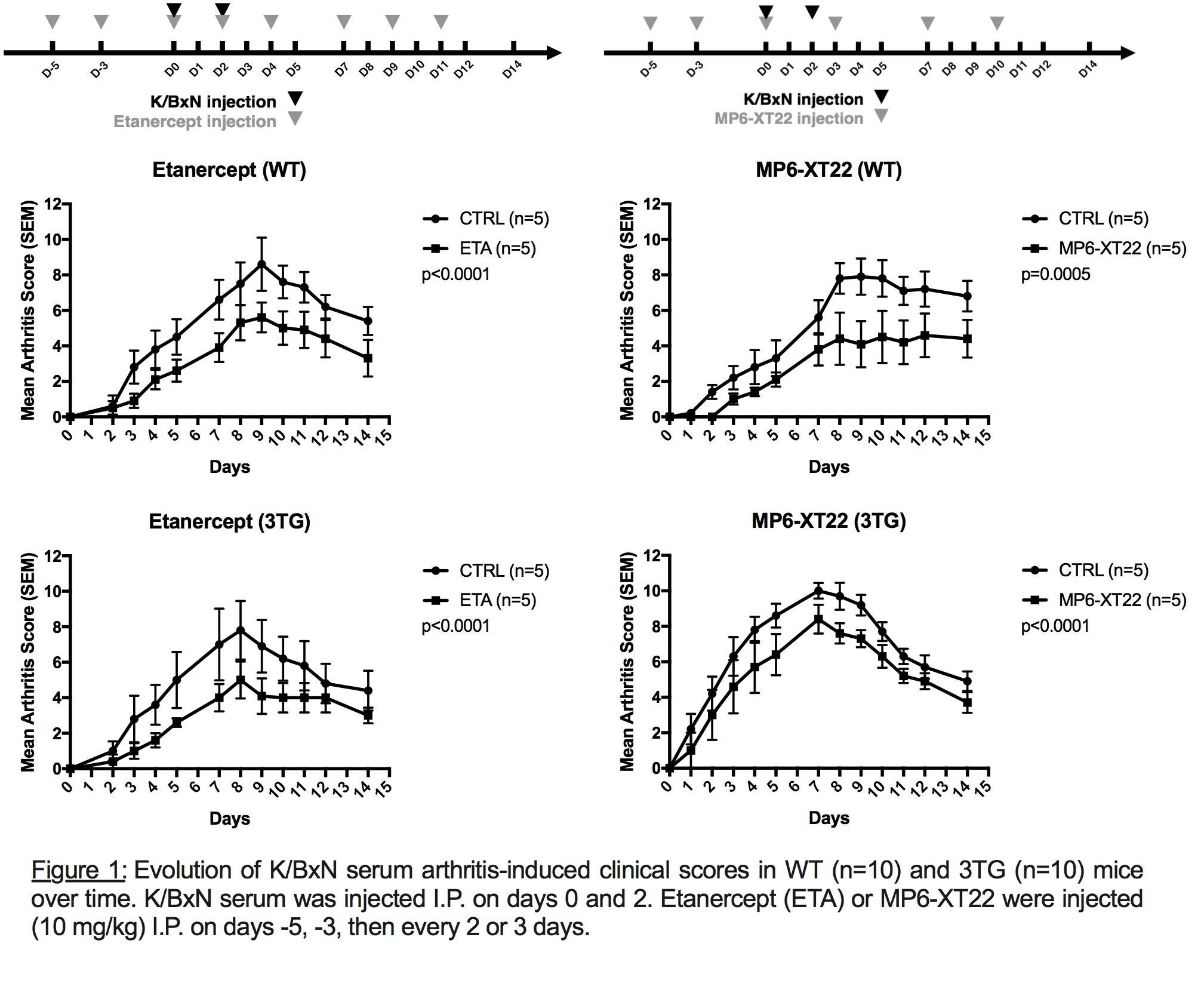 ---
Disclosure: N. Simons, Société Francaise de rhumatologie, 2; A. Kruglov, None; Y. Degboe, MSD Avenir, 2; A. Constantin, MSD Avenir, 2; S. Nedospasov, None; A. Cantagrel, MSD Avenir, 2; J. L. Davignon, MSD Avenir, 2; B. Rauwel, MSD Avenir, 2.
To cite this abstract in AMA style:
Simons N, Kruglov A, Degboe Y, Constantin A, Nedospasov S, Cantagrel A, Davignon JL, Rauwel B. In Vivo Demonstration of Tmtnf Reverse Signaling: Significance in the Therapeutic Response to Anti-TNF Agents during Murine Arthritis [abstract].
Arthritis Rheumatol.
2018; 70 (suppl 9). https://acrabstracts.org/abstract/in-vivo-demonstration-of-tmtnf-reverse-signaling-significance-in-the-therapeutic-response-to-anti-tnf-agents-during-murine-arthritis/. Accessed November 29, 2022.
« Back to 2018 ACR/ARHP Annual Meeting
ACR Meeting Abstracts - https://acrabstracts.org/abstract/in-vivo-demonstration-of-tmtnf-reverse-signaling-significance-in-the-therapeutic-response-to-anti-tnf-agents-during-murine-arthritis/