Session Information
Session Type: Poster Session (Monday)
Session Time: 9:00AM-11:00AM
Background/Purpose: Without efficient primary medical care and follow-up system in China, patients can choose any hospital or doctor they like in seeking medical care. As a result, most patients rush to large hospitals. Once patients left those clinics, no follow up data is available. Surveys show that over 40% of patients were unnecessary to go to hospital, only need advices from physician. SSDM is a series of APPs for diseases management, which strengthens the interaction between physicians and patients based on valuable data. Our previous study showed that patients could master the SSDM and perform self-management after training.The purpose of this study is to evaluate the feasibility and benefit of improving medical economics and disease activity outcomes in rheumatic patients through online consultation based on SSDM by rheumatologist.
Methods: The rheumatologists implemented the education and training programs on patients in clinic and assisted the patients in downloading the SSDM mobile application. The SSDM includes doctors' and patients' interfaces. The patients' terminal includes serial self-assessments (DAS28, SLEDAI, HAQ), medication management, adverse events and lab data records. After data entry, the data synchronizes to the mobile of the authorized doctor. On the basis of these data, the rheumatologists can accept the request from their follow-up patients and practice consultation through SSDM in the form of text or voice.
Results: From Feb 2015 to May 2019, 729 rheumatologists supplied 9,044 patients (RA 32.7%, SLE 23.7%, AS 9.2%, gout 8.9%, Sjogren syndrome 5.4%, OA 3.9% and other 16.3%) with 13,507 consultations. The diagrams of question type (Figure1) and disease profile (Figure2) were shown in figures. The consulting fee ranged from RMB 0 to 500 yuan (USD: RMB =1: 6.81) each in average of 78.10 ± 45.12 yuan, which matched the registration fee in hospital. The total fee for consultations was 958,584 RMB. 39% patients received online consultation are living in different cities from the rheumatologists. If the patients seek medical care in hospital, in addition to the registration fees and medical expenses, the mean opportunity cost of transportation, accommodation, and lost wages was 874.40 ± 505.21 (200 – 2,800) RMB. The total cost for all patients would have been 11,810,576 RMB, which is 12.3 times more compared with the cost of online consultation. Among 2,913 RA and 1,879 SLE patients with repeat self-evaluations who were followed up for over 90 days, the treat-to-target rate improved from 42.10% to 58.47% (DAS28< =3.2) and from 44.81% to 62.10% (SLEDAI< =4), respectively. Survey shows that satisfaction rate with the consultations is 100%.
Conclusion: Through online disease management and consultations using SSDM, Chinese patients with rheumatic diseases enjoy good quality of medical care at lower cost with high satisfaction. Armed with data science, SSDM may supply the rest of world with an option for reshaping the healthcare system.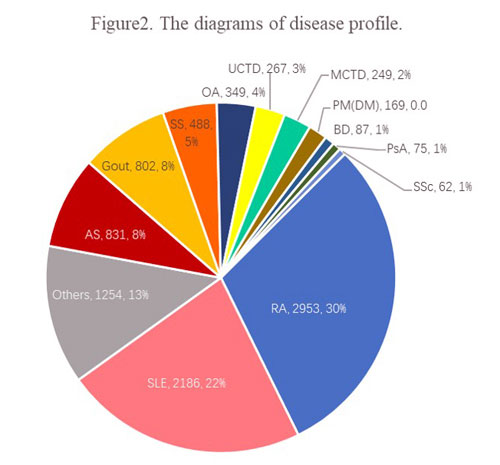 ---
Disclosure: H. Wei, None; A. Huang, None; L. Luo, None; F. Wang, None; Q. Li, None; H. Zhang, None; Y. Wang, None; P. Ji, None; Y. Zhao, None; L. Shen, None; Z. Wang, None; F. Wei, None; T. Xie, None; X. Wang, None; H. Guo, None; Q. Shu, None; X. Liu, None; R. Du, None; A. Zhang, None; F. Qin, None; B. Wu, None; Y. Jia, None; H. Xiao, None; F. Xiao, None; F. Zhang, GlaxoSmithKline, 9.
To cite this abstract in AMA style:
Wei H, Huang A, Luo L, Wang F, Li Q, Zhang H, Wang Y, Ji P, Zhao Y, Shen L, Wang Z, Wei F, Xie T, Wang X, Guo H, Shu Q, Liu X, Du R, Zhang A, Qin F, Wu B, Jia Y, Xiao H, Xiao F, Zhang F. Improving Healthcare Quality and Reducing Cost via Online Interaction for Chinese Patients with Rheumatic Diseases Based on Smart System of Disease Management (SSDM) Mobile Tool [abstract].
Arthritis Rheumatol.
2019; 71 (suppl 10). https://acrabstracts.org/abstract/improving-healthcare-quality-and-reducing-cost-via-online-interaction-for-chinese-patients-with-rheumatic-diseases-based-on-smart-system-of-disease-management-ssdm-mobile-tool/. Accessed January 17, 2021.
« Back to 2019 ACR/ARP Annual Meeting
ACR Meeting Abstracts - https://acrabstracts.org/abstract/improving-healthcare-quality-and-reducing-cost-via-online-interaction-for-chinese-patients-with-rheumatic-diseases-based-on-smart-system-of-disease-management-ssdm-mobile-tool/