Session Information
Session Type: Abstract Submissions (ACR)
Background/Purpose:
Systemic Lupus Erythematosus (SLE) greatly reduces the quality of life (QoL) and satisfaction with life of affected patients. SLE patients can have numerous unmet needs and may feel misunderstood by their health care providers. The aim of this study was to explore what is important to SLE patients when it comes to their care.
Methods:
Participants were adults satisfying the ACR classification for SLE, and were  recruited by phone, letter or directly by their respective rheumatologist. A qualitative approach based on audio-recorded focus groups was used to collect data.  Interview guides were prepared prior to the meetings by an expert panel including: a resident in internal medicine, a psychologist, a rheumatologist, and nurse. The open-ended questions covered SLE patient priorities, their means of conveying these priorities to their medical team, and the impact of these priorities on their disease management. The transcriptions were independently coded by 2 analysts using 2 techniques: 1) a qualitative data analysis software (NVivo 10) and 2) manual analysis. The analytic approach was based on grounded theory.
Results:
Nineteen female participants attended 3 focus groups in 2 sites (university and community-based). Participants' ages ranged from 18 to >70 with the majority between 30 and 59 years of age. The average disease duration was 8.8 ± 7,7 years, ranging from 1 to 23 years. 68% were married/or cohabitating with a partner and 63% were employed.  Five priorities (Figure 1) were identified: 1) management of disability, in particular, loss of energy that prevents full engagement in daily activities, relationships, and social roles; 2) management of the unpredictable nature of SLE including, preventing flares and worsening of their condition, employment and financial issues associated with chronicity; 3) management of side effects; 4) access to information about lupus and support resources, in particular, support groups; 5) access to health care (improved communication between physicians, shorter wait times and longer consultations with physicians).  
Conclusion:
SLE patients have multiple complex priorities and may have difficulty articulating them. Health care providers need to develop strategies and communication tools to help SLE patients identify their priorities and support them in the self-management of their disease.
Figure 1 Priorities of SLE patients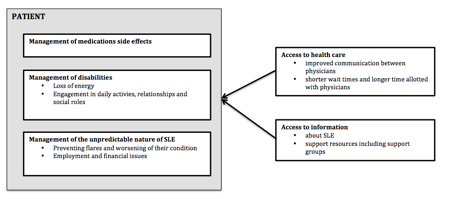 ---
Disclosure:
V. Leclair,
None;
H. O. Witteman,
None;
C. Neville,
None;
I. Fortin,
Janssen Inc.,
5;
P. R. Fortin,
GSK International,
9.
« Back to 2014 ACR/ARHP Annual Meeting
ACR Meeting Abstracts - https://acrabstracts.org/abstract/impact-of-patients-priorities-on-the-management-of-systemic-lupus-erythematosus/