Session Information
Session Type: Abstract Submissions (ACR)
Background/Purpose: Histone deacetylase inhibitors (HDACi) are potential therapeutic drugs for the treatment of rheumatoid arthritis (RA). We found that an HDACi up-regulates the gene expression of immediate early response gene X-1 (IEX-1) in rheumatoid arthritis synovial fibroblasts (RA-SF). IEX-1 is regulated by various stress stimuli and involved in apoptosis and cell growth. Since the role of IEX-1 has never been examined in RA, we examined the expression and function of the molecule in RA-SF.
Methods: Synovial fibroblasts from RA and OA patients were cultured and used between 2-4 passages. Gene and protein expression was determined by qPCR and Western blotting, respectively. Apoptosis was detected by annexin V staining using a flow cytometer. To examine the function of IEX-1, IEX-1 was knocked down by siRNA or over-expressed with lipofection.
Results: (1) IEX-1 mRNA levels were higher in RA-SF than in OA-SF. LPS and TNFa up-regulated the IEX-1 mRNA expression in RA-SF. (2)Over-expression of IEX-1 induced apoptosis and promoted anti-Fas mAb-mediated apoptosis in RA-SF, while knockdown of IEX-1 protected RA-SF from anti-Fas mAb-mediated apoptosis. Also, over-expression of IEX-1 augmented anti-Fas mAb-induced caspase-8 activation, while knockdown of IEX-1 suppressed it. Thus, IEX-1 promotes anti-Fas mAb-induced apoptosis through up-regulating caspase-8 activity. (3) IEX-1 was up-regulated by TSA, an HDACi.  Interestingly, apoptosis induced by TSA plus anti-Fas mAb in RA-SF was partially inhibited by knockdown of IEX-1, indicating that TSA-induced apoptosis was mediated, at least in part, by the up-regulation of IEX-1. (3)When IEX-1 expression was down-regulated with siRNA, LPS-induced IL-6 production was decreased, showing that IEX-1 is also involved in cytokine production from RA-SF.
Conclusion: IEX-1 is over-expressed in RA-SF and further induced by TNFa. IEX-1 facilitates anti-Fas mAb-induced apoptosis by enhancing caspase activation, and regulates cytokine production. IEX-1 is likely to play an important role in RA pathogenesis.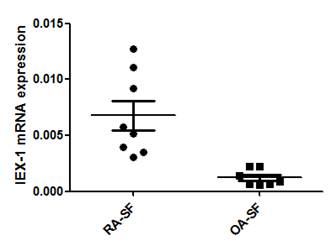 ---
Disclosure:
A. Morinobu,
None;
M. Fujita,
None;
S. Tanaka,
None;
J. Saegusa,
None;
S. Kumagai,
None.
« Back to 2012 ACR/ARHP Annual Meeting
ACR Meeting Abstracts - https://acrabstracts.org/abstract/immediate-early-response-gene-x-1-is-over-expressed-and-regulates-apoptosis-and-cytokine-production-in-rheumatoid-arthritis-synovial-fibroblasts/