Session Information
Session Type: Poster Session (Sunday)
Session Time: 9:00AM-11:00AM
Background/Purpose:
Idiopathic granulomatous mastitis (IGM) is an inflammatory breast disease occurring primarily in young to middle-aged women (1, 2). IGM typically presents with a tender, firm breast mass that may be accompanied by redness, irritation, and drainage. The diagnosis of IGM is made by breast biopsy showing non-caseating granuloma after other causes of granulomatous mastitis have been excluded (1, 4). IGM is a poorly understood disease; there is no consensus regarding underlying cause, risk factors, and optimal treatment of this condition (3). However, IGM is being increasingly recognized as an inflammatory condition and referred to rheumatologists to aid in immunomodulatory management. IGM is primarily managed by breast surgeons and most of our understanding about this disease comes from surgical literature. However, a growing body of evidence, including this case series, suggests that IGM is a systemic inflammatory disease, and that rheumatologists are important and well situated to help care for these patients.
Methods:
IGM patients were identified via the OHSU Cohort Discovery tool who carried a diagnosis of "granulomatous mastitis". 30 patients seen between 2007-2018 where identified. Retrospective chart review was used to verify that IGM diagnosis was accurate, collect data on baseline characteristics, clinical features and treatment course/outcomes. 2 patients were excluded (1 diagnosed with alternative condition and 1 without adequate follow-up).
Results:
Of the 28 IGM patients, all were female, the mean age was 32, the majority (60.7%) were Hispanic. The mean follow-up was 27 months and 17% of patients were treated by rheumatologists. Consistent with previous reports, the majority of patients had a history of pregnancy (93%) and breastfeeding (92%). Interestingly, 4 patients had inflammatory arthritis/arthralgias and 5 had erythema nodosum. 23 patients had adequate follow-up to assess treatment response. Treatment groups were divided into surgery plus high dose steroids (n=3), high dose steroids alone (n=12), methotrexate (MTX) and high dose steroids (+/- surgery) (n=3) and other (n=5). A rheumatologist saw all patients who received MTX. 7 patients (30%) had disease relapse after initial treatment and 4 patients (17%) had persistent disease. The highest rates of relapse were in the steroids alone group (42%) and lowest rate of relapse was in the methotrexate group (0%). Overall, 83% of patients eventually achieved a disease free remission with post-remission follow-up of over 1 year in 74%.
Conclusion:
This case series of 28 IGM patients suggests that MTX in combination with high dose steroids may successfully treat IGM, although larger prospective studies are needed.  We also report a higher incidence of arthritis/arthralgia and erythema nodosum than previously described—it is possible that these systemic findings are more likely to be recognized by a rheumatologist. IGM is an inflammatory disease and a rheumatologist is a valuable addition to the treatment team for IGM patients.

IGM Table 1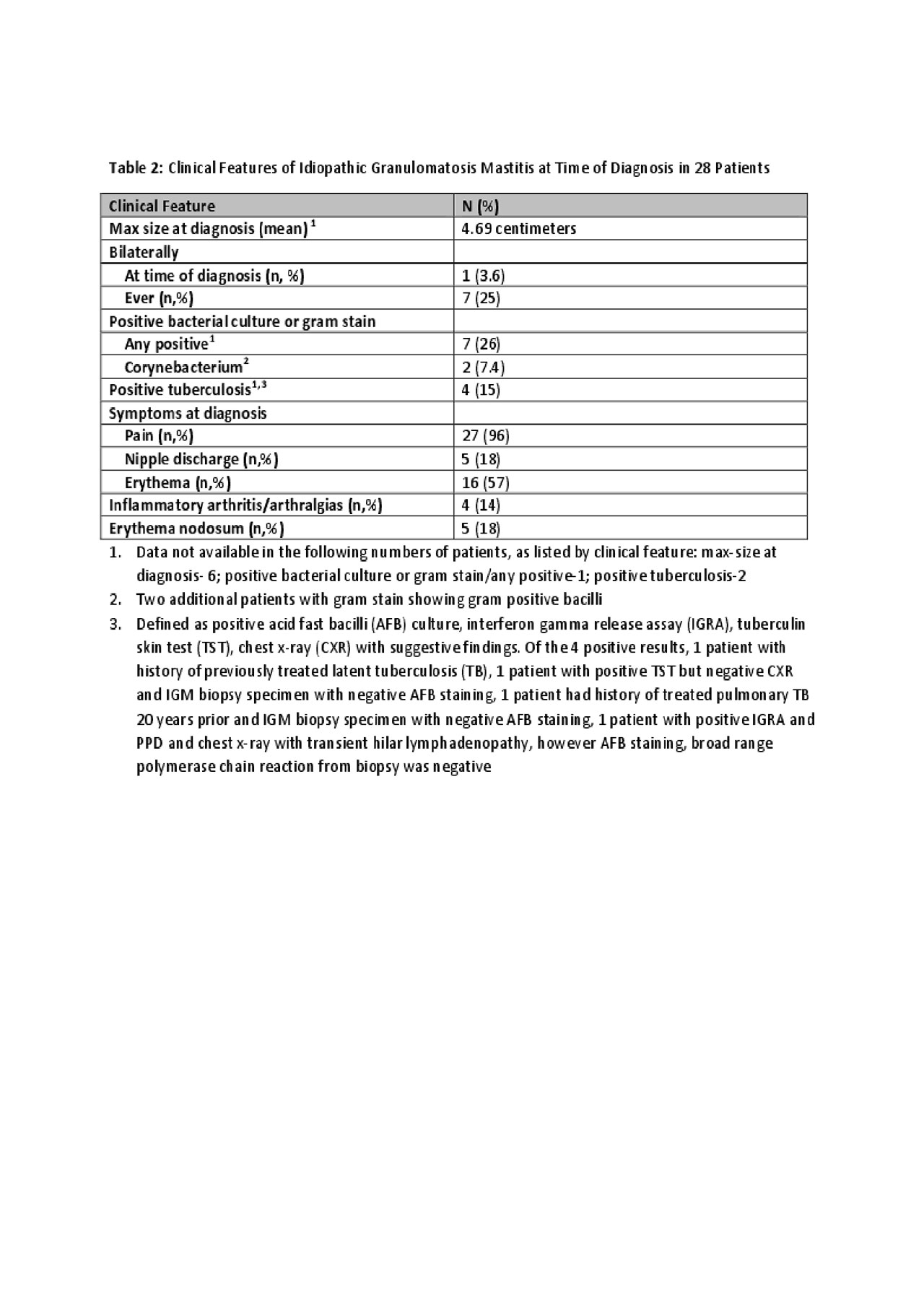 IGM Table 2

IGM Table 3
---
Disclosure: S. Ringsted, None; M. Friedman, None.
To cite this abstract in AMA style:
Ringsted S, Friedman M. Idiopathic Granulomatous Mastitis: The Role of Rheumatologists in Treating This Rare Cause of Breast Pain [abstract].
Arthritis Rheumatol.
2019; 71 (suppl 10). https://acrabstracts.org/abstract/idiopathic-granulomatous-mastitis-the-role-of-rheumatologists-in-treating-this-rare-cause-of-breast-pain/. Accessed August 4, 2020.
« Back to 2019 ACR/ARP Annual Meeting
ACR Meeting Abstracts - https://acrabstracts.org/abstract/idiopathic-granulomatous-mastitis-the-role-of-rheumatologists-in-treating-this-rare-cause-of-breast-pain/